[Download] – Day Trading Institution 2.0 Course
---
1. Day Trading Institution 2.0 Course Overview:
Course size: 27.9 Gb


Day Trading Institution 2.0 (DTI 2.0), crafted by Raul Gonzalez, is a pivotal course for aspiring traders, aiming to transition them from the conventional 9-5 routine to a lucrative, full-time trading career.
The course encompasses over 100+ hours of content, from fundamental to advanced trading strategies, and assures lifetime access to course materials and webinar recordings.
2. What you will learn:
Learn Trading from Start to Finish: Understand the basics of trading and gradually dive into more advanced topics, all explained straightforwardly.
Handle Different Market Situations: Gain skills to navigate through various market conditions, learning when to make a move and when to wait.
Build Your Trading Strategies: Learn how to create your trading plans and strategies that you can use to make informed decisions in the market.
Manage Risks and Make Smart Decisions: Understand how to protect your investments and make decisions that balance potential reward against risk.
3. Course curriculum: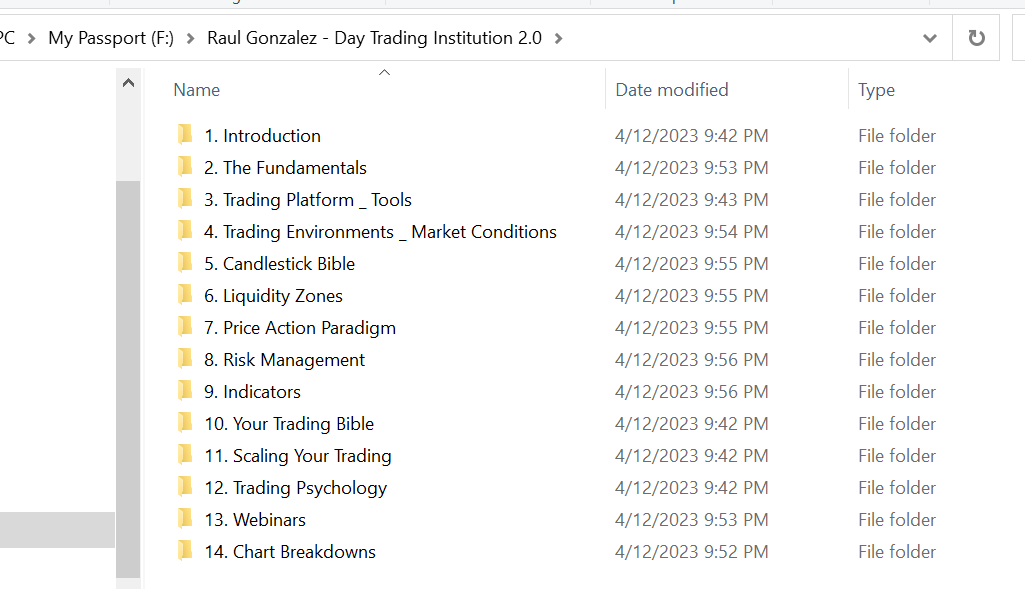 ---
Module 1: Introduction
Module 2: Module The Fundamentals
Module 3: Trading Platform _ Tools
Module 4: Trading Environments _ Market Conditions
Module 5: Candlestick Bible
Module 6: Liquidity Zones
Module 7: Price Action Paradigm
Module 8: Risk Management
Module 9: Indicators
Module 10: Your Trading Bible
Module 11: Scaling Your Trading
Module 12: Trading Psychology
Module 13: Webinars
Module 14: Chart Breakdowns
4. Success Stories:
4.1. Claudio P.'s Journey
Learn from the success of Claudio P., who joined DTI in December '21 and went on to become a top-ranked, full-time day trader in less than a year. Claudio's journey serves as an inspiration to all aspiring traders and showcases the power of DTI's comprehensive trading education.
4.2. Ranked Top 3 on FTMO Leaderboard
Discover how Claudio P. ranked among the top 3 traders on the prestigious FTMO Leaderboard, thanks to the knowledge and strategies he acquired through DTI 2.0. Learn the same techniques that propelled him to the top and apply them to your own trading journey.
4.3. Scaled Trading to Make $42k in a Day
Uncover the secrets that allowed Claudio P. to scale his trading and make a staggering $42k in a single day. By following the same strategies and methodologies taught in DTI 2.0, you too can achieve similar results and transform your trading career.
4. Day Trading Institution 2.0 reviews: CourseHuge's Inspection
Day Trading Institution 2.0 (DTI 2.0) has positioned itself as a prominent educational platform for aspiring day traders, offering a blend of comprehensive training, advanced tools, and a supportive community. But the question arises – is it a scam? Let's delve into various aspects to understand its legitimacy and offerings.
4.1. A Wealth of Educational Resources
Immersive Learning Experience: DTI 2.0 provides an immersive learning experience that explores every facet of day trading through video lessons, webinars, and live trading sessions (source).
Comprehensive Curriculum: Catering to traders of all expertise levels, the curriculum introduces essential concepts like chart reading and technical analysis and progresses into advanced topics like algorithmic trading and market psychology.
Cutting-Edge Technology: The platform offers access to state-of-the-art trading software, proprietary indicators, and algorithms developed by Lamboraul, providing unique insights into market trends and potential trading opportunities.
4.2. Community and Mentorship
Engaging Community: DTI 2.0 fosters an engaging and supportive community of traders, providing a platform for sharing insights, discussing strategies, and staying updated on market trends.
Personalized Coaching: Offering customized coaching and mentorship, DTI 2.0 ensures traders receive individualized attention, tailored feedback, and support in developing their trading strategies.
4.3. Pricing and Accessibility
The initial course price of $1,497 offered by Paul Gonzalez is a huge amount of money for a training course, which reflects the author's reputation. However, it also concerns students because the cost is too high.
At Coursehuge.com, we offer for only $25, allowing all students to access quality courses with almost zero risk.
4.4. Pros and Cons
Pros: The platform offers comprehensive education, cutting-edge technology, an engaging community, personalized coaching, and lifetime access to course materials.
Cons: Due to the comprehensive curriculum, there is limited time availability for discounted pricing and potential initial overwhelm for beginners.
4.5. My personal though:
DTI 2.0 offers a solid and straightforward path for learning trading, with plenty of resources and a clear structure that works for new and experienced traders.
The platform is supportive and offers great depth in its learning environment. The discounted pricing is available for a limited time, making now a great time to join.
The curriculum is designed to suit various learning styles, ensuring everyone can find their pace and progress in a way that works for them.
---
Additional Information about Day Trading Institution 2.0 Course
1. Instructor Profile: Who is Raul Gonzalez?
Raul Gonzalez founded the Day Trading Institution, a leading Forex training platform.
His signature course, "Day Trading Institution 2.0", offers many resources, including live webinars, a dedicated community, and a library of recorded materials.
The course is designed to guide traders on their journey to becoming successful, especially with renowned Prop Firms like FTMO.
While Raul's name is frequently mentioned across various platforms and course listings, specific details about his background and achievements are limited. However, glimpses of his trading successes and interactions can be found on his LinkedIn profile.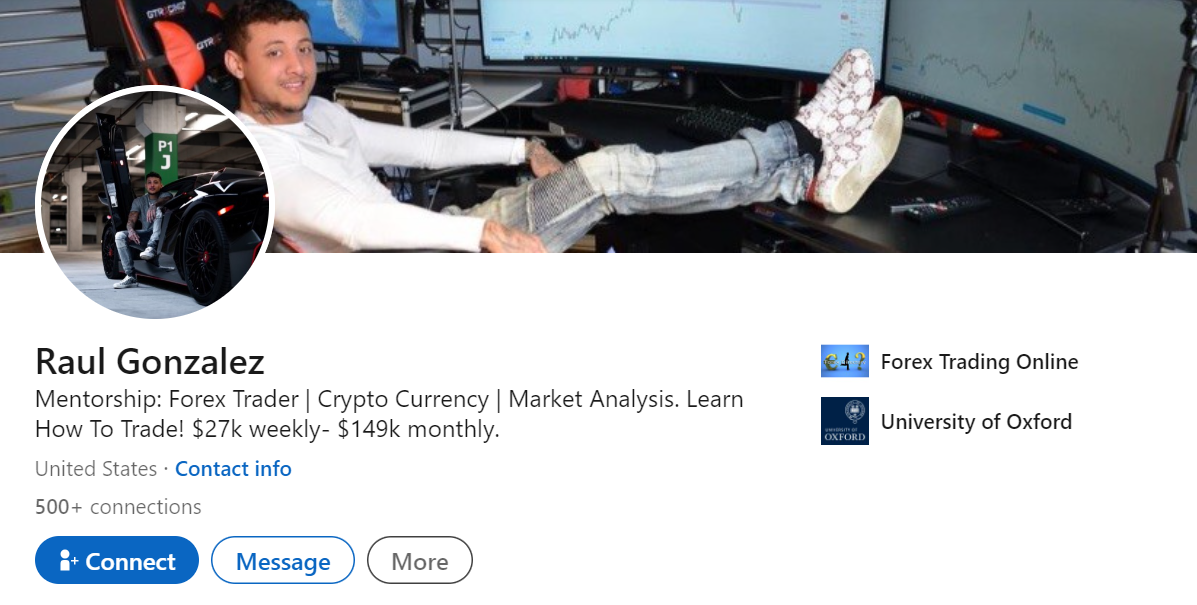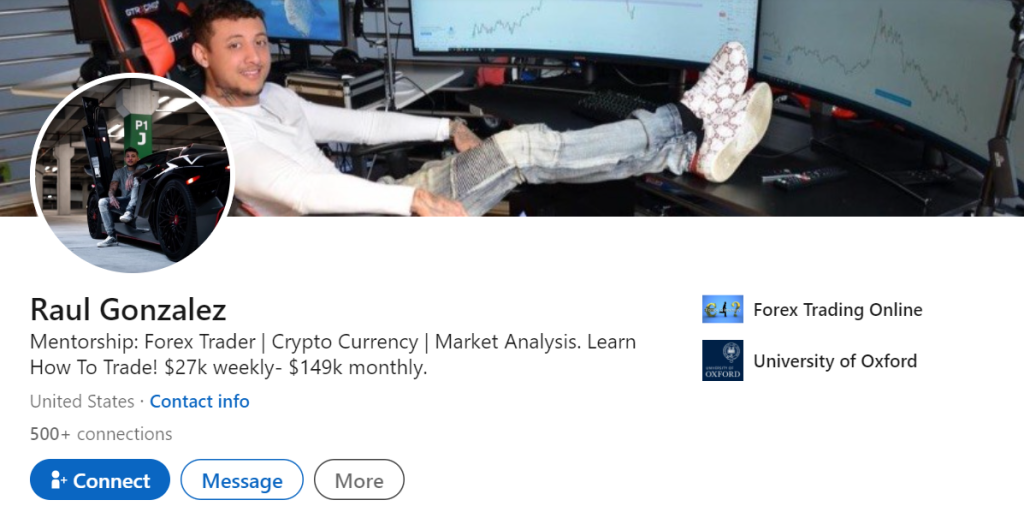 2. Who is this course for?
This course is meticulously crafted for a diverse range of individuals, including:
Beginners in Trading: Those venturing into the world of trading for the first time and seeking a structured, comprehensive guide to mastering the essentials.
Intermediate Traders: Individuals with some experience but wish to deepen their understanding and learn advanced strategies to enhance their trading skills.
Aspiring Full-time Traders: Those who aim to transition from part-time trading or a different career into a full-time trading profession and seek structured guidance.
Professionals Seeking Continuous Learning: Experienced traders who wish to stay updated with new strategies market insights, and enhance their trading skills further.
3. Course Level:
The "Day Trading Institution 2.0" course is structured to cater to various levels of traders, providing:
Foundational Knowledge: Ensuring beginners can grasp the basics of trading, understanding market dynamics and basic strategies.
Advanced Strategies: Catering to those with a foundational understanding and wish to delve deeper into more complex trading strategies and scenarios.
Practical Insights: Offering real-world insights and practical knowledge through webinar recordings and real trading scenarios to enhance learning.
Continuous Learning: Ensuring even seasoned traders have new learnings and insights to explore, keeping them abreast of evolving market strategies and trends.
4. Frequently Asked Questions:
---
Q1: What does the Day Trading Institution 2.0 course offer?
The Day Trading Institution 2.0, founded by Raul Gonzalez, provides a comprehensive trading education through various formats, such as ongoing educational webinars, access to a private community, and recorded materials.
The course aims to assist traders in becoming funded traders, especially with Prop Firms like FTMO.
Q2: What is the learning experience like at Day Trading Institution?
Day Trading Institution offers an immersive learning experience that explores every aspect of day trading. Traders gain a comprehensive understanding of the subject matter through video lessons, webinars, and live trading sessions.
Q3: Who is Raul Gonzalez, the founder of Day Trading Institution?
Raul Gonzalez is recognized for establishing the Day Trading Institution and creating the Day Trading Institution 2.0 course.
While he is mentioned across various platforms and course listings, detailed information about his qualifications and experience is not readily available in the public domain.
His LinkedIn profile provides some insights into his trading results and interactions.
Q4: How is the course content of Day Trading Institution 2.0 delivered?
After payment, we will send the download link (Google drive) to your email. Then you could access & download the course for learning. Its size is about 27.9 Gb
Q5: Is there any social proof or success stories from Day Trading Institution 2.0 students?
 Yes, success stories are available from Day Trading Institution 2.0 students. For instance, a student named Daniel P. shared his positive experience, stating that DTI significantly improved his understanding of the market and trading results in just a few weeks.
He emphasized that while DTI is not magic and requires daily effort, it was 100% worth it and highly recommends it.