1. Introduction to CourseHuge.com:
---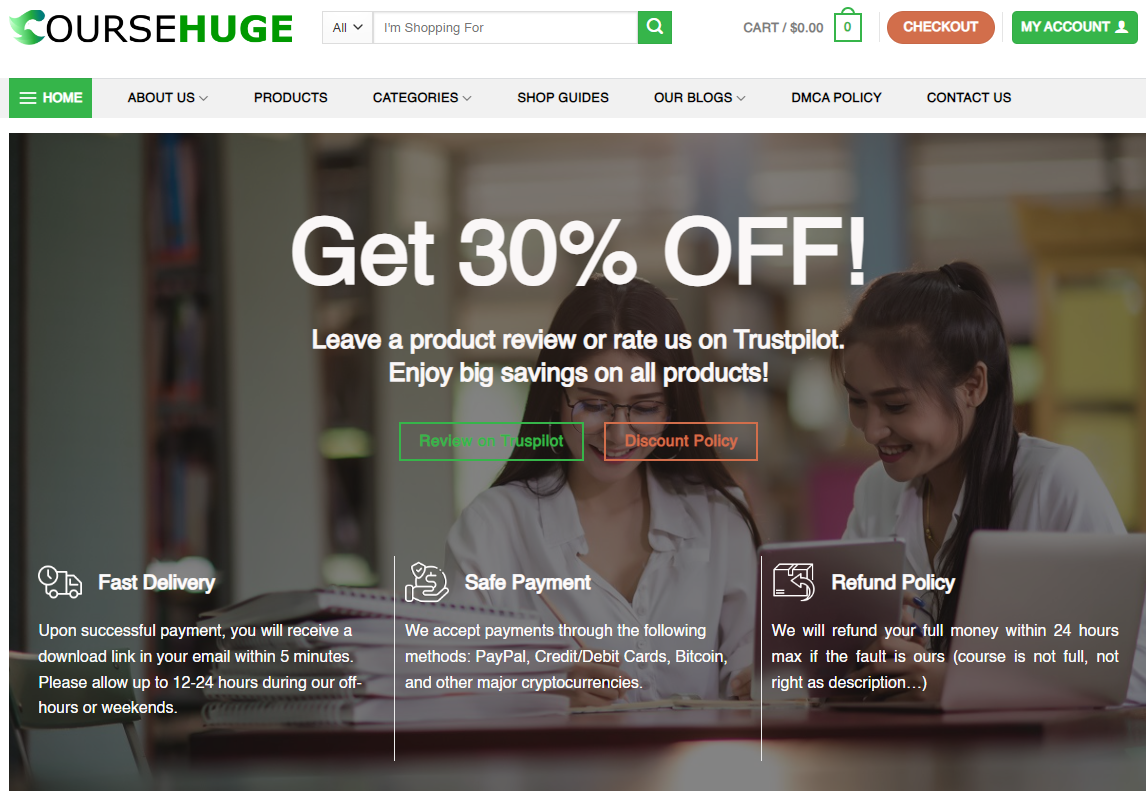 Welcome to CourseHuge.com, the premier destination for diverse educational content. You are entering into a binding agreement with us by choosing to access, browse, or utilize any service provided by CourseHuge.com. This agreement is governed by the Terms and conditions outlined on this page. We urge all our users, whether you're first-time visitors or regular members, to familiarize themselves with these terms to ensure a seamless and enriching experience on our platform.
2. Our Services at a Glance:
---
Diverse Course Offerings: CourseHuge.com is your gateway to a wide range of educational content spanning multiple domains.
Downloadable Content: We specialize in providing courses in a downloadable format, ensuring you have lifetime access to your purchased content.
Affordable Pricing: By sourcing authentic courses and offering them at a fraction of their original price, we make quality education accessible and affordable.
Uncompromised Quality: Despite the reduced prices, the integrity and quality of each course remain intact, mirroring the original content.
3. Payment: Ensuring Security & Convenience:
---
Multiple Payment Options: Choose from a variety of methods tailored to your convenience:

Traditional: Credit Cards
Modern: Bitcoin and other Crypto Currencies

Robust Security Protocols: Every transaction on CourseHuge.com is encrypted, safeguarding your financial data from potential threats.
Transparent Billing: We believe in clear and upfront pricing. Rest assured, there are no hidden charges or unexpected fees during checkout.
4. Delivery: Instant Access & Flexibility
---
Swift Delivery: Once your payment is successful, expect a download link in your registered email within 5 minutes.
Understanding Delays: On rare occasions, due to factors like time zone differences or server traffic, delivery might take up to 8-12 hours. We appreciate your patience during such times.
Always Reach Out: If there's an unexpected delay beyond the mentioned time frame, don't hesitate. Contact us, and we'll promptly address the issue.
5. CourseHuge.com Refund Policy: Clear & Fair
---
Transparent Approach: We stand by the authenticity and quality of our courses. If a discrepancy or a course doesn't function as described, you're eligible for a refund.
Detailed Guidelines: Our Shop Guide serves as a handy resource for a comprehensive understanding of when and how refunds are processed.
Open Communication: We urge you to communicate with us before initiating external processes like PayPal disputes or leaving reviews. We're here to help and resolve any concerns.
6. Privacy & Security: Your Trust, Our Priority
---
Advanced-Data Protection: Leveraging state-of-the-art encryption techniques, we ensure your personal and transactional data remains confidential.
No Third-Party Intrusions: Your trust is invaluable. We guarantee that your details, from email addresses to purchase histories, are never shared with external entities.
7. User Conduct: Respecting Intellectual Property
---
At CourseHuge.com, our courses provide access to a wealth of knowledge. However, it's crucial to understand and respect the intellectual property rights associated with each course. Redistribution, resale, or any unauthorized sharing of the courses without explicit permission is strictly prohibited. We trust our users to uphold these standards and appreciate your cooperation in maintaining the integrity of our platform.
8. Contact & Support: We're Here for You.
---
Have a question, feedback, or concern? Our dedicated supporter, Benjamin Graham, is always ready to assist. Whether you're facing issues with a course, need clarification on our policies, or want to share your experience, contact us via email at [[email protected]]. We pride ourselves on our swift response times, typically addressing all queries within 24 hours.
9. Changes to Terms and Conditions: Staying Updated
---
The digital landscape and our terms are ever-evolving. CourseHuge.com reserves the right to modify, update, or amend these terms at anytime. We encourage our users to periodically revisit this page to stay informed about any changes, ensuring a smooth experience on our platform.
10. Limitation of Liability: Setting Expectations:
---
Commitment to Accuracy: At CourseHuge.com, we strive to ensure that all course descriptions, content, and offerings are accurate and up-to-date.
Understanding Limitations: However, inadvertent errors or omissions might occur in online education. We ask for your understanding and assure you that any such instances are unintentional.
User Discretion: While we do our best to provide quality content, users are advised to exercise discretion and judgment before making any decisions based on the courses.
11. Governing Law: Legal Foundations
---
Jurisdictional Adherence: All terms, conditions, and any disputes arising from your use of CourseHuge.com will be governed by and construed following the laws of the jurisdiction where CourseHuge.com operates.
Legal Compliance: By accessing our platform, users agree to comply with these governing laws, irrespective of their geographical location.
12. Acceptance of Terms: Mutual Agreement
---
Binding Agreement: By using CourseHuge.com and its services, you acknowledge that you've read, understood, and agree to be bound by these Terms and Conditions.
User Responsibility: If, for any reason, you disagree with or cannot comply with our terms, we kindly ask that you refrain from using our platform. Continued use signifies your acceptance and agreement.
Conclusion: Navigating CourseHuge.com with Confidence
---
At CourseHuge.com, our primary goal is to offer a seamless, enriching, and trustworthy e-learning experience. These Terms and Conditions are designed not just as a formal requirement but as a testament to our commitment to transparency, quality, and user satisfaction. As you embark on your educational journey with us, we want you to do so with clarity and confidence. We appreciate your trust in us and are always here to support and guide you every step of the way.