[Download] ICT Mentorship (Michael Huddleston) – Inner Circle Trade
---
1. Introduction to ICT Mentorship
The ICT Mentorship program is a deep dive into one of today's most popular trading philosophies: the ICT methodology. Short for Inner Circle Trader, this method is purely based on price action and avoids the use of trend-following or momentum indicators. Spearheaded by the renowned trader Mike Huddleston, this mentorship offers a unique approach to trading, emphasizing real-world scenarios and hands-on experience.
Proof of product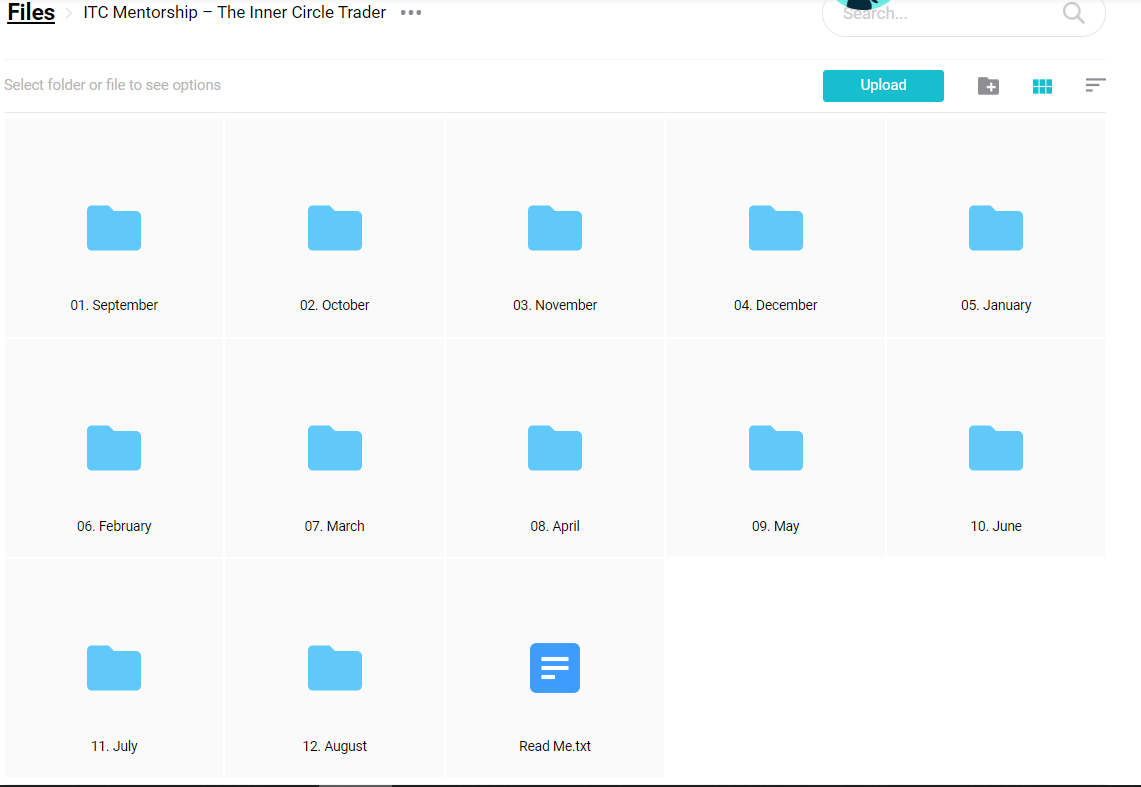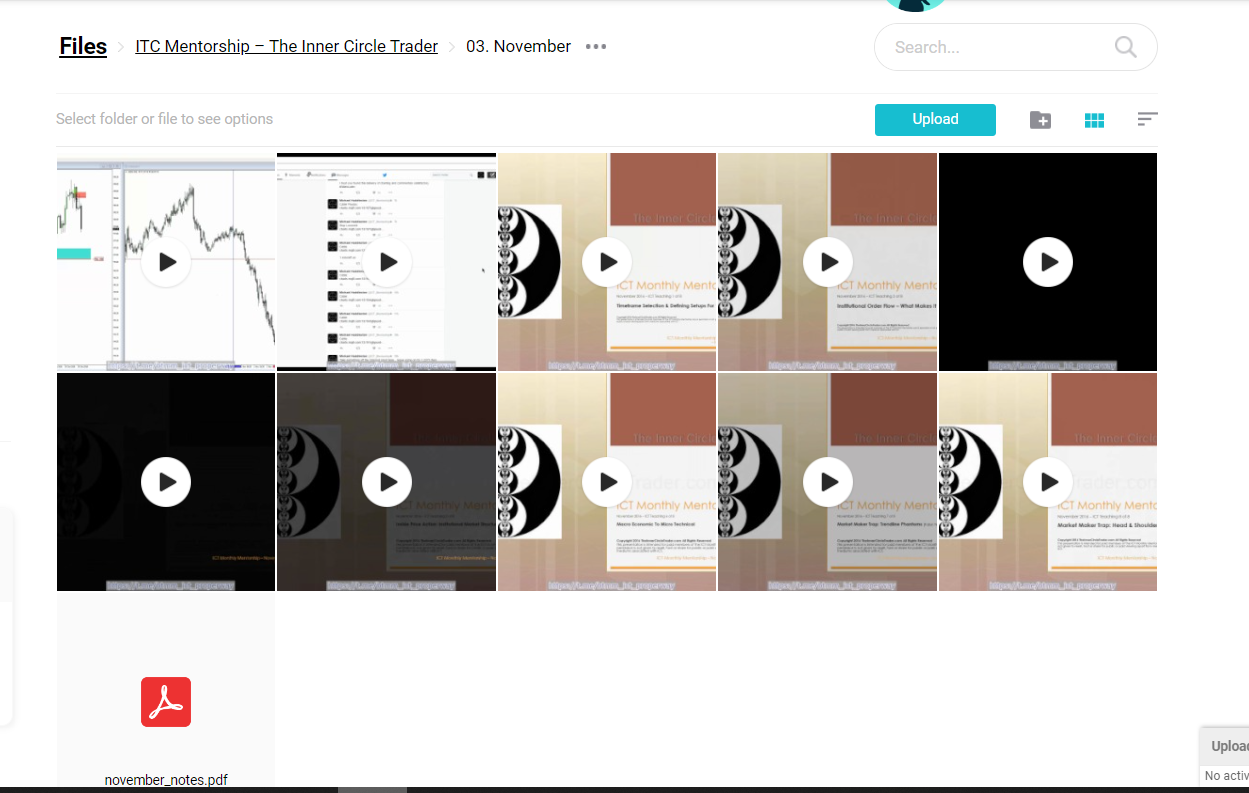 1.1. The ICT Methodology
ICT stands for Inner Circle Trader and represents a trading style focusing on price action. ICT does not rely heavily on momentum or trend-following indicators, unlike many other trading methods. Instead, it delves deep into understanding market movements, liquidity levels, and trading psychology.
2. Key ICT Concepts
2.1. Liquidity
Liquidity is paramount in the ICT trading methodology. It distinguishes between Buy-side and Sell-side liquidity, representing levels on the chart where traders place their stops. These levels are crucial as they often attract 'smart money' players who understand the significance of these zones.
2.2. Displacement
Displacement signifies a decisive move in price action resulting from solid buying or selling pressure. It often follows a breach of a liquidity level, leading to the creation of Fair Value Gaps and Market Structure Shifts.
2.3. Market Structure Shift
A fundamental concept in trading, a market structure shift indicates a change in the prevailing trend. It's identified when the price breaks its pattern of making higher highs and lows (in an uptrend) or lower highs and lows (in a downtrend).
2.4. Inducement
Inducement refers to the counter-trend moves within a more significant trend resulting from lower timeframe liquidity hunting. It targets short-term highs or lows, where stops might be placed.
2.5. Fair Value Gap
These gaps are created within displacements and represent market inefficiencies. They can act as magnets for future price action.
2.6. Optimal Trade Entry
Identified using the Fibonacci drawing tool, Optimal Trade Entries represent the best places to initiate a trade, usually lying between the 61.8% and 78.6% retracement of an expansion range.
2.7. Balanced Price Range
This concept emerges from aggressive price movements in opposite directions, leaving behind a double Fair Value Gap. It can signal the onset of a Market Structure Shift.
3. Course Curriculum: A Monthly Breakdown
The ICT Mentorship program is meticulously structured, ensuring participants receive a well-rounded education over a year. Each month focuses on a specific aspect of trading, allowing students to build on their knowledge progressively.
Module 1: September
Module 2: October
Module 3: November
Module 4: December
Module 5: January
Module 6: February
Module 7: March
Module 8: April
Module 9: May
Module 10: June
Module 11: July
Module 12: August
4. Customer Testimonials
Participants of the ICT Mentorship program often share their experiences and feedback. One such review from Emerson Le, dated 30 November, encapsulates the value derived from the course:
"As described, thank you | ICT Mentorship (Michael Huddleston) – Inner Circle Trader | Available Now."
Read more our TOP Trading Courses:
---
Additional Information about ICT Membership
1. Instructor Profile: Who is Michael Huddleston?
Michael Huddleston, widely recognized as the Inner Circle Trader (ICT), is a distinguished figure in the trading world. With vast experience spanning across various financial markets, Michael's expertise is unparalleled. The ICT methodology, which emphasizes price action and a deep understanding of market dynamics, is a testament to his innovative approach.
Michael's commitment to imparting knowledge and his hands-on teaching style have garnered respect and admiration in the trading community. He believes in the power of understanding market psychology and emphasizes the importance of real-world trading scenarios in his mentorship.
2. Who is this course for:
Beginners: Individuals new to trading who wish to grasp the intricacies of the ICT methodology and the financial markets.
Intermediate Traders: Traders with some experience aiming to refine their strategies, delve deeper into price action, and understand the unique concepts of the ICT methodology.
Seasoned Traders: Professionals eager to gain insights from Michael's vast experience and innovative trading techniques.
Technical Analysts: Those keen on understanding price action beyond traditional technical analysis and exploring the depth of the ICT methodology.
Investment Enthusiasts: Anyone with a passion for financial markets, looking to diversify their knowledge and trading techniques.
3. Course Level:
Foundational: The initial modules introduce the foundational concepts of the ICT methodology, including liquidity, displacement, and market structure shifts.
Intermediate: As participants progress, they delve into more intricate concepts like inducement, fair value gaps, and optimal trade entries.
Advanced: The latter part of the mentorship focuses on advanced trading techniques, understanding balanced price ranges, and mastering the art of recognizing and capitalizing on market inefficiencies.
4. Inner Circle Trader Reviews:
Overall Rating: 3.6/5 (Based on 27 reviews):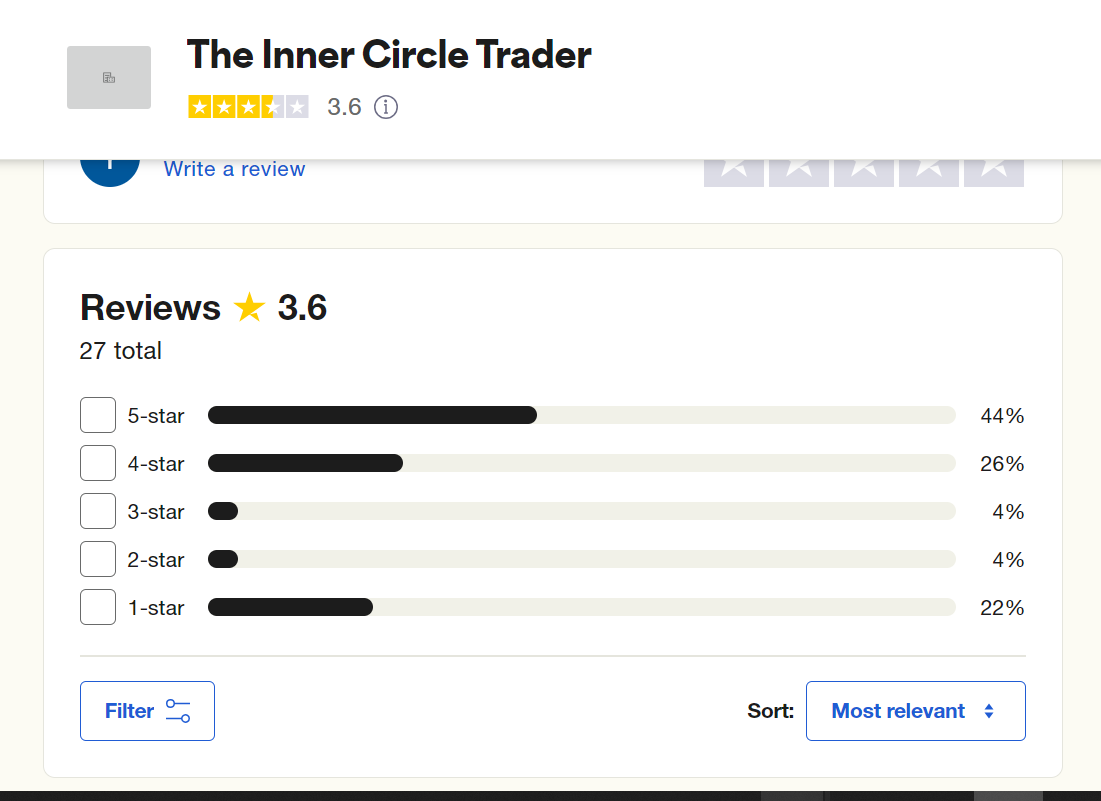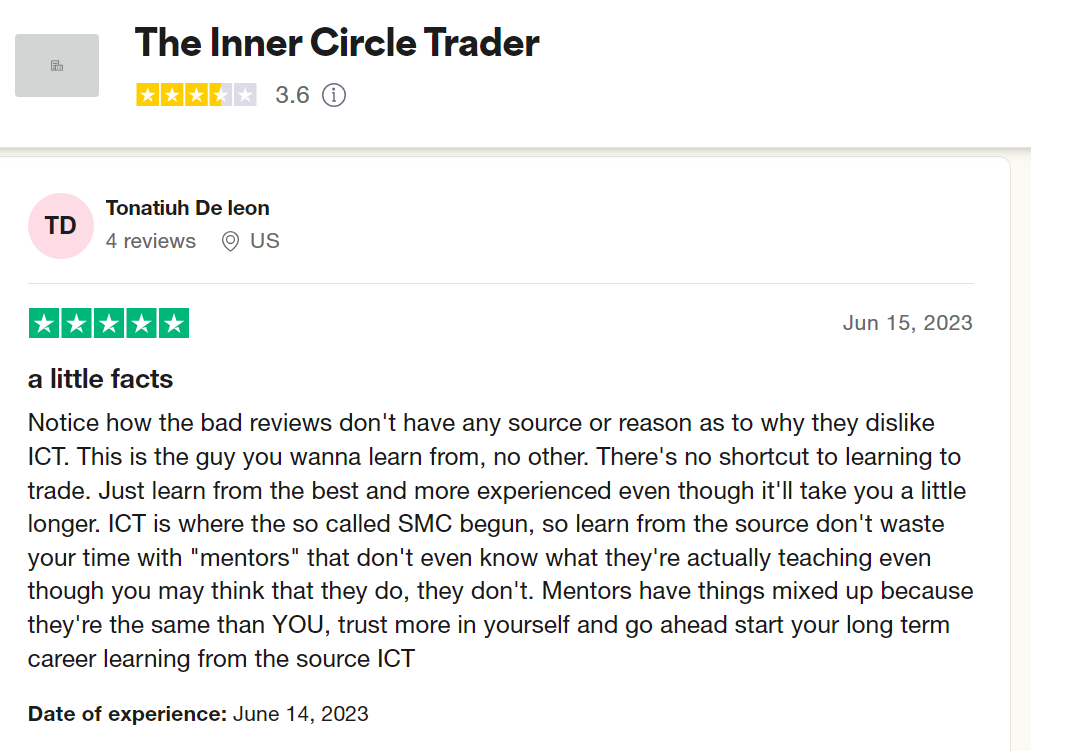 Love from India (July 13, 2023):
Love from India. I'm not FOREX trader but I follow ICT to adapt real core trading concepts in local markets. I personally and sincerely follow ICT in YouTube and I spend daily 1-2 hours of his archival videos. Here is my review. Great teacher, mentor, and motivational speaker so far I seen in Trading gurus. Not only his skills but his motivational speeches also well worthy and enlighten our long trading career dreams and help to achieve goals. After following ICT concepts, even I never believe myself out of 22 trading sessions I lost only 2 times that to with minimal SL. Rest all trades closed with 10% profit of my principle amount. Thank you ICT.
Unmatched Precision (June 15, 2023):
Notice how the bad reviews don't have any source or reason as to why they dislike ICT. This is the guy you wanna learn from, no other. There's no shortcut to learning to trade. Just learn from the best and more experienced even though it'll take you a little longer. ICT is where the so-called SMC begun, so learn from the source don't waste your time with 'mentors' that don't even know what they're actually teaching even though you may think that they do, they don't. Mentors have things mixed up because they're the same than YOU, trust more in yourself and go ahead start your long-term career learning from the source ICT.
Michael's Curriculum (March 7, 2023):
Michael's curriculum is not for the average dim-witted trader or guru that you will see over and over again on social media. Those that doubt the ghost in the machine have no business trading in the first place. Sorry to be so forward but that's an absolute truth you have to put in the time you have to earn it nothing free otches!
Excellent Analyst (January 2, 2023):
"As an analyst, I give ICT 100%, but as a trader, mmmmmh the jury is still out. I suggest grasping the basic concepts and be on your way before going down the rabbit hole."
Give ICT a Fair Try (June 11, 2022):
Lol, what is wrong you folks. Every concept or strategy is not 100%. If you thought learning the ICT method, chart patterns, candlestick patterns, EMA clouds, etc. was going to make you rich quick with easy to point out signals then you're the problem. There are successful MACD traders, Supertrend traders, 9/21 EMA traders. The key is to make your wins outpace your losses. ICT is just another concept in trading. Once you master it, you have to make it work for you. Back test it, set your stop losses properly. Don't be greedy and hold longer than you should. I am currently studying the ICT method and really enjoy it. I have taken some trades on it that were successful, some were not, but that's how trading works. Nothing is 100% and if you don't have proper risk management, no strategy will allow you to be successful. So folks, give ICT an honest try, especially since his mentorship for 2022 is free. You literally have nothing to lose (especially because he annoying reminds the audience to not trade live funds yet) He really wants you to learn the context of everything before you start staking your own money. Don't let these negative reviews sway you. Find out for yourself. Only reason I didn't give a 5 was I never give out 5s and I will say sometimes I wish he did explain certain concepts better and rambled less. But hey, it's free so I'll take what I can get.
Learn more about ICT method through MMXM Trader 2023
5. Frequently Asked Questions:
---
Q1: What makes the ICT methodology unique compared to other trading philosophies?
The ICT methodology stands out due to its emphasis on price action. Unlike many trading strategies that rely heavily on trend-following or momentum indicators, ICT focuses on understanding market movements, liquidity levels, and trading psychology. This approach gives traders a deeper insight into market dynamics and equips them with tools to make informed decisions.
Q2: How does the concept of liquidity play a role in the ICT trading methodology?
Liquidity is a cornerstone of the ICT methodology. It differentiates between Buy-side and Sell-side liquidity, representing levels on the chart where traders place their stops. 'Smart money' players, understanding the significance of these zones, often accumulate or distribute positions near these levels. Recognizing and understanding these liquidity levels can provide traders valuable insights into potential market movements.
Q3: What is a Fair Value Gap, and why is it significant in trading?
A Fair Value Gap is created within displacements and represents market inefficiencies or imbalances. These gaps can act as magnets for future price action, making them of keen interest to traders. Recognizing these gaps can provide opportunities for traders to anticipate potential price movements.
Q4: How does the ICT methodology utilize the Fibonacci drawing tool for Optimal Trade Entries?
The ICT methodology identifies Optimal Trade Entries using the Fibonacci drawing tool. In most scenarios, an optimal trade entry will lie between the 61.8% and 78.6% retracement of an expansion range. Recognizing these levels can provide traders with the best positions to initiate a trade, aligning with the direction of the new price action leg.
Q5: What is an inner circle trader?
The Inner Circle Trader, commonly referred to as ICT, represents both a trading methodology and its founder, Michael Huddleston. The ICT methodology emphasizes price action, understanding market movements, liquidity levels, and trading psychology. With his vast experience in the financial markets, Michael Huddleston has developed this unique approach to trading, which has garnered significant attention and respect in the trading community.
Q6: Is the inner circle trader worth it?
The value of the Inner Circle Trader (ICT) mentorship program largely depends on individual goals and dedication to learning. Many traders have found the ICT methodology beneficial, especially its emphasis on price action and market psychology. According to various online forums and testimonials, many participants reported improved trading outcomes after the mentorship. However, as with any trading course, results can vary based on individual commitment and application of the learned concepts.
Q7: What is the ICT trading strategy?
The ICT trading strategy is a unique approach emphasizing price action, liquidity levels, and market psychology. Key concepts include understanding Buy-side and Sell-side liquidity, recognizing displacements, identifying market structure shifts, and leveraging optimal trade entries using the Fibonacci drawing tool. The strategy avoids heavy reliance on momentum or trend-following indicators, instead focusing on understanding market movements and potential inefficiencies.
Q8: How to learn ICT trading?
One can enroll in the ICT Mentorship program Michael Huddleston offers to learn ICT trading. This comprehensive course provides a deep dive into the ICT methodology, covering foundational to advanced concepts. Additionally, online forums, communities, and resources are dedicated to the ICT methodology, where traders share insights, experiences, and strategies. Engaging in these communities and regularly practicing the concepts in a risk-free environment, such as a demo account, can further enhance understanding and proficiency.