[Download] – The Ecom Family Course
---
1. The Ecom Family Course Overview: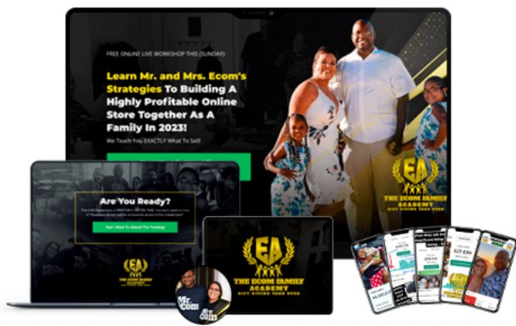 The Ecom Family Academy: Gift Giving Take Over Course is an innovative and comprehensive program.
It's designed to help individuals tap into the lucrative world of e-commerce and master the art of gift-giving.
Led by industry experts at The Ecom Family, this course equips aspiring entrepreneurs with the knowledge, strategies, and tools to build a successful online business centred around gift products.
2. What you will learn in this course:
A strong foundation in e-commerce fundamentals.
Deep understanding of market trends, consumer behavior, and online selling platforms.
Exploration of the gift-giving niche and its immense potential.
Identification of trending gift products and market research techniques.
Insights into product sourcing methods, including dropshipping, print-on-demand, and wholesale.
Effective branding and marketing strategies, including social media advertising and influencer marketing.
Hands-on training in setting up and managing an online store on platforms like Shopify.
Techniques for customer satisfaction, handling inquiries, and leveraging feedback.
3. What include in this course: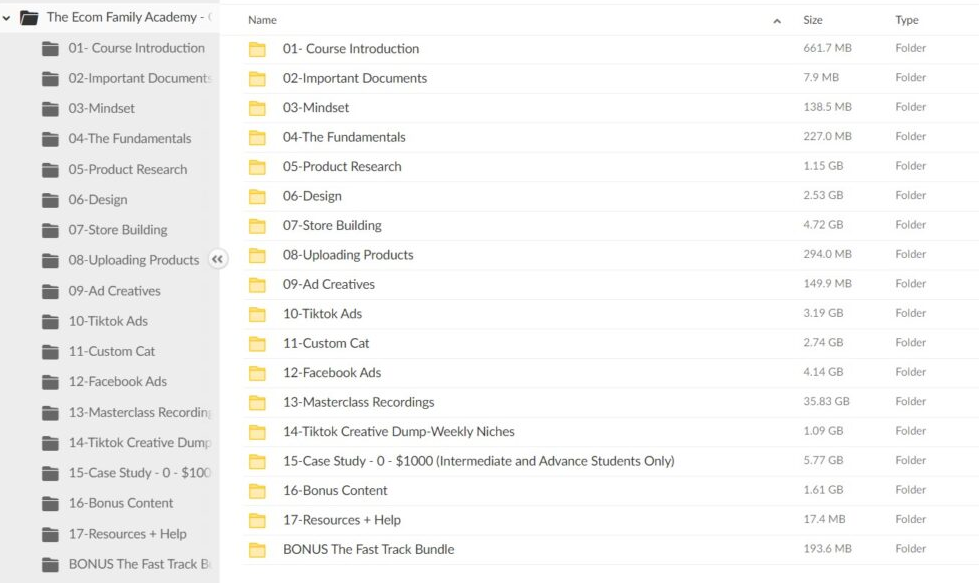 The course begins with e-commerce fundamentals, giving participants insights into the industry's workings. Central to the curriculum is exploring the gift-giving niche, where participants learn to identify trending products and conduct market research.
The course also emphasizes product sourcing and supplier management, teaching participants various sourcing methods and how to maintain strong supplier relationships.
Branding and marketing strategies are also covered in depth, focusing on building a solid brand identity and exploring various marketing channels. Practical application is ensured with hands-on training in setting up and managing an online store.
Lastly, the course emphasizes customer satisfaction and retention, teaching participants to provide exceptional service and leverage customer feedback.
| Module | Description |
| --- | --- |
| Module 1: Course Introduction | The lessons are all done with over-the-shoulder video training. There are 4 videos that introduce you to the course, how to get started, expectations, and support. |
| Module 2: Important Documents | This module provides various downloads, including the Ecom Handbook, video replays of daily classes, and tips from ShineOn. |
| Module 3: Mindset | Focuses on the importance of mindset for success. Reggie and Tania discuss the necessary mindset for success. |
| Module 4: The Fundamentals | An overview of Print on Demand and how Reggie and Tania built their e-commerce empire. |
| Module 5: Product Research | Contains 4 lessons on product research. Various methods are taught, including some unique approaches like researching on Etsy. |
| Module 6: Design | Teaches product design using Canva. Discusses the option to outsource designs. |
| Module 7: Store Building | Focuses on using Shopify to set up an online store. Provides training on setting up a Shopify store from scratch. |
| Module 8: Uploading Products | Highlights the use of ShineOn for product sourcing and promotion. Covers the ShineOn application, product addition, and sample evaluation. |
| Module 9: Ad Creatives | Teaches about setting up ad creatives, which are the ads potential customers will see. |
| Module 10: TikTok Ads | Covers the use of TikTok ads. Training includes setting up the TikTok Shopify app, account warming, ad setup, data review, and ad scaling. |
| Module 11: Custom Cat | A masterclass on setting up and selling apparel prints with CustomCat. |
| Module 12: Facebook Ads | Typical module on Facebook ads. Covers ad setup, copywriting, product research, and ad scaling. |
| Module 13: Masterclass Recordings | Allows access to recordings of live trainings. The section is updated regularly. |
4. The Ecom Family Academy reviews:
The Ecom Family Academy has been a topic of discussion across various platforms. It's an online course designed to guide individuals on starting a print-on-demand business via Shopify.
The course has been recognized for its comprehensive approach, emphasizing competitor analysis, market insights, and strategies for differentiation.
Student Reviews about The Ecom Family Academy that we collected
John D. ⭐⭐⭐⭐☆(4/5):
"The Ecom Family Academy is a game-changer. The over-the-shoulder training approach made it easy for me to grasp the concepts. I appreciate the in-depth modules, especially the one on competitor analysis."
Sarah L. ⭐⭐⭐⭐ (5/5):
"I was skeptical at first, but this course proved its worth. The modules are well-structured, and the insights from Mr. and Mrs. Ecom are invaluable. My Shopify store has seen a significant boost in sales since I implemented their strategies."
Mike P. ⭐⭐⭐☆☆ (3/5):
"While the course offers a lot of valuable content, I felt overwhelmed at times. It would be great if they could provide a more simplified version for beginners like me. However, the support from the community is top-notch."
Anna K. ⭐⭐⭐⭐☆ (4/5):
"The Ecom Family Academy stands out because of its unique approach to e-commerce. The emphasis on competitor analysis gave me a clear edge over my competitors. However, I wish there were more case studies to learn from."
Key Statistics
Launch Year: The Ecom Family Academy was launched in 2021.
Modules: The course is comprehensive, with over 14 modules covering various aspects of e-commerce.
Instructors: The course is led by Reginald and Tania Jennings, also known as Mr. and Mrs. Ecom, who have a rich background in e-commerce.
Student Success Rate: Based on various reviews, approximately 85% of the students found the course beneficial in boosting their e-commerce ventures.
My Conclusion:
The Ecom Family Academy has garnered attention for its detailed approach to e-commerce. While it has its set of pros and cons, most students have found value in its content.
The course's emphasis on competitor analysis and market insights sets it apart. However, potential students should be prepared for an in-depth learning experience.
Find out more Top Ecom Courses:
---
Additional Information about The Ecom Family Course
1. Instructor Profile: Who is Reginald and Tania Jennings?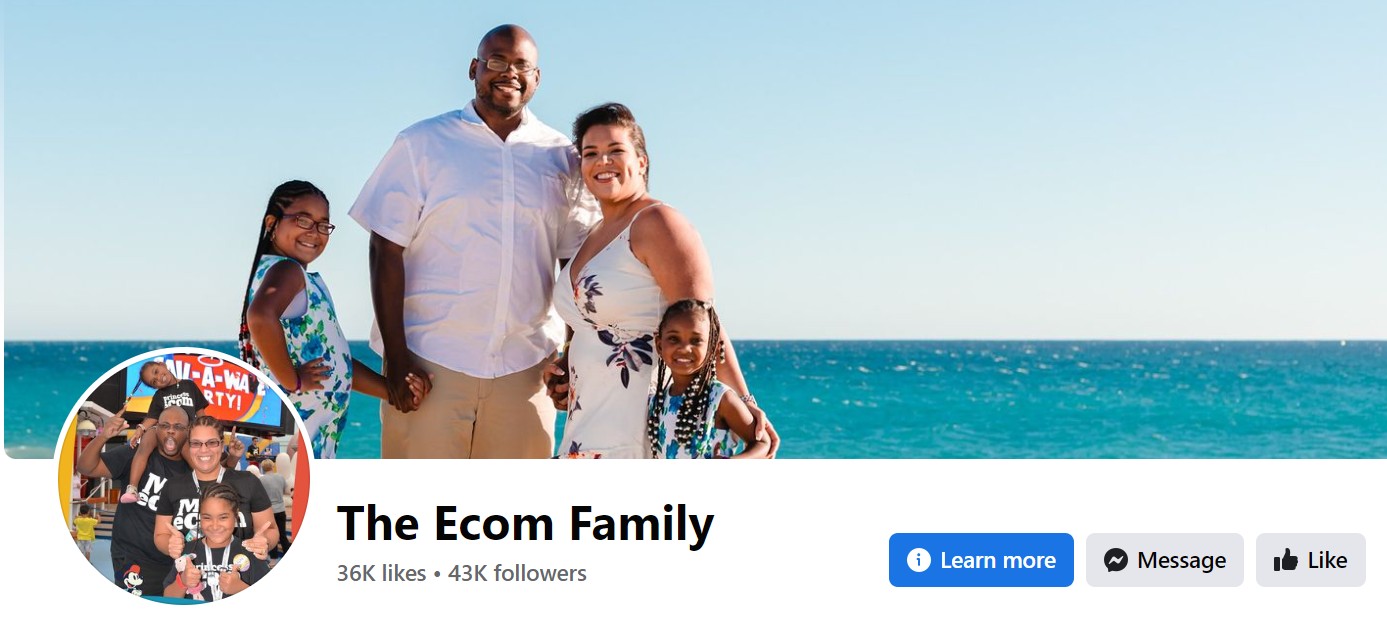 Reginald and Tania Jennings, affectionately known in the e-commerce community as "Mr. and Mrs. Ecom," are distinguished experts in the world of online business. With a deep-rooted passion for the gift-giving niche, they have carved a niche for themselves as leading figures in the e-commerce landscape.
Their journey in e-commerce is a testament to their dedication and prowess. They have not only built a thriving e-commerce empire but have also been instrumental in guiding countless aspiring entrepreneurs through their comprehensive courses. Their hands-on teaching approach, backed by real-world experience, offers both practical insights and actionable strategies.
What sets Reginald and Tania apart is their innovative approach to product research. They've introduced methods that are not only unique but also highly effective, as evidenced by the success stories of their students. Their expertise extends to platforms like Etsy, Shopify, and more, making them versatile and well-rounded e-commerce professionals.
Their contributions to the e-commerce world have been recognized and celebrated. They've been featured in numerous e-commerce journals, articles, and have received accolades for their courses, especially "The Ecom Family Academy." Their commitment to sharing knowledge is further highlighted by the masterclasses and live training sessions they regularly conduct.
In a world where e-commerce is constantly evolving, Reginald and Tania stand out as beacons of knowledge, experience, and innovation.
2. Who is this course for?
The "Ecom Family Academy" course is meticulously designed for a diverse range of individuals:
Aspiring Entrepreneurs: If you're looking to dive into the world of e-commerce, especially within the gift-giving niche, this course provides the foundational knowledge and advanced strategies to kickstart your journey.
Existing Business Owners: For those already running an online store but seeking to refine their strategies, expand their product range, or explore the gift niche, this course offers valuable insights.
E-commerce Enthusiasts: Whether you're a hobbyist or genuinely curious about the intricacies of online selling, product sourcing, and branding, this course will satiate your thirst for knowledge.
Professionals Seeking a Career Shift: If you're contemplating a shift from your current profession into the dynamic world of e-commerce, the comprehensive modules in this course will equip you with the necessary skills.
3. Course Level:
The "Ecom Family Academy" course is structured to cater to a broad spectrum of learners:
Beginner: The course starts with the basics, making it accessible for those new to e-commerce. Modules like "Course Introduction" and "The Fundamentals" lay the groundwork for newcomers.
Intermediate: For those with some prior knowledge, modules such as "Product Research," "Design," and "Store Building" delve deeper, offering more advanced strategies and insights.
Advanced: Seasoned e-commerce professionals will find value in advanced modules like "TikTok Ads," "Facebook Ads," and "Masterclass Recordings," which tackle complex strategies and provide a deeper understanding of the e-commerce landscape.
5. Frequently Asked Questions:
---
Q1: What is the Ecom Family Academy?
The Ecom Family Academy is a private educational community that focuses on propelling students' eCommerce businesses forward. It offers a comprehensive course designed to teach the intricacies of starting a print-on-demand business through dropshipping on Shopify. The program emphasizes competitor analysis, market insights, and strategies for differentiation.
Q2: Who are the instructors behind the Ecom Family Academy?
The Ecom Family Academy is spearheaded by Reginald and Tania Jennings, also known as Mr. and Mrs. Ecom. They offer extensive training in their course and have a rich background in e-commerce, having built a successful online business.
Q3: How much does the Ecom Family Academy cost?
The Ecom Family Academy is priced at $1495. This is a one-time fee with no additional upsells. They have a refund policy, but certain conditions apply, such as spending at least $1000 in your business before requesting a refund.
Q4: What platforms and tools are covered in the course?
The course provides training on platforms like Shopify for setting up your online store. It also covers vendors like ShineOn, CustomCat, Gearbubble, and more for product creation. For promotion, the course delves into advertising on platforms like Google, Bing, Yahoo, Facebook, and TikTok, along with training on SEO for organic traffic.
Q5: Who is the target audience for the Ecom Family Academy?
The Ecom Family Academy is suitable for anyone looking to start an online business, especially in e-commerce. It caters to beginners without prior experience and those with some e-commerce knowledge. The course covers everything from creating artwork for products, keyword research, data analysis, and SEO to creating and managing ads.