[Download] – Advanced Ecommerce Academy Course
---
1. Advanced Ecommerce Academy Course Overview (Size: 30.88 Gb)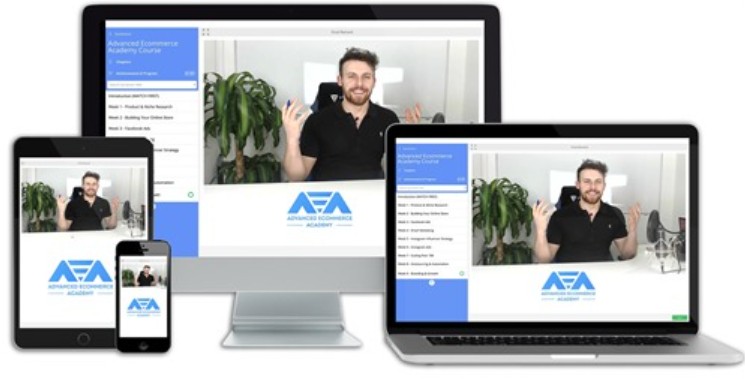 The Advanced Ecommerce Academy is a 9-week online program designed to transform beginners into advanced ecommerce experts.
This comprehensive course equips students with the skills and knowledge to build a 6-figure e-commerce business rapidly.
2. What you will learn:
Product Research: Dive deep into effective techniques for identifying profitable products.
Store Optimization: Learn the art of designing an online store that maximizes conversions.
Marketing Strategies: Master the use of Facebook ads, email marketing, and Instagram influencer strategies to drive traffic and sales.
Scaling and Outsourcing: Understand how to grow your business and delegate tasks effectively.
Branding: Establish a strong brand identity to stand out in the ecommerce space.
Exclusive Bonuses: Benefit from exclusive software tools and additional resources to enhance your ecommerce journey.
3. What's included in this course: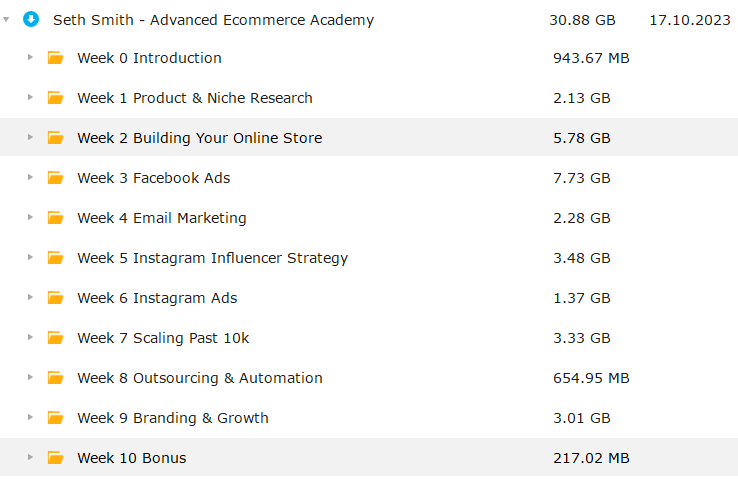 Week 1: Product Research
Overview: A brief module with 3 videos discussing general vs. niche type stores.
Tools: Introduction to free and paid tools like Thieve.co & Dropship Spy.
Week 2: Building Your Store
Content Overview: Comprehensive module with numerous videos.
Key Topics:

Shopify setup: shipping rates, plan selection, shipping info.
Branding: Logo creation, domain registration.
Tools: Installing Rocketmessage, Google Analytics setup, email setup.
Store Optimization: Pricing, Oberlo automation, conversion optimization, adding reviews, parcel tracking, image editing.
Week 3: Facebook Ads
Overview: Contains around 25 videos on Facebook ads.
Key Topics:

Basics: Facebook Pixel, Audience insights, Targeting.
Advanced Strategies: Interest Group building, niche organizing, flex targeting, ad creation, fan page strategies.
Week 4: Email Marketing
Overview: Emphasis on the importance of email marketing in e-commerce.
Key Topics:

Basics: Building relationships, email marketing strategies, collecting emails.
Tools: Setting up Klaviyo, comparison with Mailchimp.
Week 5: Instagram Influencer Strategy
Overview: Basics of Instagram influencer strategies.
Key Topics: Identifying influencers, vetting, contacting, payment negotiations, tracking results.
Week 6: Instagram Ads
Overview: Introduction to Instagram ads.
Key Topics: Creating and launching ads, video stories, Instagram Stories Ads.
Week 7: Scaling Past 10K
Overview: Strategies to scale your store beyond 10K.
Key Topics: Advanced conversion optimization, vertical & horizontal scaling, increasing AOV, manual FB ads bidding.
Week 8: Outsourcing & Automation
Overview: Videos on outsourcing customer support and fulfillment.
Week 9: Branding & Growth
Overview: Emphasis on the importance of branding in e-commerce.
Key Topics: Branding popular items, print on demand, partnering with influencers, selling your store.
Bonus: List of drop shippers.
4. Advanced Ecommerce Academy reviews:
The Advanced eCommerce Academy by Seth Smith has garnered various participant reviews. Here's a comprehensive breakdown of the feedback:
4.1. General Feedback
The course is primarily designed for beginners, offering a step-by-step guide to dropshipping using Facebook ads, Instagram ads, and influencers.
While the course was released in 2018, it remains relevant for those looking to venture into the Shopify dropshipping business.
The course spans nine weeks, with each week focusing on a specific topic. It also includes a bonus module in Week 10 for high ticket dropshipping.
4.2. Pros and Cons:
Pros
Offers exclusive software tools.
Provides a collaborative community for learners.
Includes mentorship sessions where Seth Smith holds Q&As.
Beginner-friendly content.
Cons
Some content might need to be updated.
Some participants felt there needed to be more videos and lessons.
Seth Smith had only one year of dropshipping experience when he launched this course.
Seth is no longer active on his YouTube channel and other social media platforms.
4.3. Price Point:
The original price of the course was $1,997. However, coursehuge.com now offer it at a discounted price of 45$, so any customers can afford to buy the course with minimum risk.
H4: Participant Reviews
John D. ⭐⭐⭐⭐ (5/5):
"The course provides a solid foundation for beginners. The step-by-step approach made it easy for me to understand the intricacies of dropshipping."
Maria L. ⭐⭐⭐ (3/5):
"While the content is informative, I felt some modules lacked depth. However, the community support is fantastic."
Alex P. ⭐⭐⭐⭐ (4/5):
"The mentorship sessions with Seth were the highlight for me. It's rare to get direct access to the course creator for Q&A sessions."
Sophie T. ⭐⭐⭐ (3/5):
"Some techniques felt outdated, but overall, it's a decent course for its price. I would recommend it to those new to dropshipping."
Raj K. ⭐⭐⭐⭐⭐ (5/5):
"The Advanced eCommerce Academy was a game-changer for me. The strategies and tools provided have significantly boosted my online store's sales."
In conclusion, The Advanced eCommerce Academy by Seth Smith, despite being released in 2018, remains a valuable resource for budding e-commerce enthusiasts. While some techniques might feel dated, the course's comprehensive structure and honest student feedback offer a solid foundation for those looking to venture into drop shipping. The mix of positive reviews and constructive feedback provides a balanced perspective for potential participants.
---
Additional Information about Advanced Ecommerce Academy
1. Instructor Profile: Who is Seth Smith?
Seth Smith is a renowned figure in the world of Shopify dropshipping. Seth's channel may seem unassuming, with his YouTube following of approximately 1,260 subscribers as of April 2023, but his expertise in the field is undeniable.
Qualifications and Experience:
Educational Background: Seth is an alumnus of Trinity College in Dublin, Ireland, where he earned his Bachelor's degree in Computer Science and Business.
Professional Role: He currently holds the digital marketing general manager position at Kamozi Marketing Ltd in Ireland, showcasing his proficiency in digital marketing.
Credentials:
Social Media Influence: Beyond his professional life, Seth is an influencer on Instagram with a following of over 4,000 individuals. Although his Instagram is currently empty as of April 2023, his influence in the eCommerce community is palpable.
Recognition: While specific awards or recognitions were not mentioned, his creation of the Advanced E-commerce Academy speaks volumes about his expertise and dedication to the field.
2. Who is this course for?
The Advanced Ecommerce Academy is designed for a diverse range of individuals, including:
Beginners: Those new to the eCommerce world and looking to establish a solid foundation.
Intermediate Learners: Individuals with some experience in e-commerce but seeking to refine their skills and strategies.
Aspiring Entrepreneurs: Anyone aiming to launch their online store and seeking guidance on best practices.
Digital Marketers: Professionals looking to expand their skill set by diving into e-commerce strategies.
Dropshippers: Individuals keen on mastering dropshipping through platforms like Shopify.
3. Course Level
The Advanced Ecommerce Academy is structured to cater to various learning levels:
Foundational: The course starts with the basics, ensuring that even those new to e-commerce can grasp the fundamental concepts.
Intermediate: As the weeks progress, learners are introduced to more advanced topics, building on the foundational knowledge.
Advanced: The latter part of the course delves deep into expert-level strategies, from scaling past 10K to mastering Instagram ads and influencer strategies.
4. Frequently Asked Questions
---
Q1: What is the Advanced eCommerce Academy?
The Advanced eCommerce Academy is a course created by Seth Smith, a Shopify guru specializing in drop shipping. The course is designed to guide individuals who want to venture into the Shopify dropshipping business. It offers nine weeks of course material in video format, with an additional bonus module in Week 10 for high ticket dropshipping.
Q2: Who is Seth Smith?
Seth Smith is a Shopify dropshipping expert. Although relatively new to the YouTube scene, he is recognized for his expertise in the field. He is known for his engaging and captivating delivery style in his courses.
Q3: Who is the Advanced eCommerce Academy suitable for?
The course, priced at $1,997, might seem steep for beginners. However, the material is curated primarily for beginners, covering various topics from setting up to advertising, scaling, and automation. While the course touches on many subjects, each topic might need more depth so additional resources might be required. At coursehuge, we offer this course with just 45$, so you can affordable to buy it with minimum risk.
Q4: What is included in the Advanced eCommerce Academy?
The course spans 9 weeks, with each week focusing on a specific topic. Some modules include Product Research, Building Your Store, Facebook Ads, Email Marketing, and more.
Q5: Are there any concerns or risks associated with the course?
Released in 2018, this course may contain techniques that seem dated. However, based on our analysis, it continues to offer valuable insights essential for starting with e-commerce in 2023.