[Download] – Business Credit Mastery Course
---
1. Business Credit Mastery Course Overview:
Course size: 812 Mb
Price: 69$ (One-time Payment, no Extra hidden fee)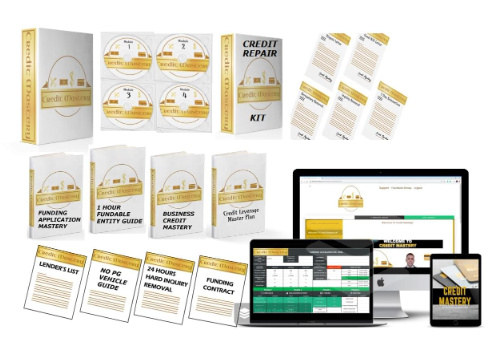 Entrepreneurs, Real Estate Investors, and Business Owners are invited to delve into "Business Credit Mastery" by Colin Matthew, a course designed to unlock $100,000 in 0% Business Credit in as little as 7 days, even without an established business.
This comprehensive guide navigates through the process of acquiring business credit. It unveils avenues for investing in passive income-producing assets like Real Estate and Automated Walmart Stores using Other People's Money (OPM).
The course is meticulously structured into 4 Modules with 30+ Video Lessons to guide you through building and funding a six-figure business and investing the funds to generate passive income. Gain exclusive insights from Colin's $247,000 Funding Case Study from October 2021, where he crafts and funds a brand-new company from scratch in just two weeks. Additionally, benefit from Colin's Lender Database, providing a quick reference to all the best NO-DOCUMENT lenders, enabling you to acquire funding for a new business without revenues!
2. What you will learn in Business Credit Mastery Course:
Acquiring $100,000 in business credit both with and without a personal guarantee.
Strategies to qualify for cash credit products using the 3 Cs.
Techniques to invest OPM in passive income-producing assets.
3. Course curriculum:

---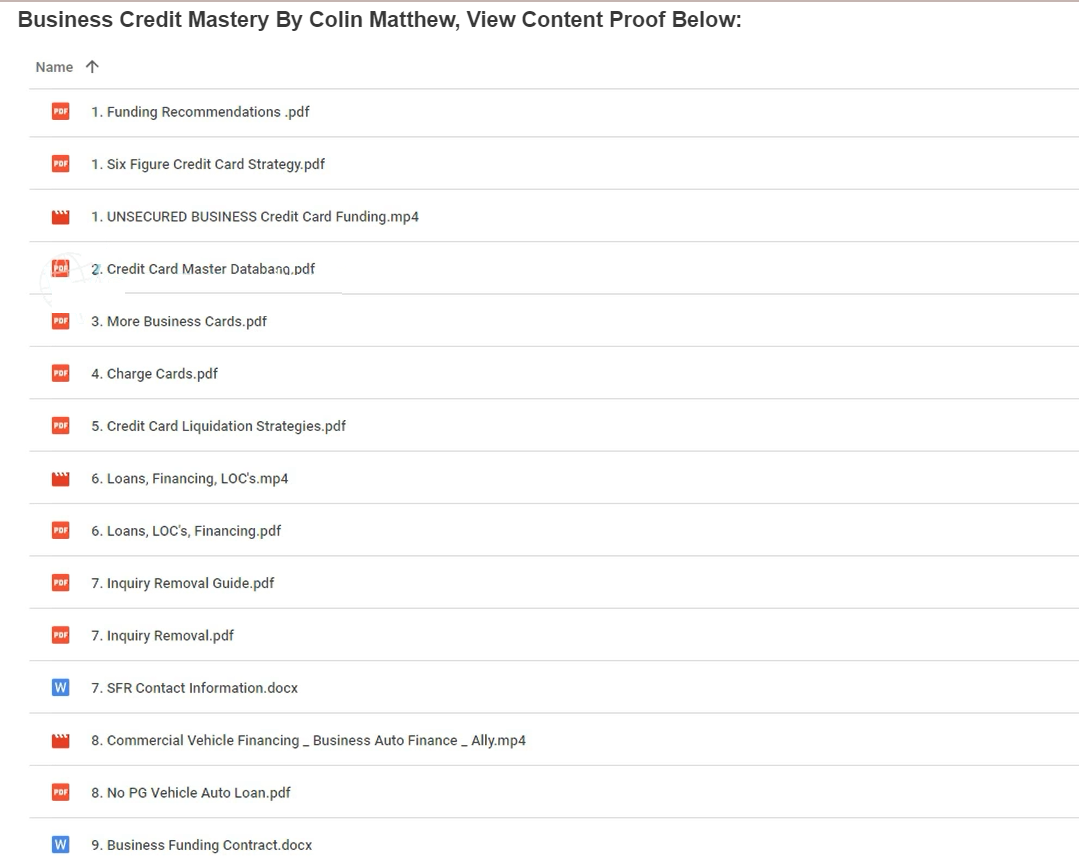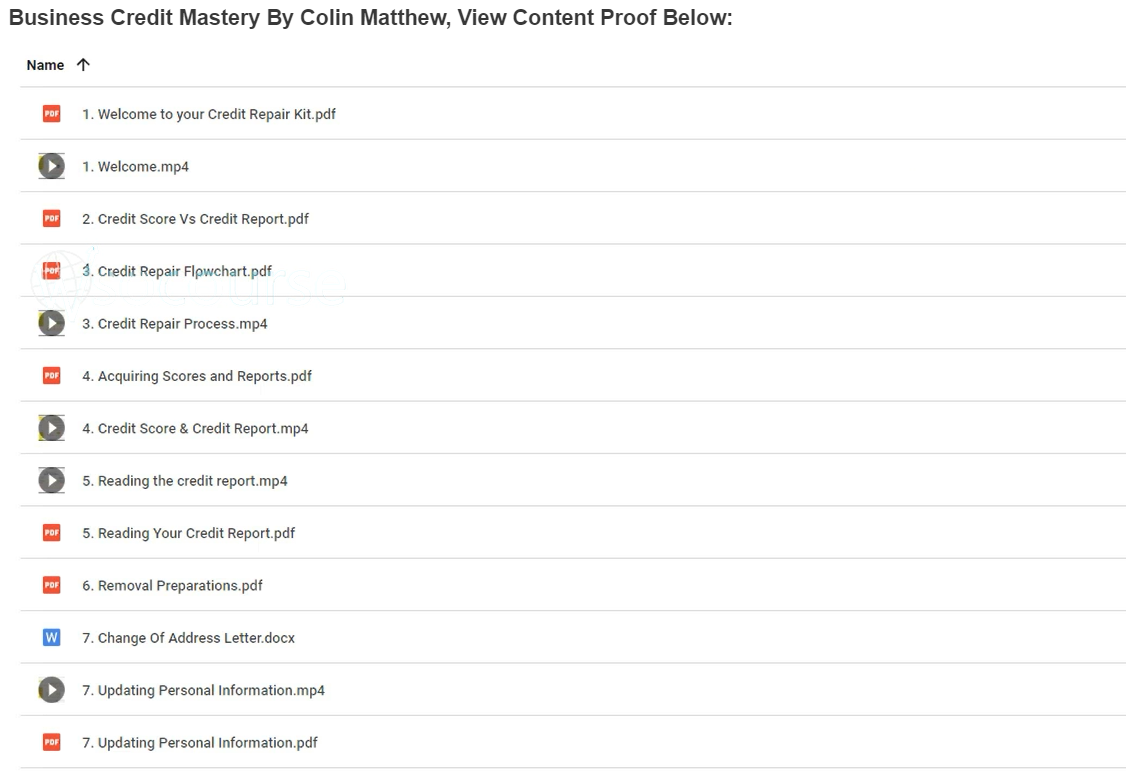 Phase
Description
Phase 1: Compliance
1. Welcome and Introduction
2. Making Your Investment Back
3. Personalized Funding Action Plan
4. Business Funding Essentials
5. Phone Listing, Business Address, and Website Creation
6. Incorporation and EIN Acquisition
Phase 2: Building
1. Funding Accelerator Toolkit
2. Business Bank Account Setup
3. DUNS Number and Paydex Score Acquisition
4. Engaging with Tier 1 Vendors
5. Store Cards, Bridge Loan, and More
Phase 3: Funding
1. Six Figure Credit Card Strategy
2. Comprehensive Credit Card Master Database
3. Exploring More Business Cards and Charge Cards
4. Credit Card Liquidation Strategies
5. Loans, Financing, LOC's, and Inquiry Removal
6. No PG Vehicle Guide, Funding Contract, and Case Studies
Phase 4: Investing
1. Investing Fundamentals
2. 4-Step Real Estate Investing
3. Mergers & Acquisitions and Amazon Automation
Credit Repair Kit:
Welcome and Introduction
Understanding Credit Score Vs Credit Report
Credit Repair Flow Chart and Acquiring Scores and Reports
Reading Your Credit Report and Removal Prep
Updating Personal Information and Round One Dispute
Freezing Secondary Credit Reporting Agencies
Dispute Letter Introduction and Preparation
Round One Dispute Letter (Credit Bureau)
Round Two and Three Dispute Strategies
Round
Description
Round One Dispute
1. Freeze Secondary Credit Reporting Agencies
2. Dispute Letter Introduction
3. Dispute Letter Preparation
4. Round One Dispute Letter (Credit Bureau)
Round Two Dispute
1. Round Two Dispute Letter Introduction
2. Round Two No Response Letter
3. Round Two Re-investigation Letter
Round Three Dispute
1. Round Three Dispute Letter Introduction
2. Round Three No Response Dispute Letter
3. Round Three Warning Letter
4. Business Credit Mastery Course reviews:
The "Business Credit Mastery" course has garnered various feedback and reviews from participants, reflecting a spectrum of experiences and insights that potential enrollees might find valuable. Let's explore some of the reviews and feedback from real students that we collected.
4.1. Positive Feedback and Success Stories
High Ratings: The course has received high ratings and positive reviews on various platforms, indicating a level of satisfaction among many participants.
Success Stories: Some participants have shared their success stories, attributing their ability to secure substantial business credit and effectively invest it to the strategies taught in the course.
Applicability: The practical applicability of the course content has been highlighted by several participants, who appreciated the real-world relevance of the strategies shared.
⭐⭐⭐⭐⭐ (5/5) "This course is ABSOLUTELY AWESOME!! It's well worth the money! If you're serious about growing your business, it would be wise to use business credit to do it. THIS IS THE ULTIMATE BUSINESS CREDIT COURSE!" – by Anthony Thompson
Some other great feedbacks on Colin Mathew Youtube channel: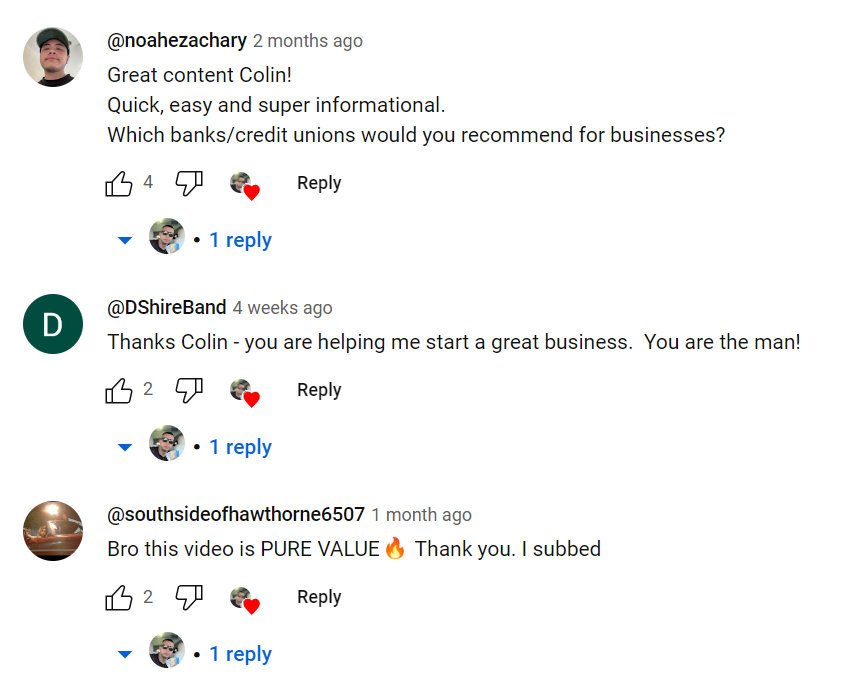 4.2. Constructive Criticism and Neutral Feedback
Varied Experiences: While many have found success with the course, experiences can vary based on individual circumstances, prior knowledge, and application of the course content.
Criticism: Some participants have expressed concerns and criticisms, which provide a balanced view and areas for potential improvement or clarification for new enrollees.
⭐⭐⭐ (3/5) "I was pleasantly surprised how much valuable material and advice Joe shared in the 5-day challenge. I am watching recordings which I missed. Thank you so much. Please do these more often to help people like me to continue building business credit legibly. Super worth of every dollar spent with Business Credit Mastery course. Every business entrepreneur needs to know this knowledge." – by Varma Bhupatiraju
These reviews provide a snapshot of the varied experiences of participants, offering insights into the positive impacts, practical applications, and potential areas of concern or criticism related to the "Business Credit Mastery" course. It's always recommended to approach reviews with a critical eye and consider how your unique circumstances might influence your experience with the course.
Read more about Business Credit:
---
Our In-depth Analyze on Business Credit Mastery Course
1. Instructor Profile: Who is Colin Matthew?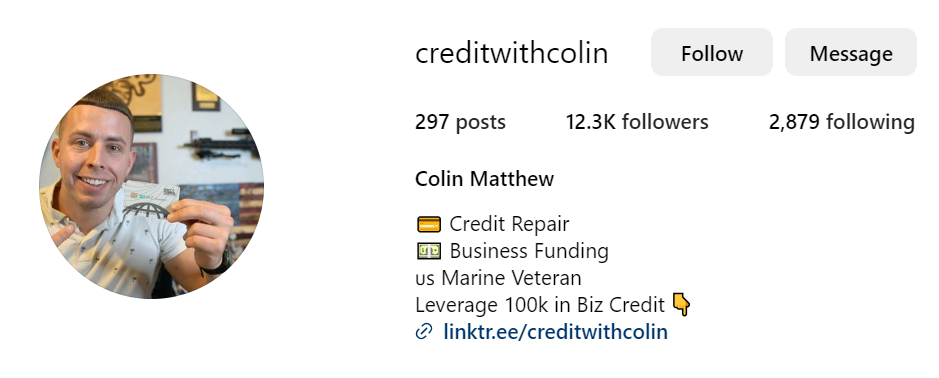 Colin Matthew, a seasoned entrepreneur and financial strategist, has curated the "Business Credit Mastery" course to empower businesses and individuals in navigating the financial realm. His expertise in establishing and optimizing business credit has been a cornerstone for many in achieving financial success and stability.
Qualifications and Experience:
Colin brings to the table a wealth of knowledge and experience in business credit establishment, funding strategies, and investment in passive income-producing assets. His adept understanding of financial mechanisms and credit systems has been instrumental in crafting a course that is not only informative but also practically applicable.
Credentials:
Although specific awards or recognitions were not readily available, Colin's creation, the "Business Credit Mastery" course, stands as a testament to his expertise, providing a step-by-step guide in securing substantial business credit and investing it wisely.
Social Proof and External Links:
Colin Matthew has successfully assisted numerous entrepreneurs and businesses in navigating their financial journeys. His methodologies and strategies, encapsulated in the course, have been lauded for their practicality and effectiveness. For a deeper dive into his strategies and insights, you might explore his official website.
On Instagram, Colin Mathew write 297 post and he has more than 12,9K follower. Its the same for Youtube channel, he has 11.6K subscribers, and more than 10K view for each videos. This prove that Colin has great knowledge background & strong signals on social.

Is Colin Matthew a scam?
Based on my research about the course content & social proof, my answer is NO. But, you still need to consider any other possible information to ensure the course suits you
2. Who is this course for?
Aspiring Entrepreneurs: Individuals looking to dive into the business world, seeking financial strategies to fund and sustain their ventures.
Existing Business Owners: Entrepreneurs who aim to elevate their financial strategies, enhance their business credit, and explore new investment avenues.
Real Estate Investors: Those who wish to leverage business credit to expand their real estate investments and optimize their financial portfolios.
Individuals Seeking Passive Income: Anyone looking to understand and utilize business credit to establish and grow passive income through various investment strategies.
3. Course Level:
Beginner to Intermediate: The course is crafted to cater to individuals at the starting point of understanding business credit, offering foundational knowledge and gradually progressing into more advanced strategies.
Financial Strategists: Even those familiar with financial strategies can find value in the advanced modules, which delve into nuanced investment strategies and credit optimization.
Investors: Investors at various levels can harness the strategies outlined to enhance their investment portfolios and explore new, financially viable opportunities.
4. What make the Business Credit Mastery Course stand out?
The "Business Credit Mastery" course, curated by Colin Matthew, has garnered attention and appreciation for its comprehensive and strategic approach towards business credit and investment. Let's explore what makes this course a standout choice for entrepreneurs and investors.
4.1.A Comprehensive and Strategic Approach
In-depth Modules: The course is meticulously structured into four pivotal phases: Compliance, Building, Funding, and Investing, each designed to guide you through a systematic journey from understanding business credit to practical application in investments.
Practical Insights: Unlike many courses, it doesn't just stop at theoretical knowledge. It provides valuable insights and actionable strategies that Colin has utilized to secure $247,000 in funding for a brand new company in just two weeks, as of October 2021.
4.2.: Real-world Application and Success Stories
Success Stories: The course isn't just theory; it's backed by real-world application. Colin shares his journey, providing a case study where he successfully funded a brand new company with $247,000 in just two weeks (source).
Applicability: The strategies taught are theoretical and applicable in the real world, enabling you to practically implement the learned strategies in your business ventures and investments.
4.3.: Lifetime Access and Continuous Learning
Lifetime Access: Once you enroll, you get lifetime access to the Business Credit Mastery course, ensuring you can revisit the modules and strategies anytime in your journey.
Continuous Learning: The course is designed to be your companion in your financial journey, offering in-depth modules and secrets to six-figure funding, which you can continually refer back to and learn from.
4.4.: Expertise and Credibility of the Instructor
Proven Expertise: Colin Matthew doesn't just teach the course; he practices what he preaches, successfully providing you with strategies he has utilized.
Credibility: With a robust official website and a course that has been appreciated by many, Colin brings a wealth of knowledge and credibility to the table.
4.4.: A Holistic Approach to Business Credit and Investment
Beyond Business Credit: The course doesn't just stop at helping you acquire business credit but guides you on strategically investing it to create passive income streams.
Investment Strategies: Learn how to invest in passive income-producing assets like Real Estate and Automated Walmart Stores, ensuring that the business credit you acquire is utilized in the most optimized manner.
Incorporating these aspects, the "Business Credit Mastery" course is a comprehensive, practical, and credible resource for anyone looking to master the art of business credit and investment.
5. Frequently Asked Questions:
---
Q1: What is Business Credit?
Business credit pertains to a company's ability to buy something now and pay for it later. It is a part of the business profile and determines the loan repayment ability.
A good business credit score can assist in negotiating lower interest rates or securing a larger loan amount. It is crucial to build good credit to ensure financing options are available when needed. 
Q2: How can I establish and improve Business Credit?
To establish business credit, you must register, create a business profile, and engage in activities that build credit, such as using a business credit card and ensuring timely payments. Improving business credit involves keeping a low debt ratio, paying off outstanding debts, and maintaining open credit accounts to establish a length of credit history. 
Q3: How often should I check my Business Credit Profile?
It is recommended to check your business credit profile monthly. Regular check-ups help catch errors and address issues promptly, ensuring the accuracy of the shape and maintaining a positive impact on your business credit score. 
Q4: What does the Business Credit Mastery course teach?
The Business Credit Mastery course, crafted by Colin Matthew, teaches a four-phase system for acquiring startup capital and maximizing utility by investing in online or offline income-producing assets. The study also provides bonus training and support. 
Q5: How can I create a robust Business Credit Profile?
Building a solid business credit profile involves several steps, such as opening a business credit card, making consistent payments, and asking vendors for "vendor credit," which allows you to purchase goods and services without upfront cost. Ensuring vendors report your good payment history to business credit bureaus is also crucial.