[Download] The Art of Adjusting in 20217 Course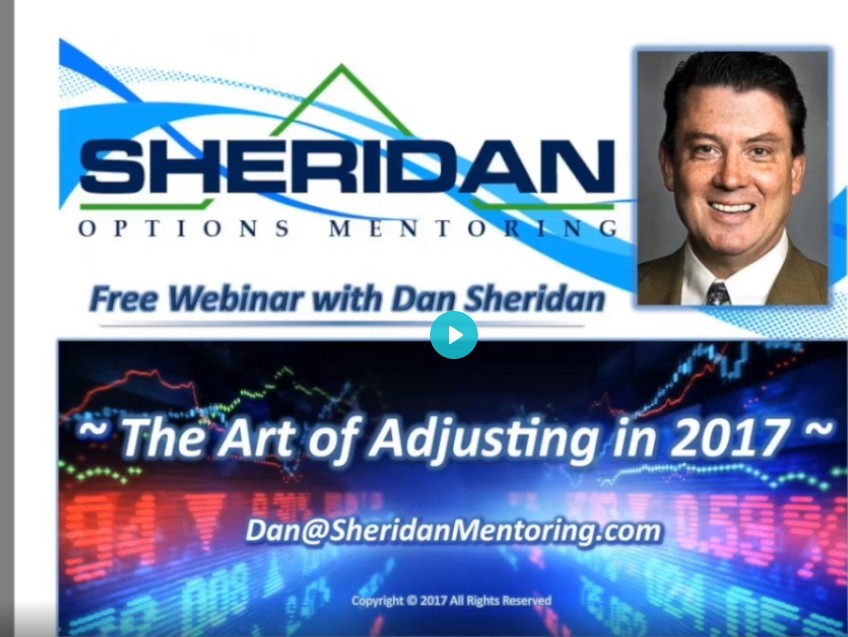 ---
1. Course Overview:
Discover the intricacies of trade adjustments with the "THE ART OF ADJUSTING" course by Dan Sheridan. This course meticulously guides you through the strategies, purposes, and practical applications of trade adjustments, ensuring you can manage and optimize your trading portfolio with adept risk management techniques.
2. What You Will Learn: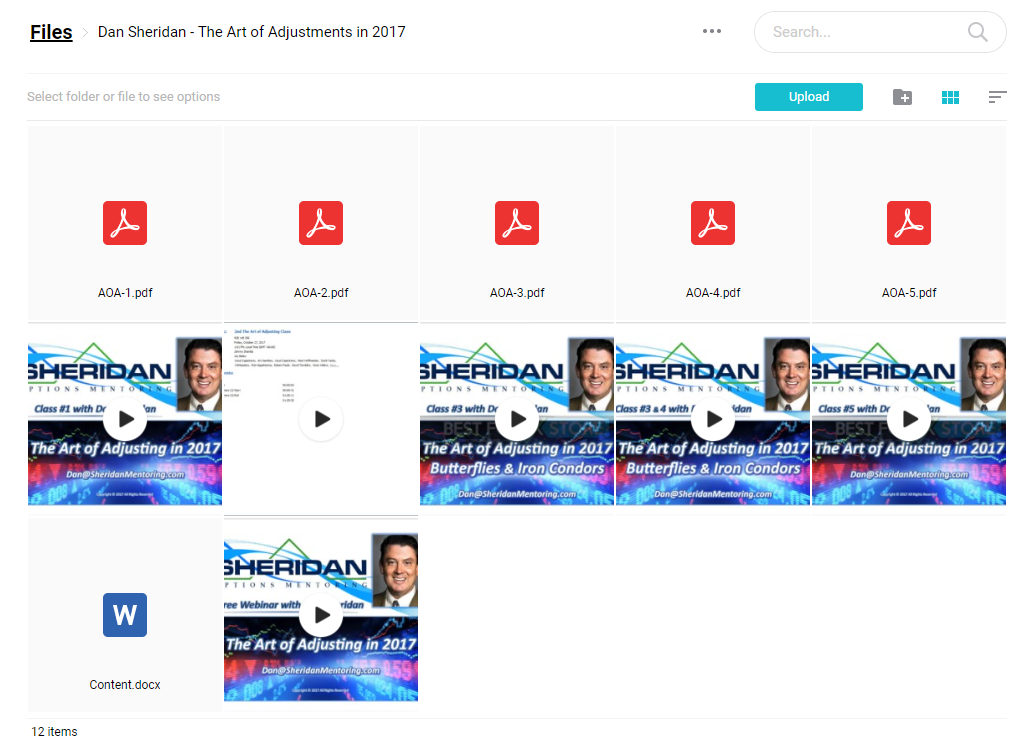 2.1. Understanding Adjustments:
Definition and Necessity
Purpose and Application
Risk Management and Adjustment Integration
2.2. Adjustment Strategies:
Common Types and Methods
Decision-Making Matrix
Adjustment Magnitude and Frequency
2.3. Utilizing VIX:
Guiding Adjustments
Adjusting Trades with SPX Movements
3. Course Curriculum:
Class #1: Laying the Foundation for Adjustments with Dan: Topics include what an adjustment is, its purpose, necessity, and common types.
| Time | Content |
| --- | --- |
| 0 | Intro |
| 5:10 | What is an Adjustment |
| 5:40 | Purpose of Adjustments? |
| 6:32 | Do I have to Adjust Trades? |
| 6:50 | Where do Adjustments fit into the cycle of Risk Management? Dan's 4 Step Risk Management Plan |
| 16:03 | Most common types of Adjustments? |
| 17:06 | Dan's Matrix Decision Making Process with Adjustments? |
| 22:10 | How much should you Adjust a position? |
| 23:53 | How many adjustments should you make on a particular trade? |
| 27:15 | How to use VIX as a Guide with Adjustments? |
| 34:20 | How do I Adjust Trades when SPX moves near 1% in a Day (Speed) |
| 39:15 | How to Adjust Credit Spreads |
| 1:26:00 | End |
Class #2: Why? When? How? with Jay Bailey: Delving into the fundamental reasons to adjust, pros and cons, and practical examples.
| Time | Content |
| --- | --- |
| 0 | Intro |
| 1 | Today's Agenda |
| 2 | My Adjustment Journey |
| 6 | Fundamental Reasons to Adjust |
| 7:49 | Pros and Cons of Adjustments |
| 11:50 | Example of Adjusting a Butterfly |
| 20:22 | Adjusting versus not adjusting |
| 22:18 | Adjusting Example with Calendar to widen the width of a trade |
| 27:00 | Adjustments can prevent large losses- Iron Butterfly Example |
| 34:25 | Option Adjustments in the Past |
| 38:50 | What should be your objective with Delta when Adjusting? |
| 45:10 | What should be your objectives with Vega when adjusting? |
| 46:15 | Theta and the "Tent": What should your objectives be? |
| 48:02 | Don't worry if you don't need to! |
| 52:22 | Adjustment Considerations |
| 53:25 | Should I Adjust? |
| 56:00 | Factors to Consider when Adjusting |
| 56:35 | What not to do with Adjusting |
| 58:00 | One Important Upside Adjustment- Long Call VS Long Call Debit Spread |
| 1:01:25 | One Important Downside Strategy |
| 1:06 | Considering Vega when Adjusting |
| 1:20:00 | End |
Class #3: Adjusting Balanced Butterflies with Dan: A focused session on changing balanced butterflies.
| Time | Content |
| --- | --- |
| 0 | Intro |
| 2:45 | How to Adjust Balanced Butterflies |
| 1:08:00 | END |
Class #4: Adjusting Broken Wing Butterflies and Iron Condors with Dan: Strategies on adjusting broken wing butterflies and iron condors.
| Time | Content |
| --- | --- |
| 0 | Intro |
| 1 | How to Adjust Broken Wing Butterflies? |
| 45:00 | How to Adjust Iron Condors? |
| 1:06:00 | End |
Class #5: Adjusting Calendars and Miscellaneous Issues: Techniques for changing double and single calendars and addressing miscellaneous adjustment issues.
| Time | Content |
| --- | --- |
| 0 | Intro and Q and A |
| 9:00 | How to Adjust Double Calendars? |
| 37:30 | How to Adjust Single Calendars |
| 52:11 | Macro and Micro View of Adjustments? |
| 53:11 | Last 4 Years have been mostly upside Adjustments |
| 53:26 | Adjusting a Portfolio: Beta Weighting |
| 54:56 | Not being able to get out of a spread at Max Loss |
| 57:07 | Not able to execute an adjustment at a decent price |
| 58:08 | How to guard against Black Swans? |
| 1:18:00 | Warning to Covered Writes, CSP Folk, Put Credit Spreads, BWB, etc. |
| 1:00:50 | Adjustments in Stocks |
| 1:05:00 | END |
4. Important Notices:
4.1. Course Materials Disclaimer:
The course offering can change at any time at Sheridan Options Mentoring's Discretion.
Changes will be posted on the website, serving as notifications.
Classes are for educational purposes and are not an advisory service.
4.2.Risk Disclaimer:
Futures and stock options trading involves large potential rewards and risks.
Awareness and acceptance of the risks are crucial.
No representation is made that any account will or will likely achieve profits or losses similar to those discussed.
---
Additional Information about The Art Of Adjusting In 2017
1. Instructor Profile:
1. Dan Sheridan – The Expert Behind the Strategies
Dan Sheridan, the Founder and CEO of Sheridan Options Mentoring, has over 30 years of experience in options trading and has been educating traders worldwide.

He is a veteran CBOE market maker and worked with Mercury Trading, a specialist firm headed by Jon and Pete Najarian. While at Mercury, Dan was responsible for training numerous traders, including Pete Najarian, who later became one of CNBC's Fast Money hosts.
In 2004, Dan left the pits and founded Sheridan Mentoring to teach individual traders the techniques and methods he used daily to profit in the options markets consistently. He is a guest on the TD Ameritrade Network, has been featured at CBOE.com, and frequently conducts educational webinars at Interactive Brokers and several other brokerage firms. Dan was also featured in FUTURES magazine, showcasing his expertise and contributions to options trading.
Dan Sheridan's approach to training is deeply rooted in real-world trading scenarios, providing a pragmatic approach to understanding and mastering the market through options trading and adjustments. His methodologies are theoretical and tested and applied strategies from his extensive and successful trading career.
His Youtube channel now have more than 8K subscribers with 308 videos is a huge resources:

2. Who is this Course for:
Those looking to delve deeper into the nuances of trade adjustments.
Traders aim to enhance their risk management strategies.
Individuals seeking to optimize their trading portfolio through informed adjustments.
Anyone eager to learn from the seasoned expertise of Dan Sheridan.
3. Course Level: Comprehensive Learning for All Levels
Beginner Level: Understand the fundamentals of trade adjustments and their pivotal role in risk management.
Intermediate Level: Enhance your existing knowledge and learn how to implement adjustment strategies effectively in various trading scenarios.
Advanced Level: Refine your strategy with Dan's methodologies and explore more profound aspects of trade adjustments and portfolio management.
4. Is Dan Sheridan Courses a Scam?
4.1. My first experience on Dan Sheridan and His Courses
Dan's courses and seminars, including forums and review sites, have been discussed online. Some individuals have expressed skepticism, while others have shared positive experiences. For instance, a Reddit user questioned the legitimacy of a $400 course by Dan, citing a promotional video as their point of reference. On the other hand, some testimonials, like those found on Investimonials, have users praising the insights gained from his courses.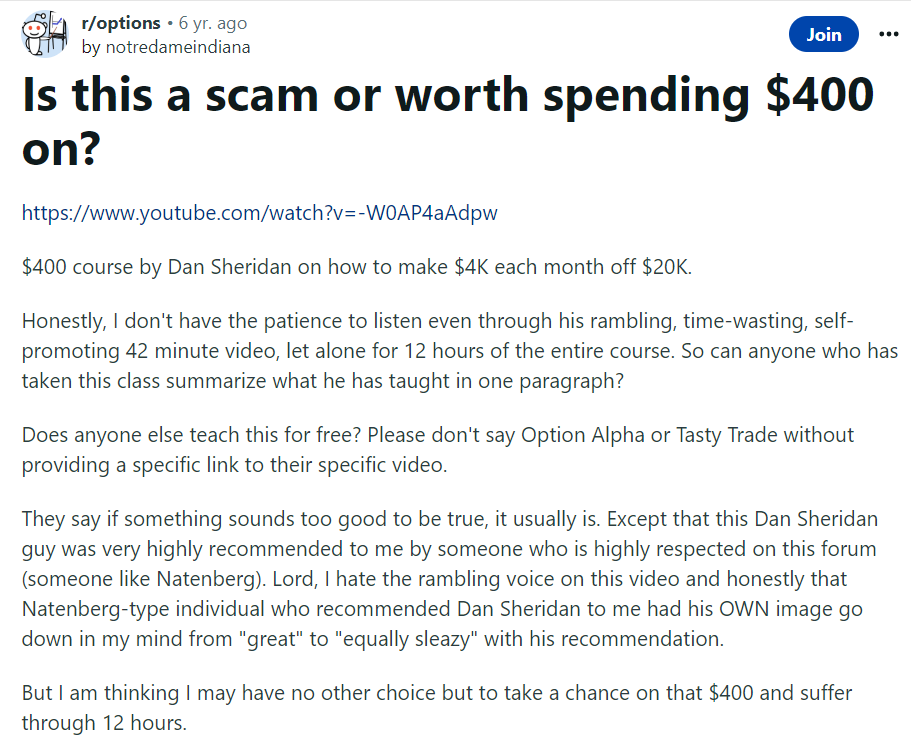 4.2. The Diverse Opinions
Positive Feedback:
Some traders have found value in his courses, appreciating the depth and practicality of the strategies discussed.
There are instances where users have expressed satisfaction with the knowledge gained, especially regarding specific trading strategies like Butterflies.
Critical Views:
Criticisms often revolve around the marketing approach and the pricing of the courses.
Skepticism also arises from promotional materials, with some individuals finding them potentially misleading or overly promotional.
4.3. A Balanced Perspective
It's imperative to approach such courses with a balanced perspective. While some might find value in the shared insights and strategies, others might perceive the information as common knowledge or not worth the investment. The varied opinions and experiences shared online underscore the importance of conducting thorough research and engaging with free resources or webinars provided by Dan Sheridan before investing in a paid course.
4.4. Final Thoughts
While there are varied opinions about the efficacy and value of Dan Sheridan's courses, it's crucial to approach them with due diligence. Engaging in forums, reading through diverse reviews, and perhaps interacting with past participants can provide a more rounded view, enabling you to make an informed decision about investing in these courses.
5. Frequently Asked Questions:
---
Q1: What is the main focus of the 'THE ART OF ADJUSTING' course by Dan Sheridan?
The course, led by Dan Sheridan, focuses on building, trading, and managing trades using various adjustment strategies. It aims to equip traders with the knowledge and practical skills to optimize their trading portfolio and manage risks effectively through strategic trade adjustments.
Q2: Who is the course suitable for, and what can participants expect to learn?
The course is tailored for both novice and experienced traders. Participants can expect to learn the fundamentals of trade adjustments, various adjustment strategies, decision-making processes, and how to utilize VIX as a guide with adjustments, among other topics.
Q3: How is the course structured, and what topics are covered?
'THE ART OF ADJUSTING' is structured into detailed classes, each focusing on specific aspects of trade adjustments. Topics include understanding and applying adjustments, exploring adjustment strategies, utilizing VIX, adjusting balanced butterflies, broken wing butterflies, iron condors, and calendars, and addressing miscellaneous adjustment issues.
Q4: Are there any prerequisites or required knowledge for enrolling in the course?
While specific prerequisites are not mentioned, having a basic understanding of options trading and related terminologies might be beneficial to grasp the concepts and strategies taught in the course effectively.
Q5: Is there any support or additional resources available during or after completing the course?
The available information needs to specify post-course support or additional resources. However, Dan Sheridan and his platform, Sheridan Mentoring, offer various courses and educational materials that might provide ongoing learning opportunities.