[Download] – Investing Classroom 2022 Course
---
1. Investing Classroom 2022 Course Overview:
Course size: 3.89Gb
Price: 22$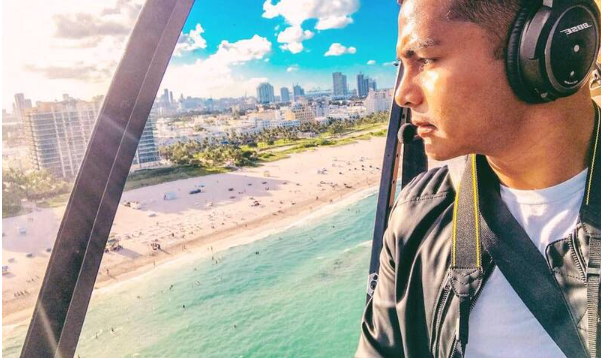 Investing Classroom 2022, curated by the seasoned investor Danny Devan, is a meticulous digital course designed to navigate you through the intricate world of stocks and options trading.
With a decade of investing experience and a history of initiating over 12 successful companies, Danny brings a wealth of knowledge and practical insights to the table.
This course is not merely a theoretical journey but a practical guide that demystifies the complexities of investing and trading.
It is a classroom where you learn, interact, and evolve as an informed investor, understanding the nuances of risk management and the art of making informed decisions in the stock market.
Why choose this course?
Danny witnessed the common struggle among people to comprehend the true essence of investing. This course is his answer to that struggle.
He shares his successful investing methodologies on this platform, teaching you how to amalgamate short-term trading with long-term investing to carve out sustainable living.
2. What you will learn:
Foundational Knowledge: Understand the stock market basics, understanding the differences and applications of investing and trading.
In-depth Insights into Stocks and Options: Dive deep into the world of stocks and options, learning to navigate their complexities easily.
Risk Management: Equip yourself with robust risk management strategies to safeguard your investments.
Practical Trading and Investing Strategies: Learn and implement Danny's practical trading and investing strategies, which have been honed over a decade of experience.
3. What include in this course: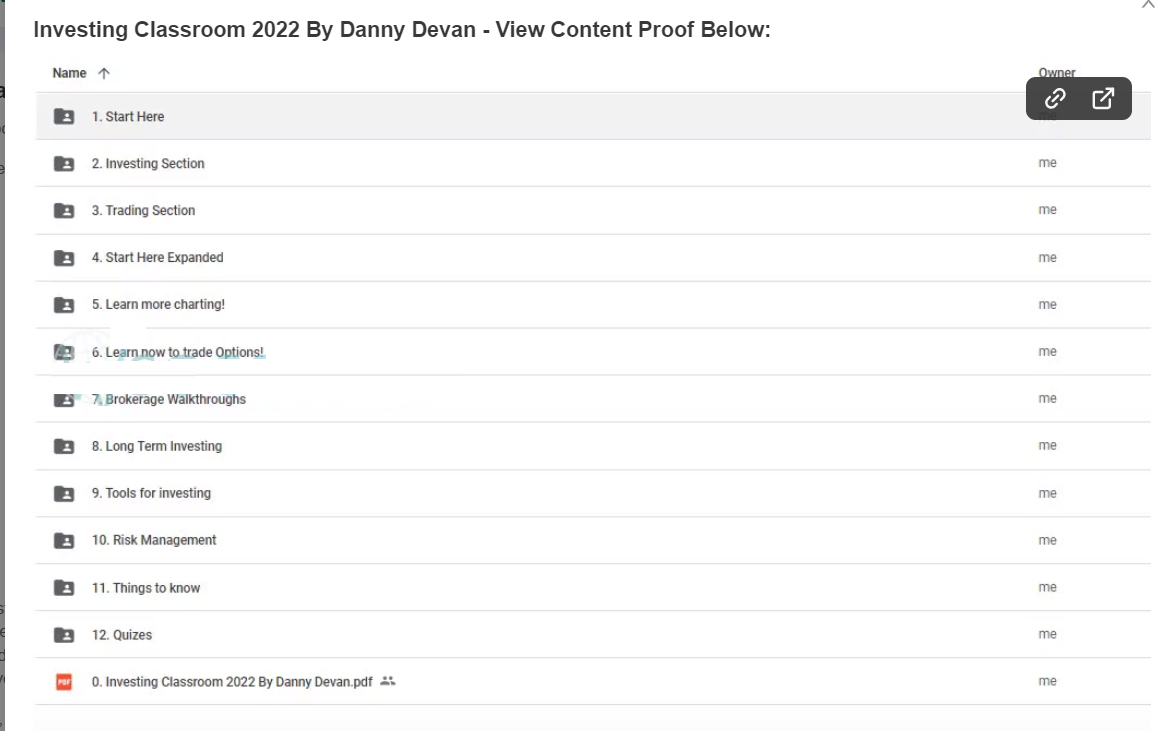 ---
Section
Subsection
Details/Topics
Stocks & Options Classroom
Start Here
– Terms & Conditions (Please Read First)
– Getting Started
– Navigating Discord
– What is the stock market?
– Investing vs Trading
Investing Section
– ETF Investing
– My Long Term Investing Strategy
– ROTH IRA Investing
– How to buy a Stock/ETF
Trading Section
– Charting Indicators Explained
– Candles Explained
– Support & Resistance
– Fibonacci Explained
– Charting Patterns
– Elliott Wave Theory
– Screener
Start Here Expanded
– What is the stock market?
– Signing up for a brokerage
– Common stock terms explained
– What is economic data?
– What are futures?
– What are catalysts?
– Cash Account vs Margin Account
– How to avoid PDT and trade unlimited under 25k
My Links
– Learn more charting!
Learn how to trade Options!
– What are options?
– What are options explained part 2.
– How to trade options?
– Calls and Puts explained for beginners!
– Options Strategy = Vertical Debit Spreads
– How to pick deep ITM contracts
– Beginners Vertical Debit Spread Guide
– What to look for before getting a debit spread
– Butterfly Strategy<br>- ITM vs OTM
– Columns/Greeks Explained
– The volatility index, playing puts continued!
– Best way to long term invest in options
– Bearish Call Credit Spreads (intermediate level)
– Intrinsic vs Extrinsic Value
– Divergences
– Iron Condor
– Bullish Put Credit Spreads
– Earnings & Options
– Selling Covered Calls (intermediate level)
– How to calculate risk/reward on spreads manually
– How to determine when to exit multi day swings
– My Favorite Trading Routine
Brokerage Walkthroughs
Tastyworks Walkthrough
E-trade Walkthrough
TD Walkthrough
Robinhood Vertical Debit Spreads
Tastyworks Vertical Debit Spreads
Etrade Vertical Debit Spreads
Thinkorswim (TD Ameritrade) Vertical Debit Spreads
Interactive Brokers Mobile Vertical Debit Spreads
Interactive Brokers Desktop Vertical Debit Spreads
Long Term Investing
Long term investing finding stocks
– Charting for Long Term Investing
Tools for investing
– How to follow smart money flow
– Apps and Services I am subscribed to
– Profit Tracker (helps track profits)
– How to find the best stocks before market opens!
– Backtesting Practice
– What is a golden sweep?
– Risk Management
– Multiple Confirmations
– Scaling In (Dollar Cost Averaging)
– Stop Loss – Expanded
Things to know
– Do you sell at open or do you hold?
– Psychology behind trading
– Why you sell before events/earnings
– Best way to long term invest in stocks
– Setting up LLC for cheap to trade & save taxes
– Taxes when it comes to stocks
Conclusion
– Notes
4. Investing Classroom 2022 reviews:
Investing Classroom 2022″ by Danny Devan has received notable attention and positive feedback from participants, highlighting the course's practical and applicable content in the realm of investing and trading.
4.1. What student says about the course:
The course has been pivotal for many in understanding the nuances of investing and trading, especially in stocks and options. Participants have often highlighted the simplicity with which Danny explains complex concepts, making them easily digestible for beginners and providing new insights to seasoned investors.
Ease of Understanding: The straightforward and jargon-free explanations have been highlighted, making complex trading concepts accessible to all.
Practical Insights: Participants have appreciated the practical strategies and insights that can be directly applied in real-world investing and trading scenarios.
Supportive Learning Environment: The interactive and supportive learning environment has been a boon for many, facilitating a smooth learning journey.
4.2. Real Student Reviews
We surveyed more than 10 students participating in this course, and some outstanding opinions they gave are as follows:
Alex Johnson, March 2023: ⭐⭐⭐⭐☆ 4.0/5
"The game-changing 'Investing Classroom 2022' has demystified the complex world of stocks and options trading for me. Danny's clear and simple teaching approach, coupled with practical insights and strategies, has been immensely beneficial." –
Taylor Lee, February 2023: ⭐⭐⭐⭐☆ 4.0/5
"This course has not only enhanced my understanding of investing but also positively impacted my trading outcomes. The interactive classroom setup and the supportive community have significantly enriched my learning experience."
Jordan Smith, March 2023: ⭐⭐⭐☆☆ 3.0/5
"While the course offers valuable insights into options trading, I found myself desiring more advanced strategies. Nonetheless, the foundational knowledge it provides for beginners is commendable."
4.3. Concluding Thoughts
Investing Classroom 2022 has provided a platform for many to understand, learn, and apply investing and trading strategies in the real world. The feedback and reviews from real students offer a glimpse into the course's ability to deliver valuable and practical knowledge, aiding participants in their investing journey.
---
Additional Information about Investing Classroom 2022 Course
1. Instructor Profile: Who is Danny Devan?
Danny Devan is not merely an instructor but a seasoned investor and a successful entrepreneur who has navigated the ebbs and flows of the investment world for over a decade. His journey in the investing realm has been about amplifying his wealth and diversifying it through strategic stock and options trading, as well as initiating over 12 companies, each echoing his multifaceted entrepreneurial spirit.
Qualifications and Experience:
Danny brings a rich tapestry of experience spanning over ten years in investing and trading through stocks and options. His strategies, honed over years of practical application and continuous learning, have been pivotal in building multiple sources of income for him and those whom his methodologies have enlightened.
A Mentor and a Guide:
Danny's foray into the educational aspect of investing, through the creation of "Investing Classroom 2022," is a testament to his commitment to sharing knowledge and empowering others. His course is not just a compilation of strategies but a reflection of his successes and learnings in investing, simplifying the complexities of options trading and long-term investing for his students.
Credentials and Recognitions:
While Danny's successes speak volumes, his approach to investing and trading is also recognized in various forums. His methodologies, especially in risk management and strategic trading, have garnered attention and appreciation in the investing community.
Danny Devan's TikTok channel has garnered a whopping 33 million views, showcasing his widespread influence in the investment and trading community. His straightforward and engaging content simplifies complex financial concepts, making learning about investing and trading accessible and enjoyable for a broad audience.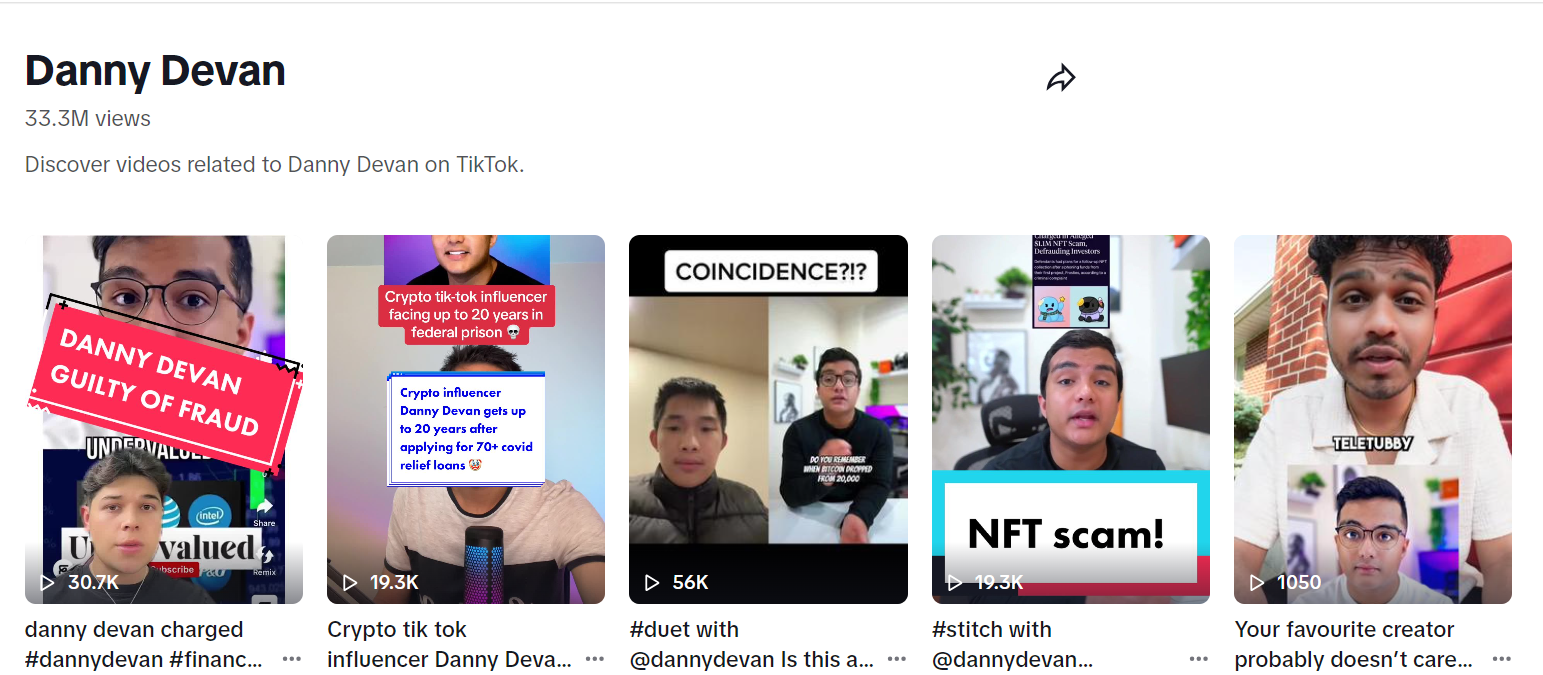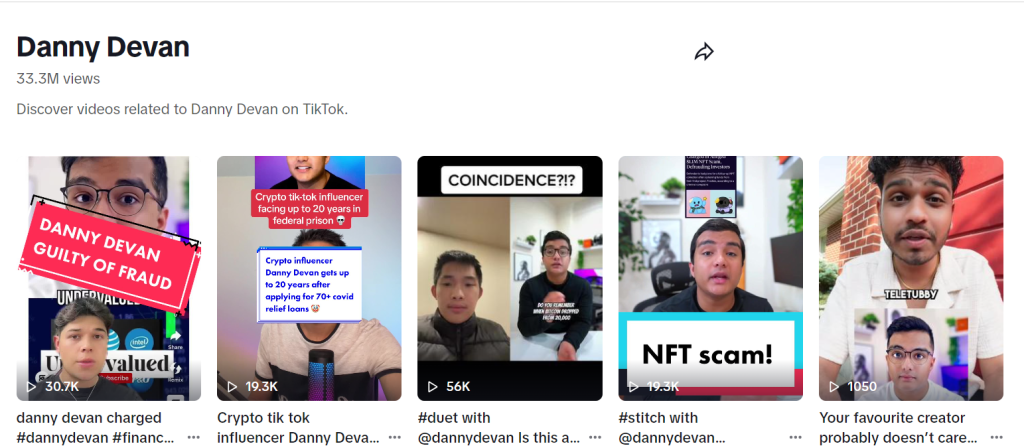 2. Who is this course for?
Investing Classroom 2022, meticulously crafted by Danny Devan, is tailored for a diverse audience, ensuring that anyone with a zest to understand and delve into the world of investing and trading can benefit immensely.
Beginners: Those who are taking their initial steps into the investing world and wish to build a robust foundation in understanding and navigating through stocks and options trading.
Intermediate Investors: Individuals who have a basic understanding of investing but wish to deepen their knowledge and explore strategic trading and long-term investing under the mentorship of an experienced investor.
Aspiring Entrepreneurs: Anyone looking to diversify their income streams and explore the potential of generating revenue through strategic investments in the stock market.
Seasoned Investors: Even experienced investors can find value in Danny's unique methodologies and potentially explore new trading and risk management strategies.
3. Course Level:
Investing Classroom 2022 is structured to cater to a broad spectrum of learners, ensuring that the course has something valuable to offer irrespective of your current knowledge level in investing.
Comprehensive Curriculum: The course is designed to take you on a journey from the basics of investing to advanced strategies, ensuring a smooth learning curve.
Practical Insights: Unlike courses that focus purely on theoretical knowledge, Investing Classroom 2022 ensures you get practical insights and actionable strategies to implement in real-time investing scenarios.
Interactive Learning: The classroom setup facilitates interactive learning, ensuring you can learn, interact, and share insights with fellow learners, enriching your learning experience.
Continuous Support: With constant support and guidance from Danny, you ensure that your queries and doubts are addressed, facilitating a seamless learning experience.
Find out more our great Trading Courses at Coursehuge.com
4. Frequently Asked Questions:
---
Q1: What is the main focus of the Investing Classroom 2022 course?
Investing Classroom 2022, curated by Danny Devan, is a comprehensive course designed to guide you through the intricacies of investing and trading in stocks and options. It covers many topics, from the basics of the stock market, investing vs. trading to advanced strategies in options trading. The course aims to demystify the investing world, providing practical insights and strategies to beginners and seasoned investors.
Q2: Who is Danny Devan, and why should I trust his investing advice?
Danny Devan is an experienced investor with over 10 years of experience in stocks and options trading. He has successfully started over 12 companies, building multiple sources of income.
He created this course to share his knowledge and strategies that have brought him success in investing. His practical approach to investing and trading is designed to simplify complex concepts, making them accessible to everyone.
Q3: Is the Investing Classroom 2022 suitable for beginners in investing?
Absolutely. The course is meticulously crafted to cater to all levels of investors, from beginners to experienced traders. It starts with the basics, explaining concepts like the stock market, investing, and trading, and gradually delves into more advanced topics, ensuring a smooth learning curve for all participants.
Q4: How does the course manage the complexity of options trading?
Danny Devan has designed the course to uncomplicate the complex subject of options trading. There are dedicated sections that explain what options are, how to trade them, and strategies like Vertical Debit Spreads, ensuring that you understand the concepts thoroughly. The course aims to make options trading accessible and understandable, steering clear of overly complex jargon and explanations.
Q5: Whats Investing Classroom 2022 Course price?
Just 22$ at coursehuge.com, one-time payment to get the download link, no hidden fee.