[Download] – Correction Method Course
---
1. Correction Method Course Overview: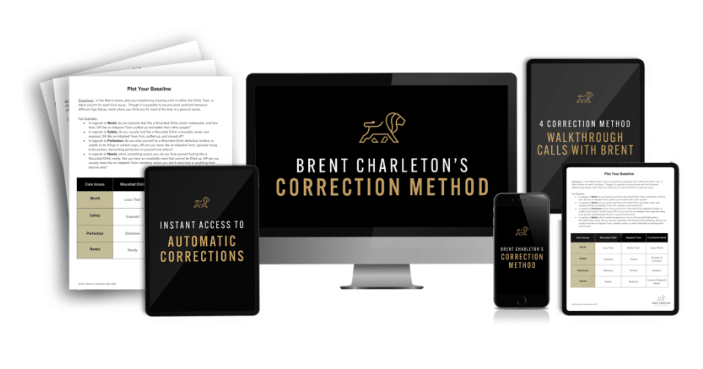 The Brent Charleton Correction Method is a revolutionary course designed to transform lives.
It addresses individuals trapped in negative thought patterns and harmful habits and offers a way to rewrite subconscious programming to unlock true potential.
2. What you will learn in this course:
The science of neuroplasticity and the brain's adaptability.
Identifying and overcoming unconscious programming that holds you back.
Mastery of the 1-page written exercise in the Correction Method™ to replace harmful habits.
Strategies to align subconscious thoughts with desired reality and maintain progress.
3. What include in this course: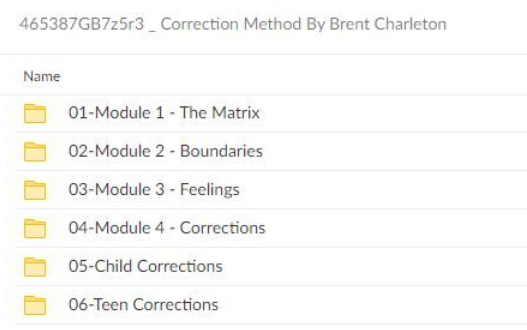 The course is structured into several modules:
Module 1: Understanding Neuroplasticity: Dive deep into the science of the brain's adaptability.
Module 2: Identifying Your Blocks: Recognize the unconscious barriers keeping you in the Child or Teen state.
Module 3: The Correction Method™: A comprehensive guide to the 1-page exercise that transforms habits.
Module 4: Embracing Your Adult State: Strategies to live in your Adult State and align subconscious thoughts.
Module 5: Automatic Corrections: Practical approaches for sustained progress and lasting change.
Read more:
---
Additional Information about Correction Method Course
1. Instructor Profile: Who is Brent Charleton?
Brent Charleton is not just the creator of the Correction Method; he's a seasoned executive coach and licensed Psychotherapist with nearly two decades of experience in the mental health domain.
His journey began in the Tenderloin of San Francisco, working with "lower functioning" individuals. He's the trusted coach for "high functioning" CEOs leading billion-dollar enterprises today.
Qualifications and Expertise:
Brent's background in traditional psychology provided him with a solid foundation, but he quickly discerned a gap in the field. While conventional methods often addressed symptoms like anxiety and depression, they rarely tackled the root causes. Driven by a passion for genuine transformation, Brent pioneered the Complete Coach Process.
Credentials:
Brent's credentials go beyond academic achievements. His real success lies in the transformative impact of the Complete Coach Process. This method delves deep, addressing the core issues rather than alleviating symptoms. Brent's approach helps individuals identify and overcome the hidden barriers that impede their progress by fostering profound awareness and employing a specific application process.
Social Proof: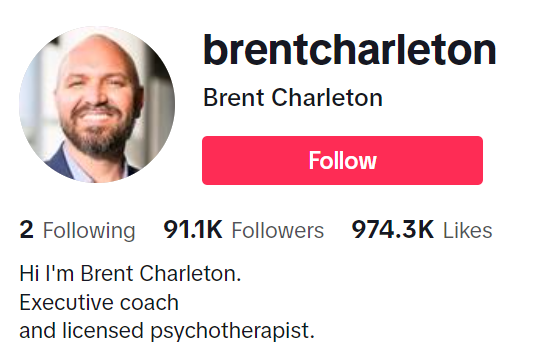 Over the years, countless individuals from diverse backgrounds have experienced life-altering changes through Brent's guidance. Their testimonials and success stories, scattered across various platforms, stand as a testament to the efficacy of the Complete Coach Process.
2. Who is this course for?
The Brent Charleton Correction Method is designed for a wide range of individuals:
Seekers of Personal Growth: Whether you're looking to break free from limiting beliefs or harmful habits, this course offers the tools to rewrite your subconscious programming.
Professionals at a Crossroads: CEOs, managers, and professionals who feel trapped in their thought patterns and seek a transformative approach to personal and professional growth.
Mental Health Enthusiasts: Those interested in neuroplasticity, psychology, and personal transformation will find this course enlightening.
Individuals Facing Life Challenges: If you're going through a phase where you feel stuck or are struggling with symptoms like anxiety and depression, this course can provide a fresh perspective and actionable strategies.
3. Course Level:
The Correction Method course is structured to cater to a broad spectrum of learners:
Beginners: Those new to neuroplasticity and subconscious programming will find the course modules easy to grasp, with clear explanations and actionable steps.
Intermediate Learners: Individuals with prior knowledge in the field can deepen their understanding and apply the Correction Method to specific challenges.
Advanced Learners: Even if you're well-versed in psychology or personal development methodologies, Brent Charleton's unique approach offers fresh insights and advanced strategies for personal transformation.
4. Frequently Asked Questions:
---
Q1: What is the difference between correction and corrective action?
Correction is an action taken to rectify a problem. It's a stop-gap to prevent a customer from receiving a defective good or service with known flaws. On the other hand, corrective action is a systemic-level solution designed to avoid problems from happening again. This process usually requires root cause analysis.
Q2: What distinguishes correction and preventative action?
Correction is an immediate solution to prevent defective products from leaving the factory or providing poor service to customers. Preventative action involves anticipating the cause of a potential problem and preventing it from occurring.
Q3: How are preventative action and corrective action different?
The critical difference between these two similar concepts is that preventative action anticipates problems yet to occur, while corrective action prevents recurrent errors from happening again. In short, preventive action involves issues that haven't happened, while disciplinary action occurs after a defect.
Q4: Why does correction always involve waste?
A firm only needs to correct a defective product or service. Therefore, correction is seen as a measure of waste because it means a firm wastes time, effort, and resources by creating a defective good or service.