[Download] TOP 30 Richard Bandler Courses Collection
Special Offer at CourseHuge.com: 195$ – One-time payment
---
1. Course Overview: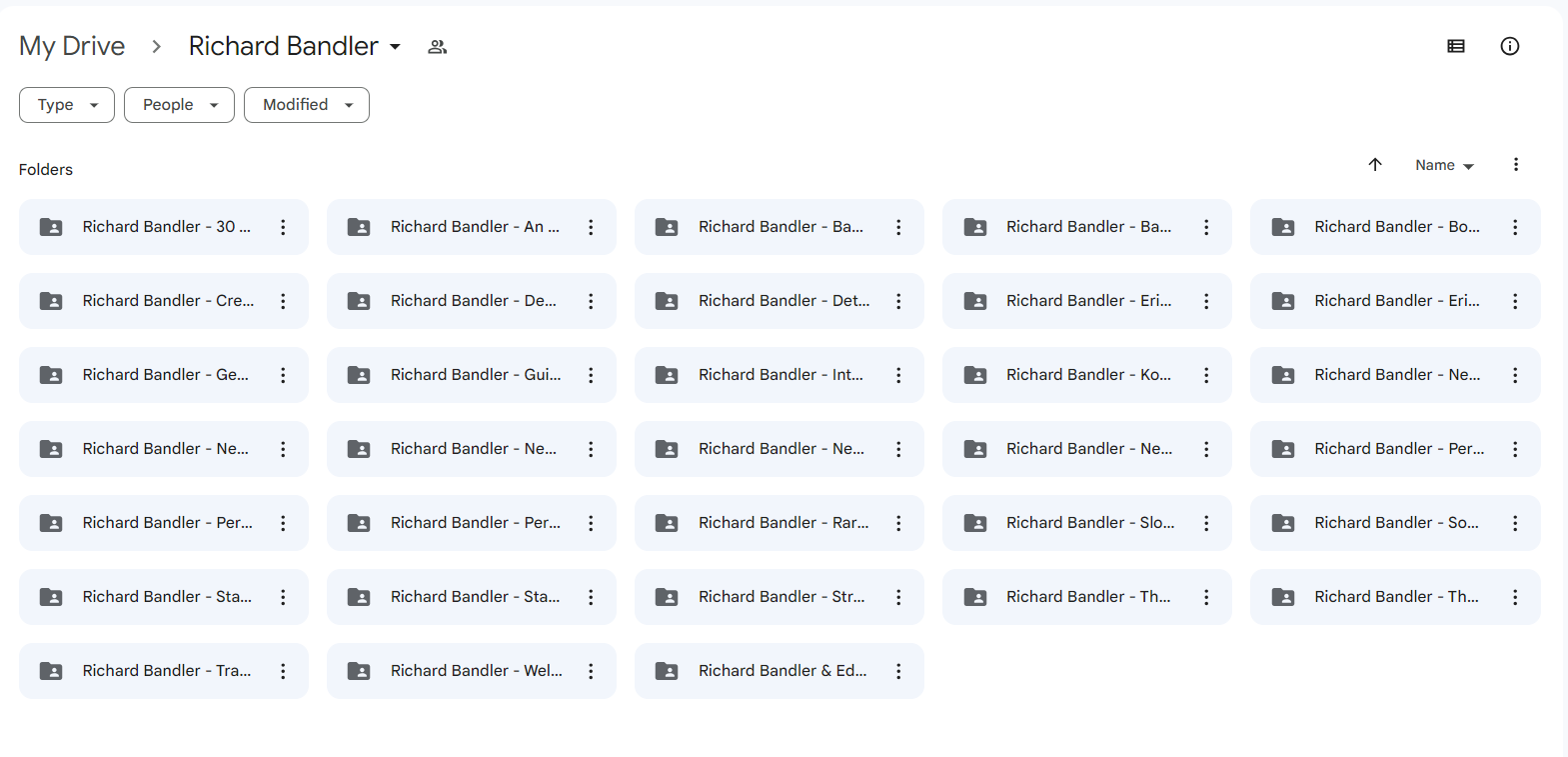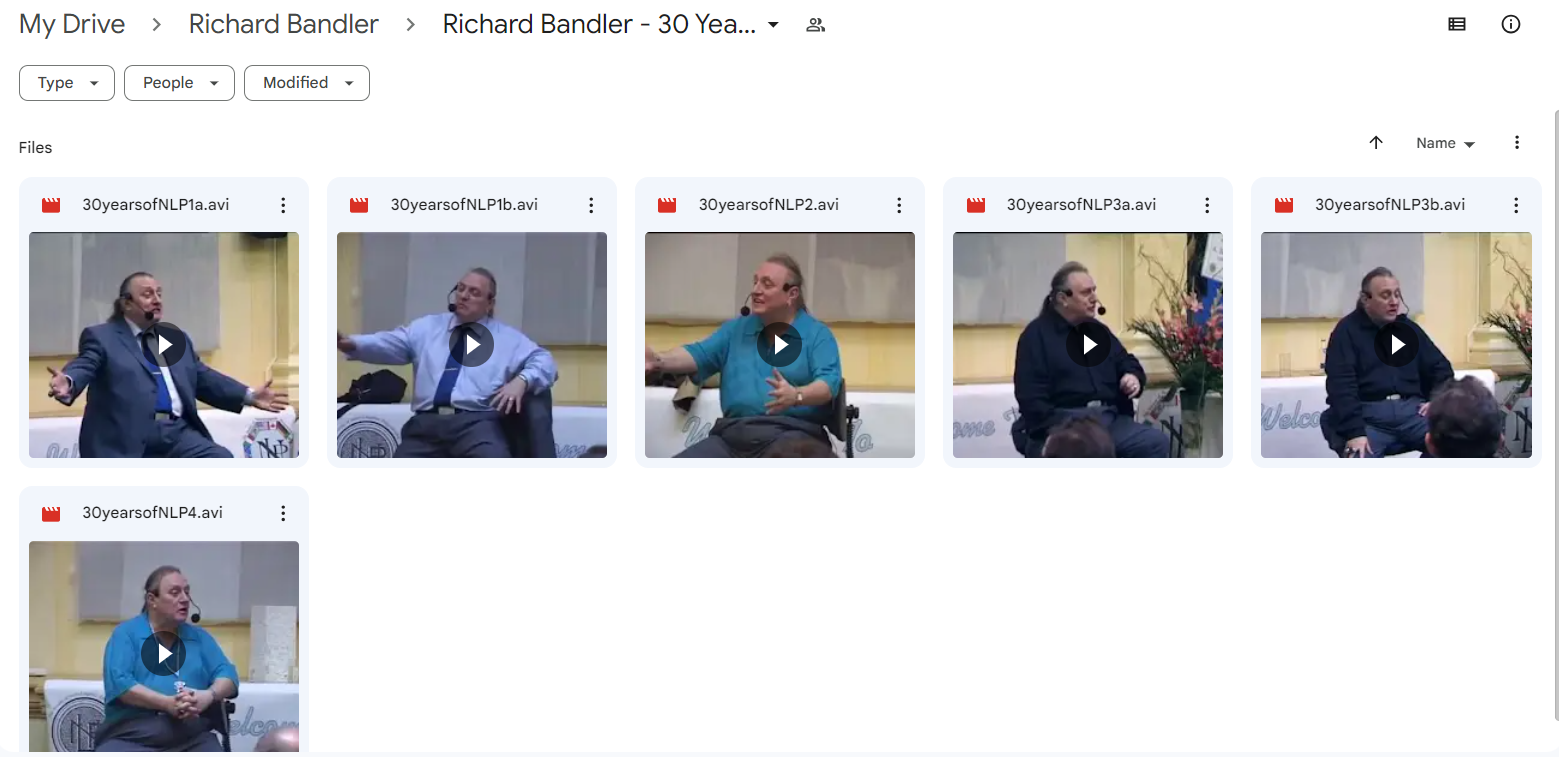 Richard Bandler's 30-course collection comprehensively explores Neuro-Linguistic Programming (NLP) and hypnotic persuasion. The unique and insightful courses delve into various aspects and applications of NLP and hypnosis, offering techniques, strategies, and insights developed or utilized by Richard Bandler himself.
2. What You Will Learn:
Understanding and Applying NLP: Gain insights into the methodologies and techniques developed over 30 years of NLP practice.
Hypnotic Persuasion: Learn the art and science of persuasion through neuro-hypnotic techniques.
Personal Development: Engage in courses to enhance your personal growth and understanding of self-help methodologies.
Diverse Applications: Explore the applications of NLP and hypnosis across different aspects of life and professional practice.
3. What Includes in the Top 30 Richard Bandler Courses Package:
| Course No. | Course Name |
| --- | --- |
| Course 1: | 30 Years of NLP – How to Live a Happy Life |
| Course 3: | Bandler Down Under – Magic in Action |
| Course 2: | An Evening With Richard Bandler |
| Course 4: | Bandler Strategies Workshop |
| Course 6: | Creating Therapeutic Change |
| Course 9: | Ericksonian Hypnosis |
| Course 10: | Ericksonian Hypnosis VHS |
| Course 15: | Neuro Hypnotic Repatterning (Audio) |
| Course 12: | Guide to Trance-Formation – Making Your Life Great |
| Course 8: | Determined Resolved |
| Course 18: | Personal Enhancement (Clay) |
| Course 19: | Persuasion Engineering |
| Course 5: | Book Collection |
| Course 7: | Deeper State |
| Course 11: | Getting Smarter Series |
| Course 13: | Interview with Ronald Amsler (2005) |
| Course 14: | Nested Loops |
| Course 16: | Neurosonics Brain Fitness Enhancement Series™ |
| Course 17: | Neurosynchronizer |
| Course 20: | Rare Bandler |
| Course 21: | Soothing Anxiety |
| Course 22: | State of the Art |
| Course 23: | State of the Art – 1987 – Advanced |
| Course 24: | Streamlining Strategies |
| Course 25: | The Bandler Effect |
| Course 26: | The Class Of A Master |
| Course 27: | Three Days in Konstanz (2000) |
| Course 28: | Trancing in and Out |
| Course 29: | Welcome to Reality |
| Course 30: | Ericksonian Hypnosis an NLP perspective |
Richard Bandler – 30 Years of NLP: A 4 DVD set celebrating 30 years of NLP, providing foundational and advanced knowledge.
An Evening With Richard Bandler: A series featuring highlights from Richard's workshops, offering a blend of entertainment and education.
Bandler Down Under: A series covering Richard Bandler's first visit to Australia, sharing early views and values that inspired the development of NLP.
Bandler Strategies Workshop: A workshop conducted in Ascona in 2003.
Creating Therapeutic Change: Richard Bandler considers this advanced seminar his best presentation on working with clients, focusing on state preparation, noticing information, rehearsing backsliding, and weaving "complexes."
…and more courses focusing on NLP, hypnosis, and personal development, each designed to provide unique insights and practical applications.
4. Participant Feedback and Reviews about Richard Bandler Courses:
4.1. General Perception and Feedback
Richard Bandler, as a co-creator of NLP, has garnered a myriad of feedback from participants across the globe. His courses, often conducted with various organizations, mainly in the US and the UK, have been described as transformative and critiqued by others.
Positive Feedback: Some participants have praised the courses for being a great introduction to many NLP concepts and for providing practical applications of NLP techniques.
Critiques: Others have pointed out concerns, such as the rapid certification of NLP practitioners and the high costs of the courses.
4.2. Detailed Reviews and Experiences
NLP Practitioner Training: One review from a participant in the NLP Practitioner training mentioned that the course was different from what they expected in a good way. They anticipated learning about submodalities and language patterns in a dry, academic manner but were pleasantly surprised to be hypnotizing people and making them feel excellent from day one.
Shamanics Course: Another course, Shamanics, was described as being all about experiencing altered states and was highly recommended for those who enjoy trance states. The course was noted to be very trance-heavy, leaving many participants dazed through the evening.
4.3. Course Content and Structure
Variety and Depth: Bandler's courses are known for their variety and depth, covering various aspects of NLP from essential to advanced levels. Some participants have found the courses to be an excellent introduction to sub modalities and a practical guide to using your brain in different ways.
Suitable Applications: Participants have noted that the courses often involve practical applications, such as hypnotizing people and making them feel fantastic, which was unexpected but appreciated.
3.4. Considerations for Prospective Participants
Choosing Partners: It was noted that choosing exercise partners with care is crucial as working with someone who is less invested in the course can detract from the learning experience (Source).
Investment: The courses are often described as an investment of time and money, and prospective participants are encouraged to ensure they are fully committed to getting the most out of the course.
3.5. Star Rating
While Richard Bandler's courses have been transformative for some, providing unexpected and practical experiences with NLP, it's also met with critiques regarding its structure and participant investment. The courses are often described as an immersive dive into NLP and its applications, providing participants with hands-on experiences in applying the techniques.
---
Additional Information about Richard Bandler Courses
1. Instructor Profile:

Richard Wayne Bandler, born on February 24, 1950, is a renowned American author and trainer in self-help. He is celebrated as the co-creator of Neuro-linguistic programming (NLP), a methodology designed to understand and change human behavior patterns. Richard has also developed other systems, namely Design Human Engineering (DHE) and Neuro Hypnotic Repatterning (NHR), which have significantly impacted personal development and therapeutic practices.
2. Is Richard Bandler a Scam?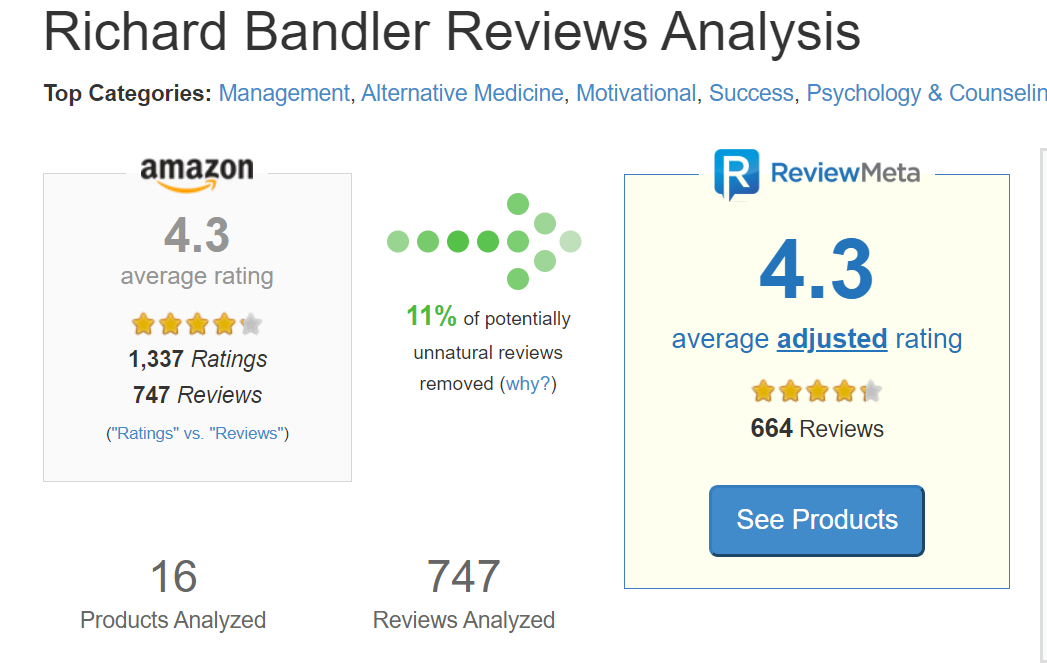 2.1. Overview of Accusations and Criticisms
Richard Bandler, co-creator of Neuro-Linguistic Programming (NLP), has faced various criticisms and accusations. Some critics have labeled NLP as a pseudoscience, while others have questioned the effectiveness of its techniques. Bandler himself has been accused of various things, from running a cult to brainwashing his clients, and even faced legal challenges. However, it's crucial to delve deeper into these claims and explore the experiences of those who have engaged with his courses and methodologies.
2.2. Criticisms of NLP
Pseudoscientific Claims: Critics argue that NLP lacks empirical support and scientific evidence. A 2019 paper published in the International Coaching Psychology Review mentioned that critics view NLP as a pseudoscience and that no empirical studies offer evidence for the effectiveness of coaching based solely on NLP tools and techniques (Source).
Energy: Some researchers and qualified psychologists have criticized NLP for not having a solid scientific foundation. For instance, a series of investigations led by Richard Wiseman, a professor of psychology at the University of Hertfordshire, concluded that the results of three studies failed to support the claims of NLP regarding eye movements indicating mental states.
2.3. Legal and Ethical Concerns
Legal Challenges: Bandler has faced legal challenges, such as a lawsuit in the late 1980s brought by himself against Tony Robbins, a self-help author who initially taught NLP techniques. The settlement involved Robbins agreeing to pay The Society of NLP $200 for every person he certified in NLP, after which Robbins developed his Neural Associative Conditioning (NAC) method.
Ethical Questions: Questions have been raised about the ethical implications of NLP, especially considering the rapid certification of NLP practitioners, often within 12 to 15 days, in contrast to the years of training required for counseling or clinical psychologists.
2.4. Personal Experiences and Testimonials
Despite the criticisms, numerous individuals and professionals have reported positive impacts from engaging with NLP and Bandler's courses. Many assert that they have witnessed significant changes in NLP clients and have personally benefited from the techniques and methodologies taught.
Influence and Reach: NLP has grown into a multi-billion-dollar industry since its inception in the 1970s, influencing psychology, psychotherapy, and various self-help methodologies. It has a substantial following and has been utilized in various fields, from business to alternative medicine.
2.5. A Balanced Perspective
It's essential to approach the topic with a balanced perspective, acknowledging the criticisms while also considering the positive experiences of numerous NLP practitioners and clients. Engaging with any self-help methodology, including NLP, should be approached with critical thinking, ensuring that the practices and teachings align with one's personal and professional ethics and values.
2.6. Conclusion
While NLP and Richard Bandler have faced various criticisms and controversies, navigating through the available information, experiences, and scientific critiques with a discerning eye is crucial. Engaging deeply with the material, exploring varied perspectives, and experiencing the methodologies firsthand can provide a more comprehensive understanding of NLP and its co-creator, Richard Bandler.
3. Who is this Course for:
Aspiring NLP Practitioners: Individuals keen on exploring and mastering the techniques and methodologies of NLP.
Personal Development Enthusiasts: Those on a journey towards self-improvement are exploring various methods to enhance their life skills.
Professionals in Therapy and Counseling: Professionals looking to add NLP and hypnotic persuasion techniques to assist clients more effectively.
Individuals Seeking Personal Change: Anyone looking to navigate through life's challenges with enhanced mental and emotional skills by employing NLP techniques.
4. Course Level:
Beginner to Intermediate: The courses cater to individuals new to NLP and those with some foundational knowledge and wish to deepen their understanding.
Advanced: Some courses delve into advanced NLP techniques and strategies, providing in-depth knowledge for those specializing in specific NLP applications.
5. Frequently Asked Questions:
---
Q1: Who is Richard Bandler?
Richard Bandler is a contemporary psychologist and self-help author widely recognized for co-creating Neuro-Linguistic Programming (NLP). He has also developed other systems like Design Human Engineering (DHE) and Neuro Hypnotic Repatterning (NHR). Bandler has published numerous books and conducts lectures and training sessions worldwide, teaching NLP and other self-help techniques. 
Q2: What is Richard Bandler known for?
Richard Bandler is primarily known for co-creating Neuro-Linguistic Programming (NLP), a therapeutic self-help technique focusing on behavior and language. NLP aims to enlighten people about healthy communication patterns, enabling them to transform their behaviors to achieve desired outcomes. Although NLP lacks substantial scientific validation, it is widely used in business.
Q3: What is the focus of Richard Bandler's courses?
Richard Bandler's courses focus on various aspects and applications of NLP and hypnosis, offering techniques, strategies, and insights that he developed or utilized. The courses cover NLP, hypnosis, and personal development topics, each designed to provide unique insights and practical applications
Q4: What is the best NLP training course?
The "best" NLP training course can be subjective, depending on factors like the instructor's expertise, course content, methodology, and personal learning preferences. Richard Bandler's courses are highly regarded in the field due to his co-creation and extensive work in NLP. Other notable institutions offering NLP training include The iNLP Center, The NLP Center of New York, and NLP Comprehensive. Choosing a course that aligns with your learning style, objectives, and budget is crucial
Q5: What qualifications do I need to be an NLP practitioner?
To become an NLP practitioner, you typically need to complete an accredited NLP practitioner training course. The course should cover fundamental NLP principles, techniques, and applications. Some courses may require a basic understanding of psychology or therapy, while others are open to beginners. The duration and content of NLP practitioner courses can vary. Still, they generally include modules on goal setting, rapport building, belief change, and using NLP techniques for personal and professional development.
Q6: Is NLP a Recognised qualification?
Various professional organizations recognize NLP, but a single, centralized body does not regulate it. Different institutions and trainers offer certifications, and the recognition of these can depend on the reputation of the issuing organization. Choosing a training provider accredited by a reputable NLP association, such as The Association for Neuro-Linguistic Programming (ANLP) or The American Board of Neuro-Linguistic Programming (ABNLP), is essential to ensure the qualification is widely recognized.
Q7: Is NLP practical?
The effectiveness of NLP is a topic of debate among professionals. Some individuals find NLP techniques incredibly beneficial in personal development, enhancement of communication skills, and therapeutic contexts. However, scientific support for NLP in the psychological community is limited. Some studies suggest that NLP interventions can effectively reduce stress and enhance performance, while others find no significant impact. The effectiveness might depend on the practitioner's expertise and the client's engagement and belief in the process.