[Download] – The Solar Boss Lead Gen Course
---
1. The Solar Boss Lead Gen Course Overview:
Course size: 13.29Gb
Price: 29$ (one-time payment)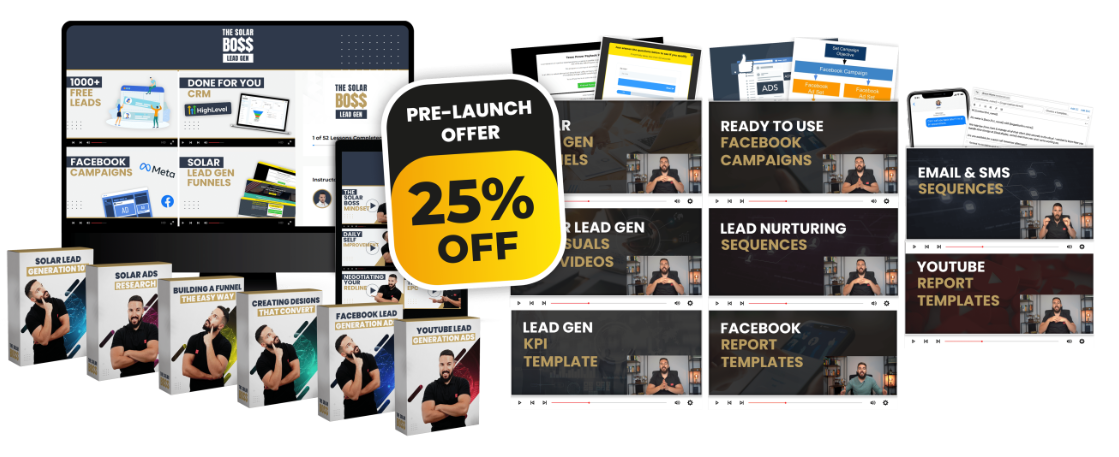 Ivan Pashov's The Solar Boss Academy is not merely a course but a comprehensive guide to mastering the solar business from a remote setup. It lays the foundation for achieving success in the solar industry, addressing misconceptions and sharing invaluable personal experiences acquired over three years in the field.
The academy is a reservoir of knowledge, strategies, and insights that Ivan has gathered while working with numerous solar businesses and individual representatives. It promises to unlock secrets that pave the way to becoming a true Solar Boss, ensuring your journey in the solar industry is profitable and sustainable.
2. What you will learn:
Mindset Shift: Understand the essentials and basics of running a remote solar business while debunking prevalent misconceptions about the solar industry.
Strategic Setup: Learn to successfully establish your remote solar business, find apt solar installers, and negotiate for maximum profitability.
Expertise in Solar: Absorb a wealth of information about the industry, enabling you to become a solar expert in a significantly shorter span.
Phone Selling Mastery: Acquire the million-dollar skill of selling solar over the phone, ensuring you can operate independently from any location.
Marketing Strategies: Dive into strategies to generate your solar leads on demand, exploring high-converting solar funnels and ad campaigns.
Team Building: Learn the art of building and leading a team of "A" players, ensuring your remote solar business is growing and thriving.
Culture Development: Understand how to cultivate a strong culture within your team, ensuring alignment with your ultimate business vision.
3. What include in this course: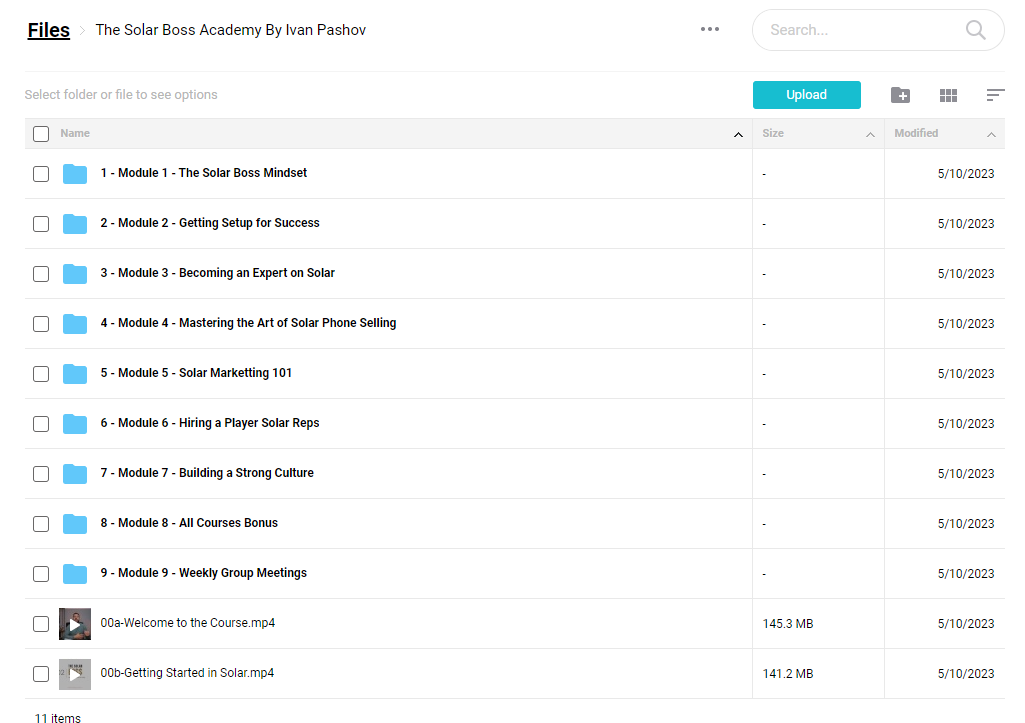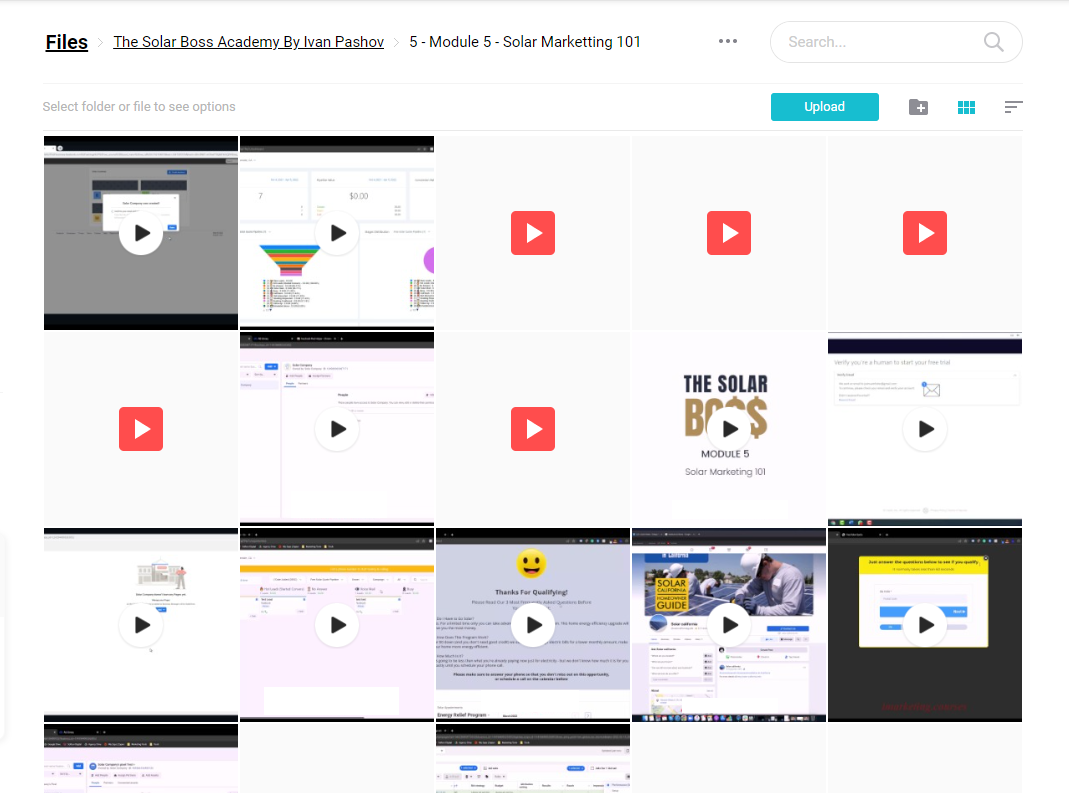 ---
Module
Title
Description
Module 1
Mindset
This module takes you back to the basics, unlocking the fundamentals of running a remote solar business.
It lays the groundwork for your future success as a Solar Boss by tackling misconceptions about the solar industry and sharing Ivan's personal experiences acquired over the last 3 years while working with hundreds of solar businesses and individual reps.
Module 2
Getting Set Up For Success
Learn how to set up your new remote solar business for success by finding the right solar installers (EPCs) and negotiating your "Redline" for maximum profitability.
Module 3
Becoming An Expert In Solar
Becoming a true expert in solar doesn't have to take long.
With an astonishing array of information about the industry, you'll be able to learn everything there is to know in a matter of a few short days that would otherwise take you years to learn.
Module 4
The Art Of Solar Phone Selling
Ivan calls this the Million Dollar skill for a reason.
Selling solar over the phone is one of the most important skills you'll learn in your lifetime. Become truly location-independent utilizing the power of the telephone. This allows you to sell in low-hanging fruit states while maintaining incredible profit margins.
Module 5
Solar Marketing 101
Learn all the strategies to generate your own solar leads on demand.
No stone is left unturned when it comes to building high-converting solar funnels and running ad campaigns that produce quality leads at the cheapest possible cost.
Module 6
Hiring "A" Player Solar Reps
Building a team of "A" players is what every business owner dreams about and in this module, you get to learn the exact methods to seek, interview, and hire the right people to join your new growing remote solar business.
Module 7
Building A Strong Culture
Learn how to build a strong culture so that the people who join your team not only wouldn't want to leave but also enjoy the process of working towards achieving your ultimate vision for the business.
4. Why the course stand out?
The Solar Boss Academy, crafted by Ivan Pashov, shines brightly in the solar industry's educational field, and here's why:
4.1. Deep, Practical Learning
Rich Modules: The course digs deep into every part of running a solar business, from starting up to expert selling.
Real Experiences: Ivan shares genuine stories and lessons from his journey in the solar business world.
Quick Learning: It promises to quickly make you a solar expert, sharing knowledge that usually takes years to gather.
4.2. Expert Strategies That Work
Tested Methods: Ivan's team has spent $4M to figure out the best ways to get solar leads online.
Focused on Results: Every strategy taught ensures every dollar spent on marketing counts.
4.3. A Mission Beyond Profit
Lifting Businesses: Ivan wants to help solar businesses see and use the power of good online strategy.
Raising the Industry: The goal is to help as many solar businesses as possible to grow and succeed.
4.4. Real-World Use
Actual Application: This isn't just theory; it's knowledge you can use in your business.
Sell Anywhere: Learn how to sell in various locations without moving an inch.
In my opinions, with its helpful modules, bonus tools, and supportive community, it offers a compact yet comprehensive learning experience.
5. The Solar Boss lead gen Course reviews:
We Gather authentic feedback and reviews from "The Solar Boss Academy" participants to provide genuine insight into the course's impact and effectiveness. Here are some experiences:
John D., Solar Entrepreneur: ⭐⭐⭐⭐☆ (4/5 Stars)
"The Solar Boss Academy is a comprehensive guide that has significantly impacted my approach to the solar business. Ivan Pashov's method of explaining complex concepts in a digestible format is commendable. The modules are well-structured, providing a step-by-step guide from understanding the solar industry's basics to mastering advanced selling and marketing strategies. The CRM bonus tool has notably enhanced my customer management process."
Lisa M., Solar Sales Rep: ⭐⭐⭐⭐☆ (4/5 Stars)
"Ivan's course has been a game-changer for me in terms of sales and lead generation. The Art Of Solar Phone Selling module, in particular, has refined my sales approach, enabling me to close deals more effectively over the phone. However, I felt that the course could delve a bit deeper into handling client objections during sales calls."
Raj K., Startup Founder: ⭐⭐⭐☆☆ (3/5 Stars)
"As a startup founder venturing into the solar industry, this course provided a solid foundation. The module on 'Becoming An Expert In Solar' was particularly enlightening, offering a rapid yet thorough insight into the industry. However, the course was slightly skewed towards those already possessing some knowledge in solar and sales, making some sections challenging for a complete novice.
Carlos V., Solar Installer: ⭐⭐⭐☆☆ (3/5 Stars)
"While the content is excellent and Ivan shares valuable insights from his experience, I felt the course could benefit from more interactive learning experiences, such as workshops or live sessions, to facilitate a more engaging learning environment. The theoretical knowledge is robust, but practical application and real-time problem-solving scenarios were something I missed."
These reviews provide a snapshot of participants' varied experiences and takeaways. While the course has received commendation for its comprehensive content and actionable strategies, some participants felt some areas could be enhanced for a more enriched learning experience.
---
Additional Information about The Solar Boss lead gen Course
1. Instructor Profile: Who is Ivan Pashov?


Ivan Pashov is recognized as a daring entrepreneur in the solar industry, even being considered one of the most audacious ones in the field. At just 25, he has already become an advisor and consultant to over 85 solar businesses across the US and the UK, ranging from startups to multi-million dollar giants.
His journey, however, was not always smooth sailing. Ivan and his family moved to the UK when he was 15, and not being able to speak English, he navigated through one of the most challenging phases of his life. He dropped out of high school at 17 and embarked on his first entrepreneurial venture, which did not succeed.
In the last 7 years, Ivan has founded a dozen companies, including a solar sales company 18 months ago. He has worked with numerous other Solar business owners across the United States, helping them implement proper lead generation and sales systems, enabling them to sell from a distance and rapidly grow their teams and revenue. Ivan is deeply invested in every client, regardless of business size, and is committed to providing the best possible service, aiming to deliver results that not only meet but surpass client expectations.
Ivan has dedicated over three years to understanding the intricacies of what motivates people to invest in solar and how to devise the best online solar offers to ensure a low Cost Per Acquisition (CPA). With a whopping $4M invested in solar advertising, Ivan and his team have successfully cracked the code for generating online solar leads using platforms like YouTube and Facebook. His system ensures every marketing dollar is utilized to its fullest, with no wastage.
Despite the evident success of his strategies, Ivan perceives a gap in the market. Many solar business owners remain oblivious to the potential for exponential revenue growth that a refined online strategy can offer. Driven by this realization and a vision to uplift the solar industry, Ivan has embarked on a mission to amplify the reach and revenue of as many solar businesses as possible, ensuring that his strategies not only meet but exceed expectations.
2. Who is this course for?
The Solar Boss Academy, curated by Ivan Pashov, is meticulously designed for a diverse audience, ensuring it caters to various needs within the solar industry.
Aspiring Solar Entrepreneurs: Individuals looking to carve out a niche in the solar business, seeking a comprehensive guide to navigate the industry's complexities.
Existing Solar Business Owners: Those who already have a foothold in the industry but aim to refine their strategies, enhance lead generation, and optimize cost per acquisition.
Solar Sales Representatives: Sales professionals in the solar domain who wish to amplify their selling skills, mainly focusing on telephonic sales and lead conversion.
Solar Marketing Professionals: Marketers in the solar space looking for proven strategies to enhance lead generation and devise high-converting funnels.
Individuals Exploring Remote Business Models: Anyone intrigued by running a business remotely, especially in the renewable energy sector.
3. Course Level:
The Solar Boss Academy is structured to accommodate various expertise levels, ensuring a wealth of knowledge for every participant.
Beginner Level: For those new to the solar industry, the course provides a robust foundation, covering the basics and gradually elevating the complexity of concepts.
Intermediate Level: For individuals with some level of familiarity with the solar business, the course helps refine strategies and introduce advanced concepts in lead generation and sales.
Advanced Level: Seasoned professionals in the solar domain will find value in the advanced strategies discussed, especially in areas like telephonic sales, team building, and culture development.
Entrepreneurial Level: Business owners and entrepreneurs will gain insights into team management, culture building, and advanced lead generation and conversion strategies.
4. Frequently Asked Questions:
---
Q1: Is The Solar Boss Lead Gen free download?
No, "The Solar Boss lead gen" course by Ivan Pashov is not available for free download. Investing in this course involves a financial commitment, contributing to the content's quality and value. However, it's crucial to note that there are websites like coursehuge.com that claim to offer the course for a significantly discounted price of $29, which is 98% less than the original price of $1,497.
Q2: What is the core focus of "The Solar Boss Lead Gen" course by Ivan Pashov?
The course, "The Solar Boss Lead Gen," meticulously designed by Ivan Pashov, aims to empower participants with skills and strategies essential for generating high-quality leads in the solar industry. It encompasses various modules that guide learners from understanding the basics of solar lead generation to implementing advanced strategies, ensuring mastery in the domain. The course also provides a range of valuable bonuses to enhance campaigns and boost results in lead-generation endeavors. 
Q3: Who is Ivan Pashov, and what is his experience in the solar industry?
Ivan Pashov has dedicated over three years to understanding the intricacies of solar lead generation and how to devise optimal online solar offers to ensure a low Cost Per Acquisition (CPA). With a substantial investment of $4M in solar advertising, Ivan and his team have developed a system for generating online solar leads using platforms like YouTube and Facebook. His strategies have proven successful, and he is on a mission to amplify the reach and revenue of as many solar businesses as possible. 
Q4: How does the course enhance lead generation efforts for solar businesses?
"The Solar Boss Lead Gen" course is a comprehensive guide to mastering solar lead generation. It provides a roadmap from understanding the basics to implementing advanced strategies in solar lead generation. The course is structured into various modules, each focusing on a pivotal aspect of solar lead generation and marketing, ensuring participants have the skills and knowledge to navigate the solar industry proficiently and effectively identify lead generation opportunities.