[Download] The StyleLife Texting-to-Dating Digital Course
---
1. Course Overview:
"Texting To Dating" is an easy-to-follow online video guide that teaches you how to text in a way that gets people excited and interested. This course helps you get better at setting up dates over text by showing you step-by-step:
How to bring up the idea of a date
Making sure they say yes and stick to it
Getting them looking forward to meeting you
Sending texts that really connect and make an impression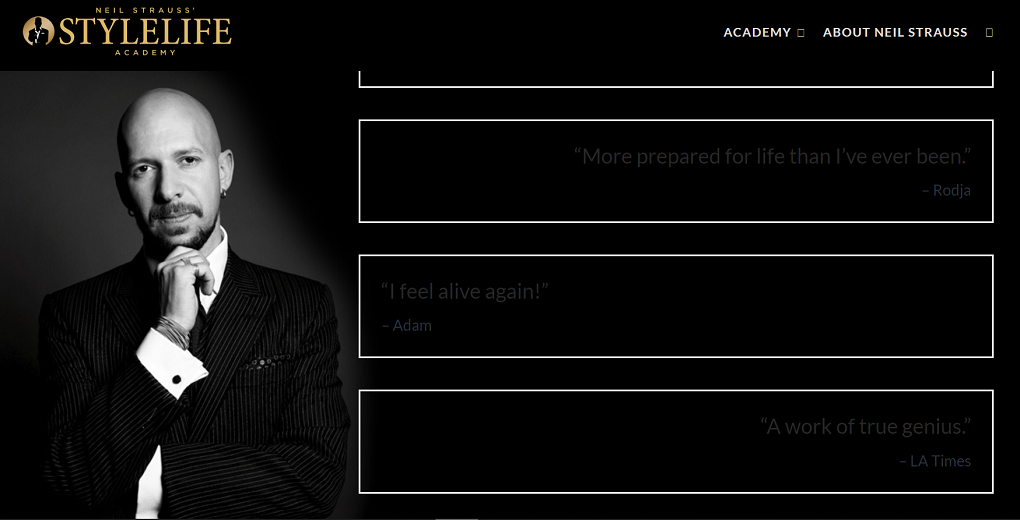 2. What You Will Learn:
The importance of seeding the date: Ensure a date is set before obtaining the phone number.
Reaching commitment: Secure a date with a specific time and place, ensuring the other person is committed to showing up.
Techniques to eliminate flaking: Understand the psychology behind commitment and ensure your dates don't flake.
Crafting exciting texts: Learn the art of texting that keeps the other person thinking about you all day.
Building a connection: Write texts that resonate on multiple levels, ensuring a deep and meaningful relationship.
3. Course Curriculum: 
The course is structured to provide a step-by-step guide to mastering the digital dating game. From understanding the importance of the first text to ensuring commitment, the curriculum covers all aspects of texting to dating. With Neil Strauss's insights, you'll be equipped with strategies to make your texts stand out and ensure successful dates.
---
Additional Information about: The StyleLife Texting-to-Dating Course
1. Instructor Profile: Who is Neil Strauss?
Neil Strauss is not just an author; he's a transformational journalist who has made significant waves in the literary world. His works have resonated with readers globally, with ten titles gracing the New York Times best-seller list. His groundbreaking books, The Game and Rules Of The Game took readers on an undercover journey into a secret society of pickup artists, making him an international sensation and an unintentional beacon for men worldwide.
His dedication to exploring the depths of human relationships is evident in his follow-up book, The Truth: An Uncomfortable Book About Relationships. Here, Neil delves into the intricate worlds of sex addiction, non-monogamy, infidelity, and intimacy, shedding light on the hidden forces steering our relationships.
But Neil's prowess isn't limited to books about relationships. He spent a decade as a music critic, cultural reporter, and columnist at The New York Times, earning accolades like the ASCAP-Deems Taylor Award. His talent for interviewing is unparalleled, as seen in his cover stories for Rolling Stone, where he's known for gaining the trust of the world's most elusive celebrities. This skill culminated in his best-selling book, Everyone Loves You When You're Dead.
Neil's versatility as a writer is further showcased in his collaborations with renowned personalities, penning best-sellers like How to Make Love Like a Porn Star with Jenna Jameson, The Dirt with Motley Crue, and The Long Hard Road Out of Hell with Marilyn Manson.
Beyond writing, Neil's talents extend to television, music, and radio. He's acted in shows like Curb Your Enthusiasm, written for networks like HBO and FX, DJ'ed globally, and even hosted his interview show on SiriusXM.
In essence, Neil Strauss is a multifaceted talent, a force in journalism, and a voice that continues to resonate in the literary world.
2. Who is this Course for:
Individuals new to the digital dating scene seek guidance on effective communication.
Those facing challenges in turning phone numbers into actual dates.
Anyone wanting to enhance their texting game and make meaningful connections.
People seeking to understand the psychology behind texting and digital communication.
3. Course Level:
Beginners: No prior experience in digital dating is required. The course starts with the basics and builds up.
Intermediate: For those familiar with digital dating but facing challenges in effective communication.
Advanced: Even seasoned daters can find value in Neil's unique insights and advanced techniques.
4. Is the course The StyleLife Texting to Dating worth it?
When I first stumbled upon the world of digital dating, I was overwhelmed by the resources available. One course that caught my attention was "The StyleLife Texting-to-Dating Course" by Neil Strauss. Given Neil's reputation and my struggles transitioning from texting to actual dates, I decided to try.
4.1. First Impressions
The Course's Pedigree: Neil Strauss, also known as Style, rose to fame with his bestseller "The Game." His subsequent venture, the Stylelife Academy, was one of the first online training programs for dating skills sources.
Course Content: The course promised a logical process and system to build interest in dating, covering everything from seeding the date to becoming an artful texter.
4.2. My Experience with the Course
Comprehensive Modules: The course was packed with actionable advice. From understanding the nuances of the first text to ensuring commitment to date, it was all laid out in a structured manner.
Real-world Scenarios: What I appreciated most were the real-world scenarios and examples. They weren't just theoretical strategies but practical tips I could immediately apply.
NLP Techniques: The course introduced me to Neuro-Linguistic Programming (NLP), which is essentially understanding the language of the mind. This was a game-changer for me, helping me communicate more effectively, not just in dating but in everyday interactions.
4.3. Results and Takeaways
Improved Texting Game: My texts went from mundane and often ignored to engaging, leading to more meaningful conversations.
More Successful Dates: Following the course's advice, I saw a noticeable increase in successful dates. The flaking was reduced, and the connections felt more genuine.
Boosted Confidence: Beyond just dating, the course grew my overall confidence in communication. I felt more in control of my interactions, understanding the dynamics better.
4.4. Is it Worth it?
This course was a revelation for someone like me, who was struggling with the transition from texting to dating. The insights, backed by Neil's expertise and real-world examples, made it a valuable investment. While every individual's experience might vary, it was worth every penny for me.
5. Frequently Asked Questions:
---
Q1: I got her phone number, but what do I do now? 
The next step is to build a connection after obtaining a phone number. Neil Strauss's 'The StyleLife Texting-to-Dating' course emphasizes the importance of seeding the date, ensuring there's a date set up even before you get the number. This approach helps in creating excitement and interest, leading to successful dates.
Q2: Why isn't she answering my texts back?
There could be various reasons for not receiving a response. However, the key lies in crafting texts that resonate and build excitement. The course provides strategies to make your readers stand out, ensuring they evoke interest and curiosity.
Q3: Why do my dates keep flaking on me?
Flaking can be reduced by ensuring commitment. The course teaches techniques to ensure that the date has a specific time and place and that the other person is committed to showing up. This approach significantly reduces the chances of flaking.
Q4: How can I turn phone numbers into actual dates? 
Turning phone numbers into dates requires a systematic approach. Neil's course introduces a step-by-step guide, starting from seeding the date to ensuring commitment and crafting texts that build excitement. Following these steps can effectively turn phone numbers into memorable dates.
Q5: How can I make my texts more exciting and interesting?
Crafting exciting texts is an art. The 'Texting-to-Dating' course delves deep into techniques that make your readers resonate on multiple levels with the receiver. By adopting these techniques, your texts can keep the other person engaged and thinking about you throughout the day.