[Download] – Syndicate Complete Course
---
1. Syndicate Complete Course Overview: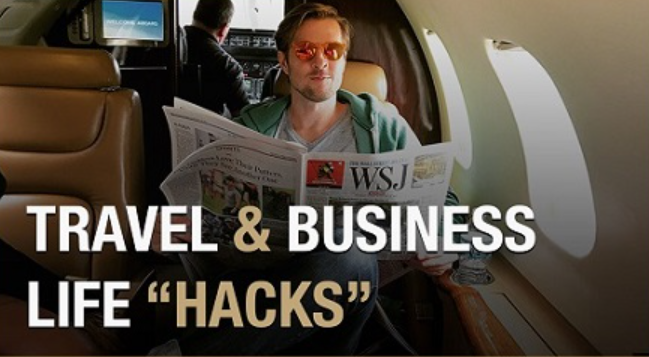 The "Syndicate Complete" is a comprehensive course by RSD Brad Branson, offering a deep dive into various life-enhancing topics. From mastering productivity with the 3i TIME SYSTEM to understanding the intricacies of dating, this course promises a transformative experience.
It's not just about theoretical knowledge; it's about practical applications that can change your life.
2. What you will learn in this course:
The art of time management with the 3i TIME SYSTEM.
Boosting self-esteem with the CORE CONFIDENCE FORMULA.
Building a stress-free career with LIFEstyle BUSINESS.
Achieving financial freedom and developing the "millionaire mindset".
Cultivating meaningful relationships with FRIENDS AND FAMILY.
Understanding the psychology of attraction with AUTOMATIC ATTRACTION.
Advanced dating techniques and strategies.
Embracing adventure and maintaining health.
Mastering the art of persuasion in various aspects of life.
3. What include in this course:
The course is divided into multiple modules, each focusing on a specific area of life. Some of the key modules include:
Part 1: After-Hours-Lounge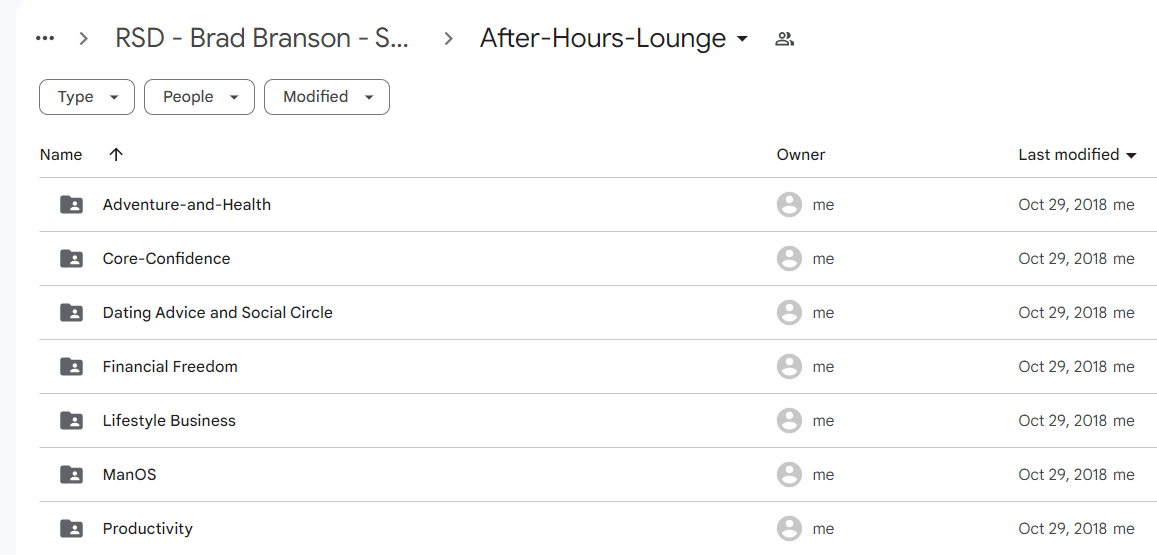 Module 1: Adventure-and-Health
Module 2: Core-Confidence
Module 3: Dating Advice and Social Circle
Module 4: Financial Freedom
Module 6: Lifestyle business
Module 6: ManOS
Module 7: Productivity
Part 2: Success-Blueprints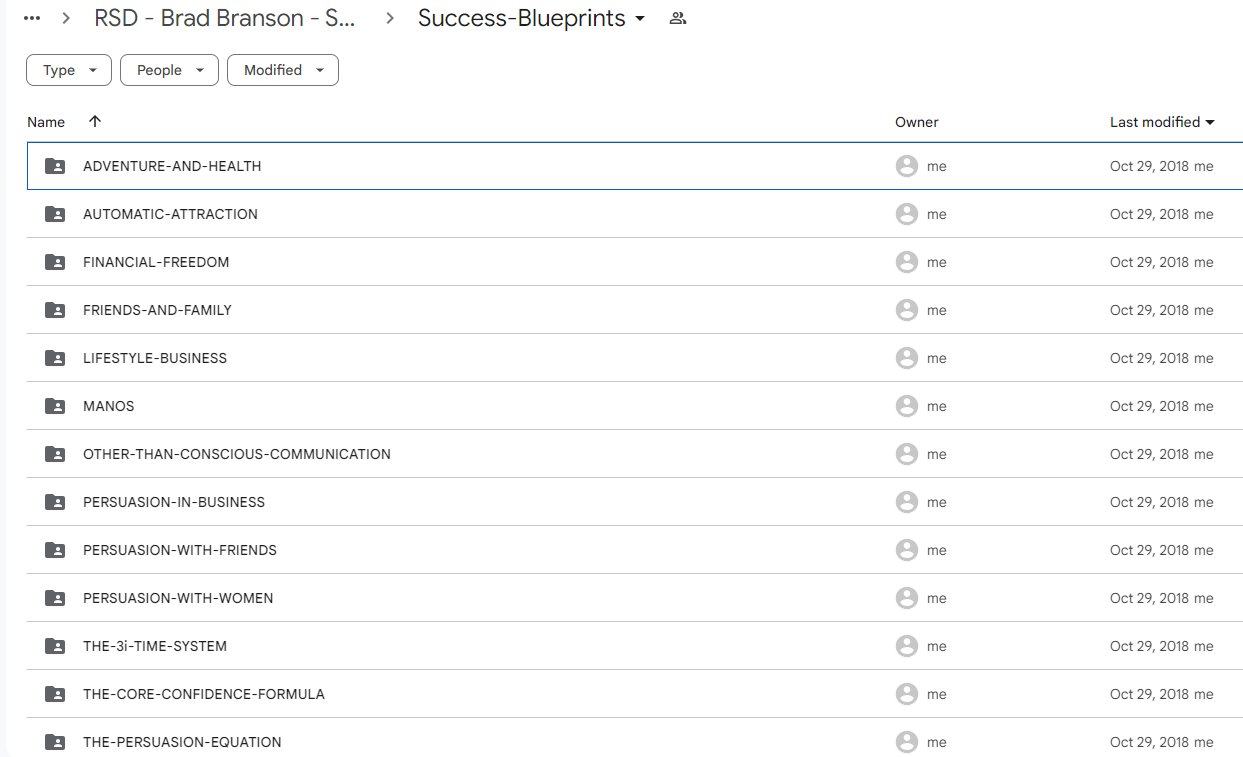 Part 3: Success-Toolbox (3i Harbit tracker)


Find out more courses of RSD:
---
Additional Information about Syndicate Complete Course
1. Instructor Profile: Who is RSD Brad Bransons?

RSD Brad Bransons, a prominent figure in the realm of personal development and dating, has been instrumental in transforming the lives of many through his courses and teachings. With a focus on building genuine confidence, understanding social dynamics, and mastering the art of attraction, Brad has established himself as a trusted guide for those seeking to improve their interpersonal relationships and overall quality of life.
Qualifications and Experience:
Renowned instructor with Real Social Dynamics (RSD), a dating and personal development training leader.
Years of hands-on experience coaching individuals, conducting workshops, and delivering seminars worldwide.
Expertise in various areas, including time management, self-esteem building, and advanced dating techniques.
Credentials:
He is recognized for his innovative approaches and real-world solutions to common dating challenges.
Students and peers have received accolades and testimonials for his impactful teachings.
Social Proof and External Links:
Brad's teachings and insights can be found in various online forums, YouTube channels, and personal development websites.
He has contributed to several publications and articles, emphasizing the importance of genuine confidence and authentic interactions.
2. Who is this course for?
The "Syndicate Complete" course by RSD Brad Bransons is designed for individuals who:
Are eager to enhance their understanding of social dynamics and attraction.
Wish to improve their time management skills and overall productivity.
Are looking to boost their self-confidence and self-esteem.
Want to navigate the complexities of dating, from beginner to advanced levels?
Seek financial freedom and aim to develop a millionaire mindset.
Desire to build a strong social circle and foster meaningful relationships.
3. Course Level:
The "Syndicate Complete" course offers a comprehensive journey, catering to various levels:
Beginner: For those new to time management, confidence building, and dating. The course introduces foundational ideas and practices.
Intermediate: For individuals with some prior knowledge or experience. This level delves deeper into advanced strategies and techniques.
Advanced: Tailored for those who are well-versed in the topics but seek mastery. It covers intricate details, advanced tactics, and expert insights.
4. Frequently Asked Questions:
Q1: What is the main objective of the "3i Time System" in the Syndicate Complete course?
The "3i Time System" aims to give learners a top-down overview of their lives, helping them prioritize tasks and understand what's essential to tackle next. It focuses on productivity enhancement, morning rituals, strategic habit tracking, and long-term fulfillment strategies.
Q2: How does the "Core Confidence Formula" help in personal development?
The "Core Confidence Formula" is designed to supercharge one's self-esteem. It teaches individuals to become more assertive and confident without being overly concerned about others' opinions. This module delves into the paradigms of consciousness, emotional intelligence, and the foundations of self-esteem.
Q3: What can I expect from the "Financial Freedom" section of the course?
The "Financial Freedom" module is tailored to help individuals break free from financial constraints and develop a millionaire mindset. It covers the mindset required to achieve financial success, focusing on financial goals, and understanding the "You Inc."
Q4: How does the "Automatic Attraction" module help understand relationships?
"Automatic Attraction" offers insights into understanding female psychology, leading to better relationships and improved intimacy. It covers topics like what creates attraction, the inner game of dating, and strategies for long-term relationships.
Q5: Can the "Persuasion in Business" module help advance your career?
Absolutely! The "Persuasion in Business" module provides strategies to be more assertive in one's career or business. It offers insights into understanding what customers or clients want and how to apply marketing principles effectively to achieve business goals.