[Download] – Joseph Riggio TCP | The Complete Package
---
1. Joseph Riggio TCP Overview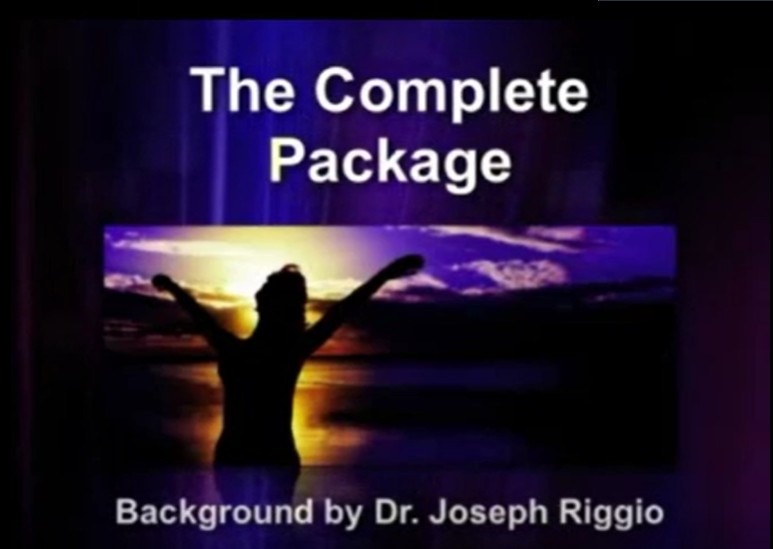 Direct Path to Personal Transformation
TCP | The Complete Package, curated by Joseph Riggio, is a comprehensive program designed to guide you through a transformative journey toward personal development and self-discovery.
This course is meticulously crafted to enable you to make pivotal decisions that enhance your relationships, provide you with profound insights into your unique life path, and assist you in establishing a clear, purposeful direction for your life.
Through immersive videos and sessions, you will explore and unlock opportunities to achieve the success and satisfaction you seek while navigating through your unique "Success Blueprint."
2. What you will learn:
Insight into transformative skills
Building and strengthening relationships
Establishing a clear life direction
Gaining profound life insights
3. Course curriculum/What include in this course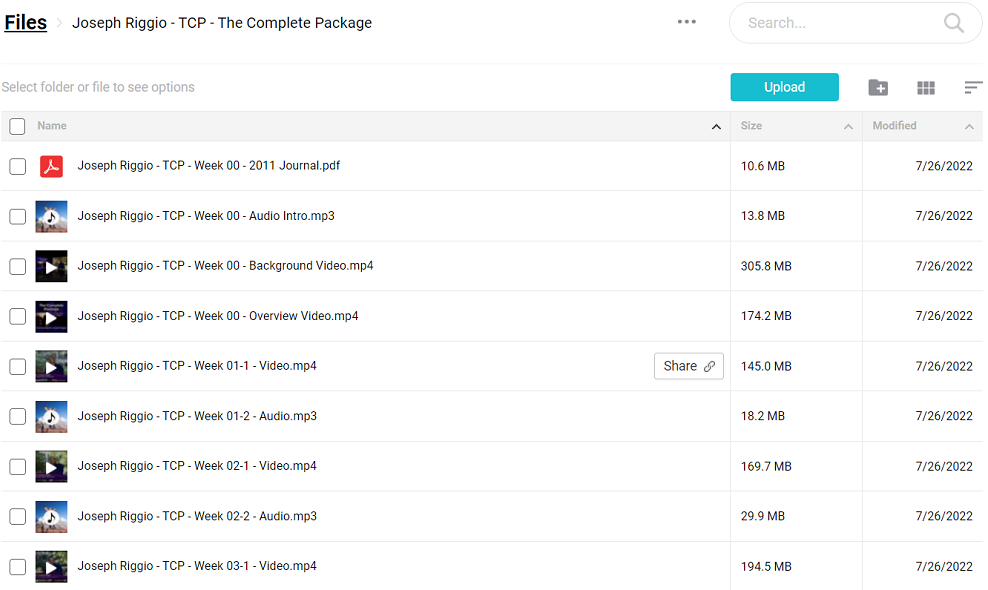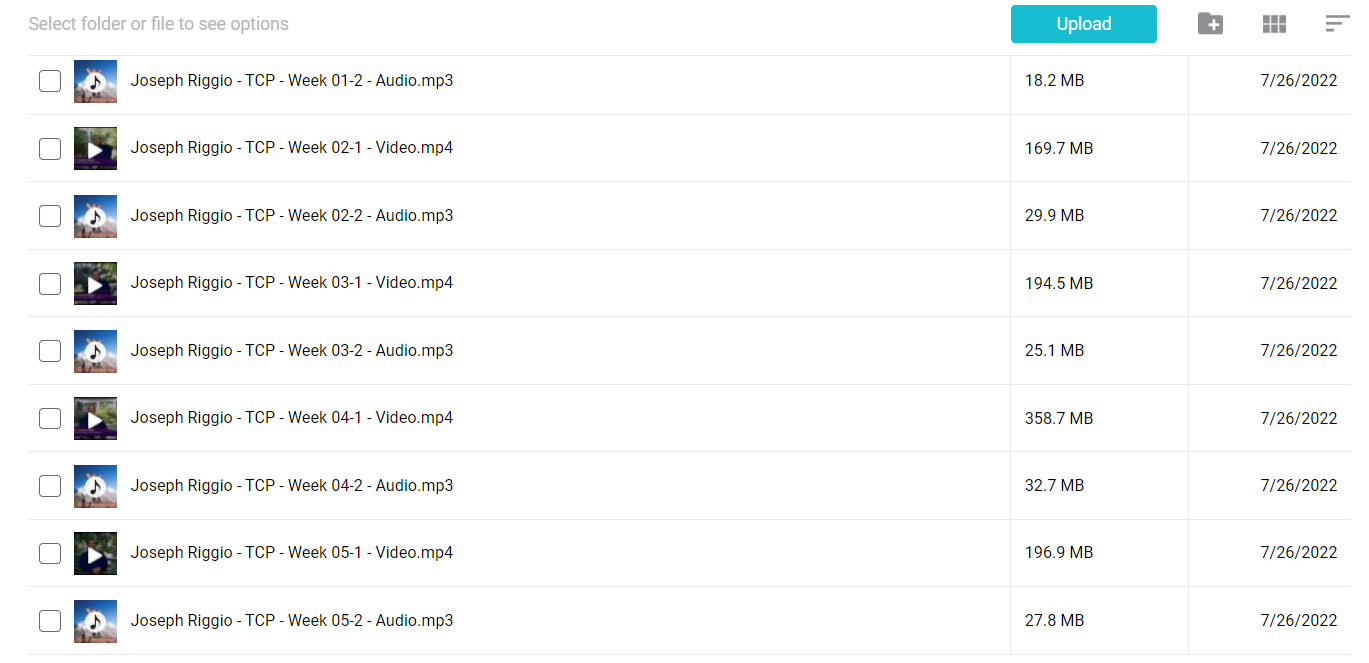 Joseph Riggio, his video producer Bob Chesney, and sound engineer Rich Diaz have curated a package that ensures you are ready to go from day one. The package includes seven videos and five sessions, each with unique, custom audio to guide you through the transformative journey.
3.1. In-depth Session Insights
TCP | The Complete Package Background Video, 12:57 min: Gain insights into what the Hero's Journey looks like from the inside out. Joseph condenses his twenty years of learning this material, exposing his adventure and journey and pointing out what's possible for you when you're living the experience, too.
TCP | The Complete Package Overview Video, 13:24 min: Extract every morsel of value from the material as Joseph provides a detailed overview of TCP | The Complete Package, walking you step-by-step through every aspect of the program and exactly how to use it to get the ultimate results for yourself.
TCP | The Complete Package Five Week Session, Video & Audio Files: Begin experiencing the transformational effects of TCP | The Complete Package as you delve into the program's core – with no substitutes, only genuine, impactful content.
3.2. Additional Resources
TCP | The Complete Package Journal
A twenty-four-page journal accompanies the course, complete with detailed instructions, space for writing down your desires and expectations, five weeks of journal pages for recording notes, and inspiring quotes to keep you motivated.
---
Additional Information about Joseph Riggio The Complete Package Course
1. Instructor Profile: Who is Joseph Riggio?
Dr Joseph Riggio, a renowned personal development and transformation expert, has dedicated his career to assisting individuals in navigating through their unique Hero's Journey.
With a history of over two decades of absorbing and mastering material from sitting at the knee of his mentor, Joseph has distilled this wisdom into his courses, providing a pathway for others to explore their adventures and possibilities.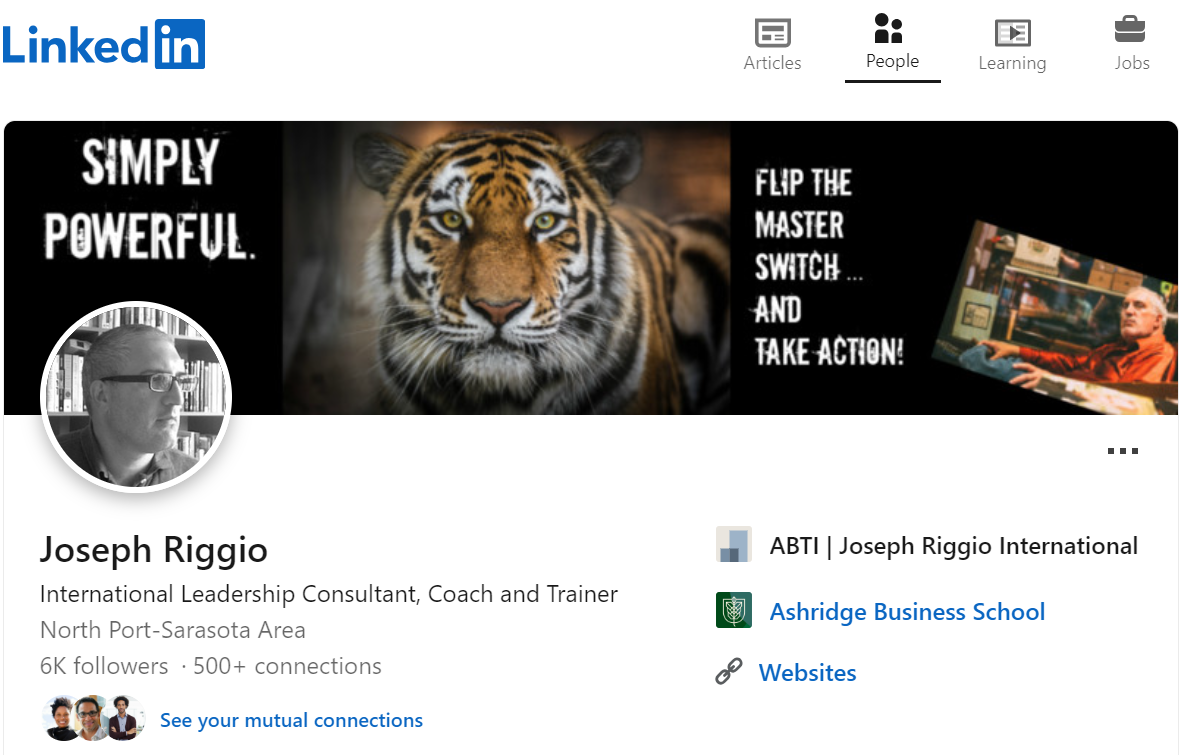 Qualifications and Expertise
Joseph brings theoretical knowledge to the table and a wealth of practical experience and insights refined over years of practice and continuous learning.
His expertise lies in helping individuals unlock their potential, providing them with the tools to navigate their personal and professional lives with clarity and purpose.
Credentials and Recognitions
Joseph's work has transformed individual lives and has been recognized in various forums for its impact and depth.
His methodologies and approaches are theoretically sound and have been proven effective repeatedly, garnering accolades and appreciation from those who have walked the path with him.
2. Is Joseph Riggio a Scam?
---
After conducting an in-depth analysis of TCP | The Complete Package, it's evident that the course is meticulously crafted, providing a structured and comprehensive pathway toward personal and professional development. The detailed 24-page journal, coupled with insightful videos and audio sessions, offers participants a transformative journey that is both enlightening and enriching.
2.1. Investment Value Assessment
In a detailed exploration of TCP | The Complete Package, the investment value of the course becomes notably apparent. The system stands as a valuable investment and a transformative journey acknowledged by numerous participants.
Participant Feedback: Many have reported experiencing significant results, attributing their success to adhering to the structured schedule and actively engaging with the content.
Optimal Outcomes: Some participants have found value in engaging with the program multiple times a day, ensuring they remain aligned and operate at their peak, mirroring the experiences shared by Joseph Riggio.
2.2. Validating Joseph Riggio's Authenticity
A thorough examination of the course content reveals the prominent authenticity of Joseph Riggio and his crafted course, TCP | The Complete Package.
Course Depth: The course content is deep and comprehensive, providing tangible insights and structured pathways for personal development.
Genuine Intent: Joseph's intent to guide participants through a meaningful and transformative journey of personal development is underscored through every module, every session, and every piece of material provided in the course.
In conclusion, TCP | The Complete Package, under the expert guidance of Joseph Riggio, stands out as a commendable investment for those dedicated to their personal development journey, offering a structured and insightful path toward transformation and growth.
3. Who is this course for?
Joseph Riggio's TCP | The Complete Package is meticulously crafted for individuals seeking personal transformation and self-discovery. Whether at a crossroads in your personal or professional life, seeking clarity in your relationships, or desiring a well-defined path and purpose, this course serves as a beacon. Ideal for:
Professionals seeking clarity and direction in their career paths.
Individuals at a life crossroads seek purpose and direction.
Anyone looking to enhance their relationships and interpersonal skills.
Lifelong learners dedicated to personal development and growth.
4. Course Level
TCP | The Complete Package is designed to be accessible and impactful for individuals at various stages of their personal development journey. The course encompasses:
Beginner Level: Introducing foundational concepts of personal development and self-discovery, ensuring newcomers can assimilate the information quickly.
Intermediate Level: Building upon foundational concepts, introducing more nuanced and detailed strategies and insights for personal transformation.
Advanced Level: Offering deeper, more intensive insights and strategies for those well-versed in personal development concepts, ensuring even seasoned individuals find value and new perspectives.
This course, while comprehensive, is structured in a manner that ensures individuals, regardless of their prior knowledge or experience in personal development, find value and can navigate through their journey with the insights and strategies provided.
5. Frequently Asked Questions
---
Q1: What is the main objective of Joseph Riggio Course
The course, TCP | The Complete Package, is designed to facilitate a transformative journey, enabling participants to make pivotal life decisions, gain insights into their unique life path, establish a clear direction, and create opportunities for success and satisfaction.
Q2: Who is the instructor behind TCP | The Complete Package?
Dr. Joseph Riggio, a seasoned professional in personal development and transformation, is the instructor behind TCP | The Complete Package. With over two decades of experience and learning, Joseph crafted this course to guide individuals through their unique Hero's Journey, providing insights and personal and professional development strategies.
Q3: How is TCP | The Complete Package structured?
The course includes videos and audio sessions designed to guide you through different aspects of the personal development journey. It consists of a background video, an overview video, a five-week session of video & audio files, and a 24-page journal with detailed instructions and space for note-taking and reflection.
Q5: How can I maximize the benefits of TCP | The Complete Package?
To gain the utmost value from TCP | The Complete Package, it is recommended to adhere to the schedule provided by Joseph Riggio. This includes watching the respective weekly video, listening to the audio sessions at least five days a week, and progressing to the next week on day eight. You can listen to the audio as frequently as you like and even repeat the entire five-week program after a two-week break for reinforcement and picking up new insights.