[Download] Georg Papp – How to Get Paid Travel Sponsorships
---
1. Course Overview: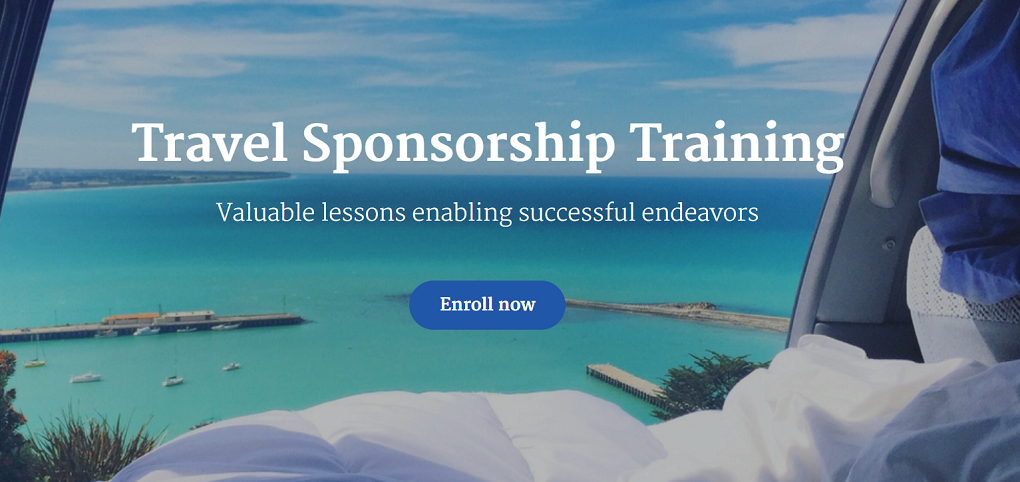 Unlock the potential to travel more by mastering the art of obtaining sponsorships with Georg Papp's guide on "How to Get Paid Travel Sponsorships." This course provides a step-by-step guide, ensuring you understand how to create compelling sponsorship pitches, even if you have a small following.
2. What You Will Learn:
Crafting Effective Pitches: Understand the elements that make a sponsorship pitch successful and learn how to tailor your communication to be persuasive and compelling.
Utilizing Email Templates: Gain access to and learn how to customize downloadable email pitch templates for various scenarios like hotel stays, tourist board trips, and product sponsorships.
Navigating Real-Life Examples: Explore actual cases of successful pitches and understand the strategies employed to secure support.
Engaging with Potential Sponsors: Learn how to initiate and maintain communication with potential sponsors, ensuring your proposals are attractive and agreeable.
3. Course Curriculum:
The course curriculum is meticulously designed to guide you through obtaining travel sponsorships effectively. It includes:
Downloadable Email Pitch Templates: Tailor and utilize templates for various sponsorship scenarios, including:

Hotel Stay
Tourist Board Trip
Tour Operator
Introduction to Potential Sponsor
Product Sponsorship Request
Rejection Response
Proactive Research/Information Gathering

Video Lessons: Engage with visual content that demonstrates the practical application of using email pitch templates and strategies to secure travel sponsorships, covering topics like:

Demonstration on using Email Pitch Templates to Obtain Travel Sponsorships
How to Write an Effective Sponsorship Pitch
How to Locate Contacts to Send Your Travel Sponsorship Requests

Bonus Writing Tips & Guidance: Additional insights into crafting your pitches and conducting proactive research.
---
Additional about How to Get Paid Travel Sponsorships Course
1. Instructor Profile:
Georg Papp, an adept traveler and skilled communicator, brings forth his wealth of knowledge and experience in securing travel sponsorships to this comprehensive course. Georg has successfully navigated the realm of travel sponsorships, mastering the art of crafting compelling pitches and establishing fruitful collaborations with sponsors. His approach, encapsulated in this course, is not just theoretical but is steeped in practical application, providing real-world examples and actionable strategies that have proven successful in his journey.
2. Who is this Course for:
Aspiring Travelers: Individuals who dream of exploring the world but are restricted by financial constraints.
Travel Bloggers/Vloggers: Content creators who wish to expand their travel horizons and explore more destinations without the financial burden.
Digital Nomads: Those who work while traveling and want to minimize travel expenses through sponsorships.
Travel Photographers: Professionals who wish to capture diverse cultures and landscapes without being heavily impacted by travel costs.
3. Course Level:
Beginner to Intermediate: The course is tailored to accommodate those new to the concept of travel sponsorships and those with some foundational knowledge but wish to refine and enhance their skills.
Practical Application: Emphasis is placed on real-world application, ensuring participants can readily implement the strategies discussed.
Comprehensive Learning: While the course is accessible to beginners, it provides in-depth insights that can benefit even intermediate learners.
4 Frequently Asked Questions:
---
Q1: How does travel sponsorship work?
Travel sponsorship involves having an individual or company cover your travel expenses in exchange for certain activities or business arrangements. It requires careful planning and a strategic marketing approach to convince sponsors to fund your travel expenses. You need to conceptualize and market a travel project to potential sponsors, ensuring it provides value to them. 
Q2: Can you get paid to travel?
Yes, it is possible to get paid to travel. Various options exist, such as teaching English online or overseas, working with cruise ships, resorts, and hotels, blogging, creating and running tours, and more. According to the US Bureau of Labor Statistics (BLS), the median wage for a travel guide was $15.96 per hour.
Q3: What do you need to get paid to travel?
To get paid to travel, you need a marketable skill or knowledge that you can use to generate income while traveling, such as photography, web development, teaching English, blogging, or writing. Additionally, having a reliable computer, internet access, and a good network is essential for connecting with people and businesses, updating your portfolio, and working online. 
Q4: How do you make a sponsorship request for travel?
Crafting a compelling request for travel sponsorship is crucial for travel writers and involves contacting tourism bodies, PR agencies, or other operators to ask for hosting. The proposition should be compelling and showcase the value the sponsor will gain from supporting your travel. 
Q5: What are the benefits of travel sponsorship?
Travel sponsorship can allow you to travel more with less expense, experience new cultures and meet new people, explore new places that might have been unaffordable, promote a good cause, promote your brand (if you are a blogger, vlogger, or influencer), and use products that you might not have been able to afford otherwise.