[Download] Danielle Leslie's Course From Scratch 2.0
1. Introduction
 Danielle Leslie presents "Course From Scratch 2.0," a comprehensive program designed to guide individuals in translating their passion and expertise into a unique online course and launching it profitably.
1.1. Benefits of Launching a Course
INSTANT INFLUENCER STATUS: Launching a course can rapidly elevate one's status as an expert in one's niche.
DREAM CLIENTS: With a unique methodology taught in your course, attract clients willing to pay premium rates.
PAID SPEAKING OPPORTUNITIES: A premium course can open doors to speaking engagements, expanding one's reach.
THE RIGHT AUDIENCE: Shift focus from mere follower count to attracting a genuine audience interested in learning from you.
CONSISTENT INCOME: With minimal overhead costs, a digital course can provide a steady income stream.
2. Course Overview
2.1. Course Structure
 The program spans 60 days and is meticulously designed to ensure participants can create and launch their online course without being overwhelmed by technicalities or content creation.
2.2. Course Components
PART 1: THE COURSE: Detailed, step-by-step videos guiding participants through the course creation and launch process.
PART 2: THE COMMUNITY: A 24/7 private community of course creators worldwide, offering opportunities for partnerships, affiliations, and networking.
PART 3: THE COACHING: Group coaching sessions where participants can have their questions addressed live and receive tailored support.
3. Course Modules
---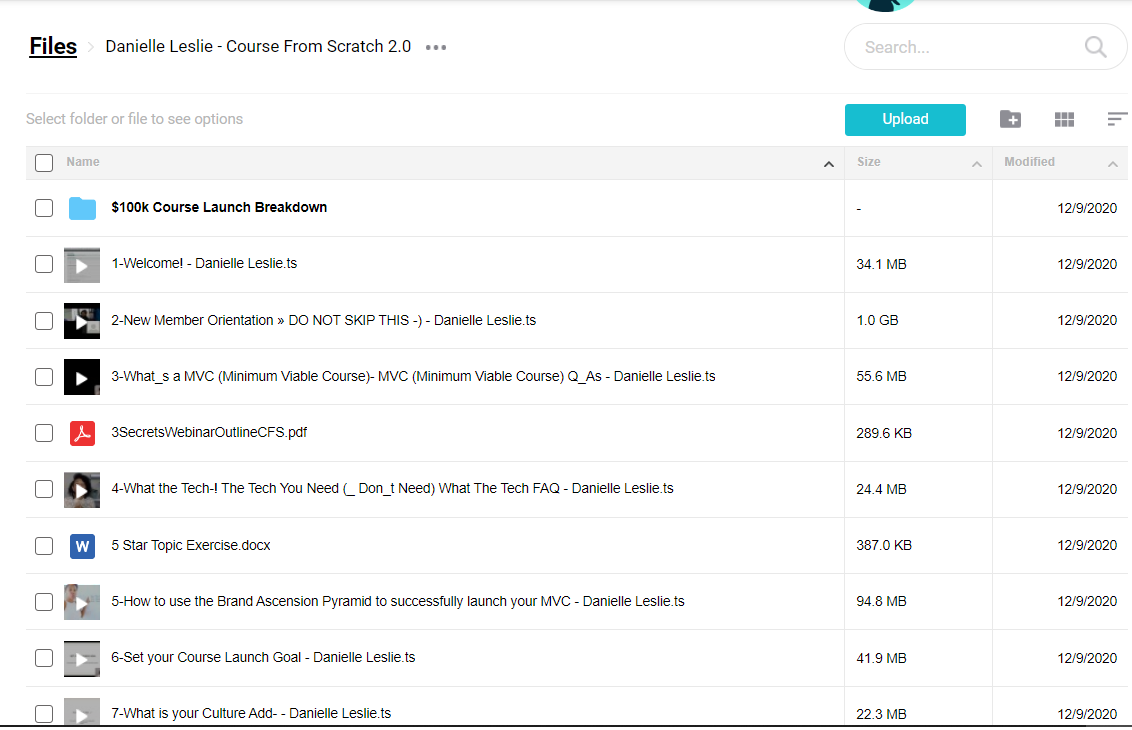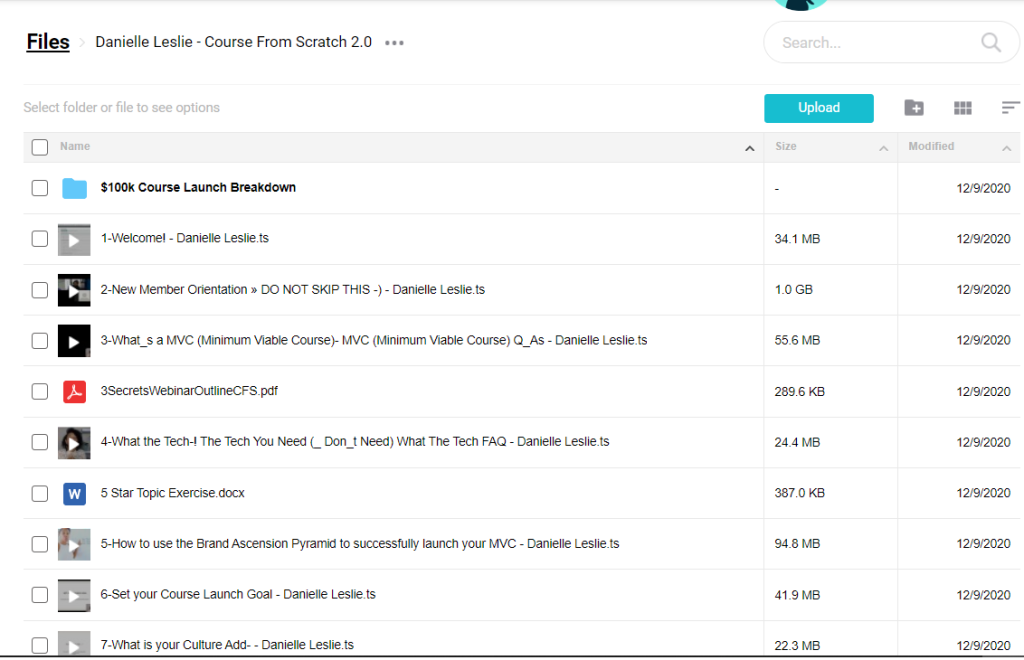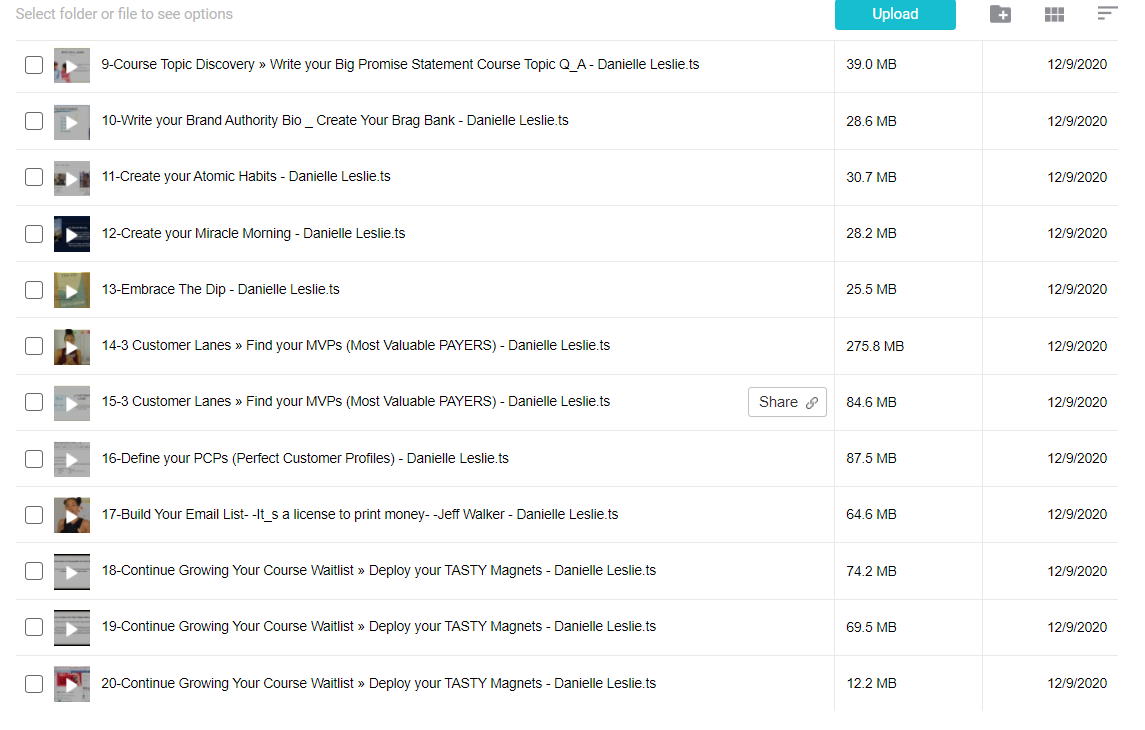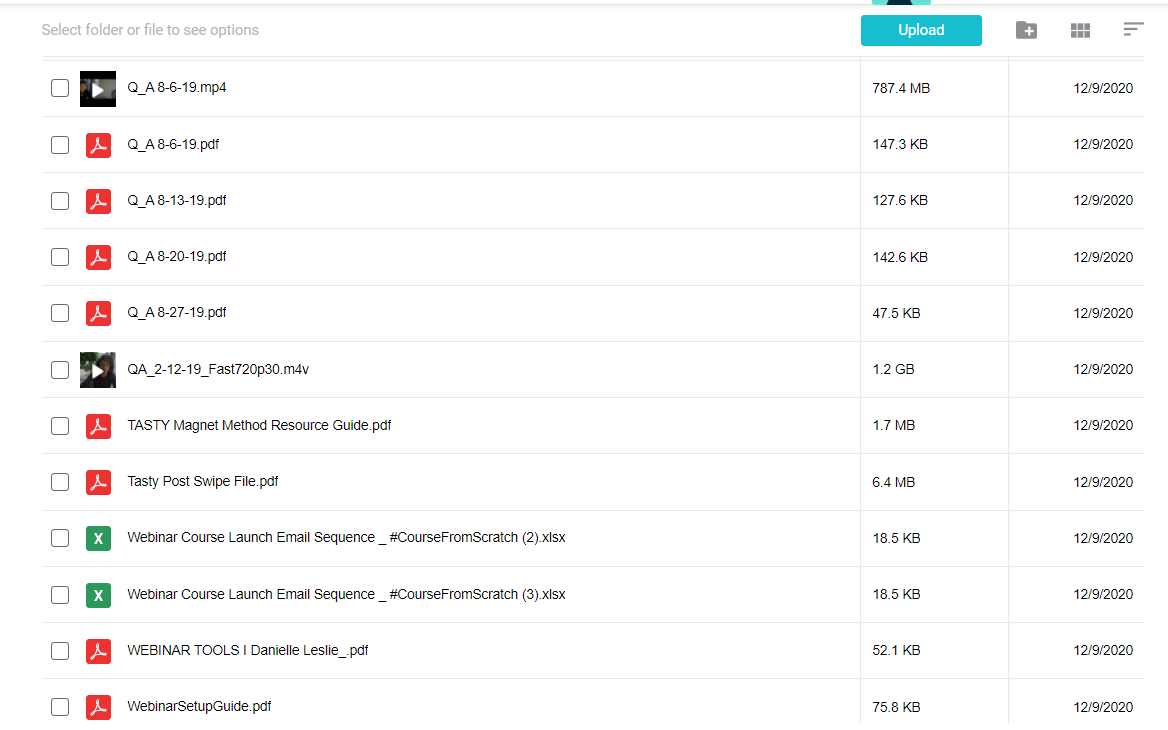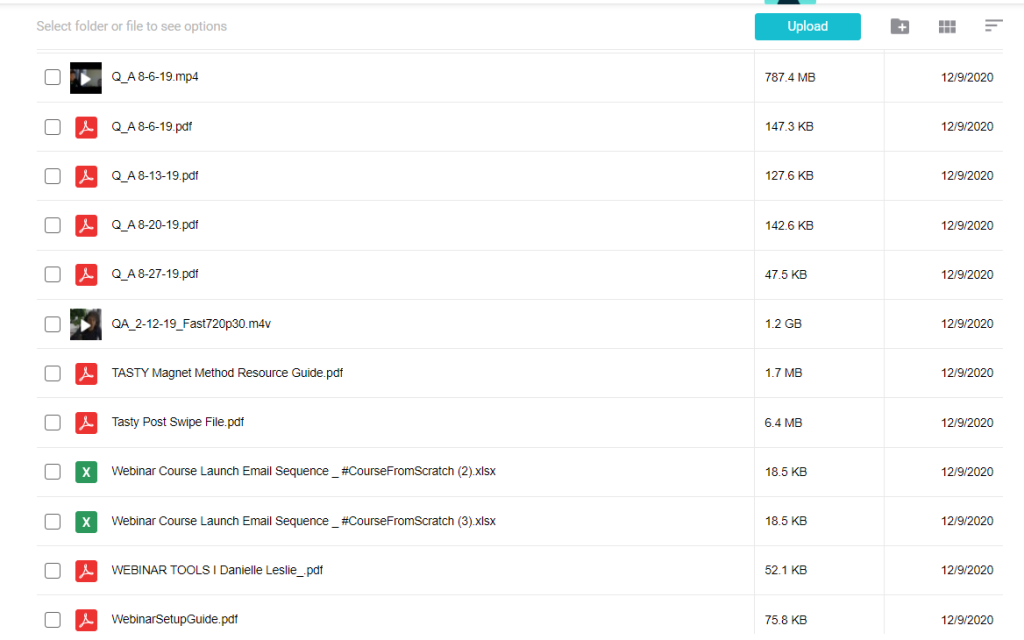 MODULE 0: INTRODUCTION
What are the 3 Cs of launching your course and getting paid?
What's an MVC?
Set your course launch goal
MODULE 1: CUSTOMERS
Select your course topic
ID your Perfect Customer Profiles
Grow your email list by 250 subscribers
MODULE 2: CULTURE ADD
Create your Brag Bank
Write your Brand Authority Bio
Create your Fancy Framework
MODULE 3: CONTENT
Create your tasty course title and subtitle
Outline your course's learning and objectives
Create your Fancy Framework
MODULE 4: CONVERSIONS
Price your course
Learn the 9 mental triggers of a launch
What's a phone funnel?
How to work with affiliates and pre-sell your course
EXTRAS
Weekly Q&A calls with Danielle
7-Day Email List Builder
3 FREE months of Teachable Pro
#WebinarFromScratch
Tech Tutorials
And even more bonuses!
---
Additional Course Details
1. Instructor Profile:
Danielle Leslie is an entrepreneur, speaker, and course creator who has made significant strides in the online course industry. Before her rise in the course creation world, she worked as a marketer for Silicon Valley startups, laying a foundation for her future endeavors.
Early Days:
Relatively unknown until 2017.
Began her course creation journey on Udemy, facing challenges with its frequent sales that often limited creators' earning potential.
Her prominence skyrocketed with the launch of "Course From Scratch." This course alone brought in $85,000 in its inaugural year and a staggering increase to $1.2 million in 2018. While these figures are impressive, various factors, including marketing costs, might have influenced the income.
Current Contributions:
Recognized as a speaker and content specialist.
Dedicated to assisting businesses in monetizing their content.
Educates aspiring course creators, with a significant portion of her income derived from teaching others the art and business of course creation.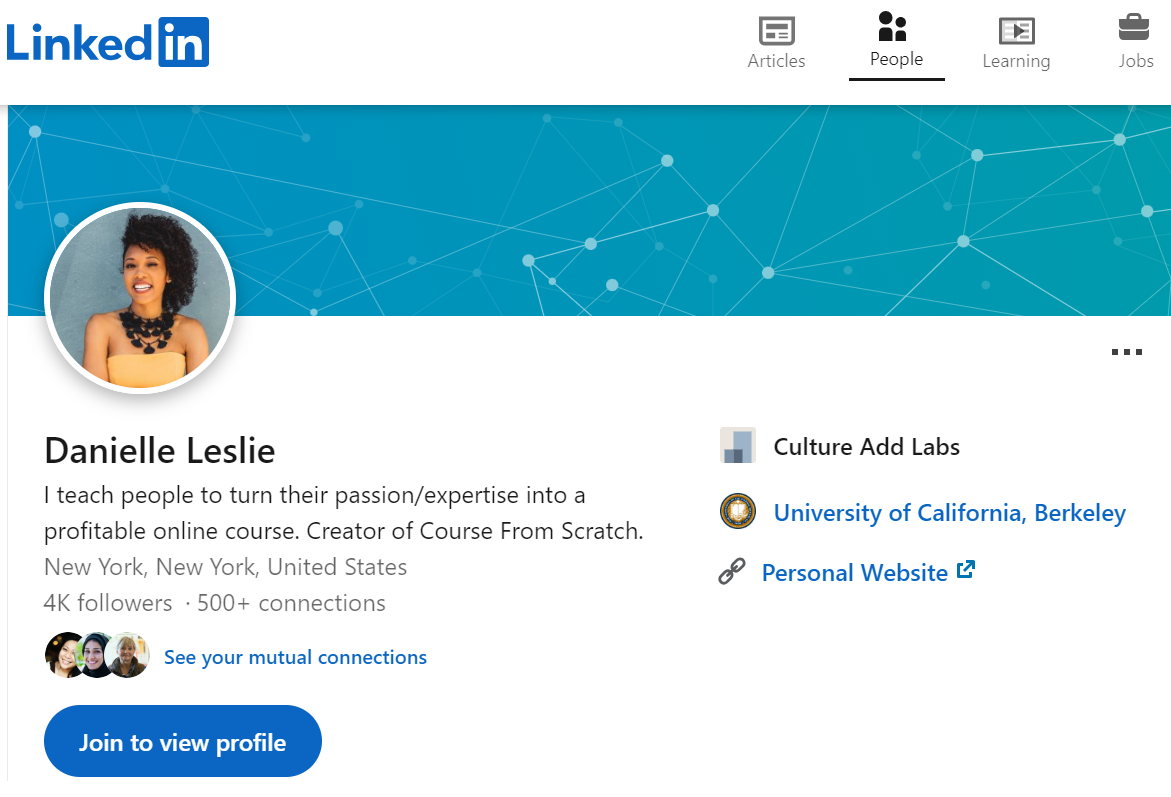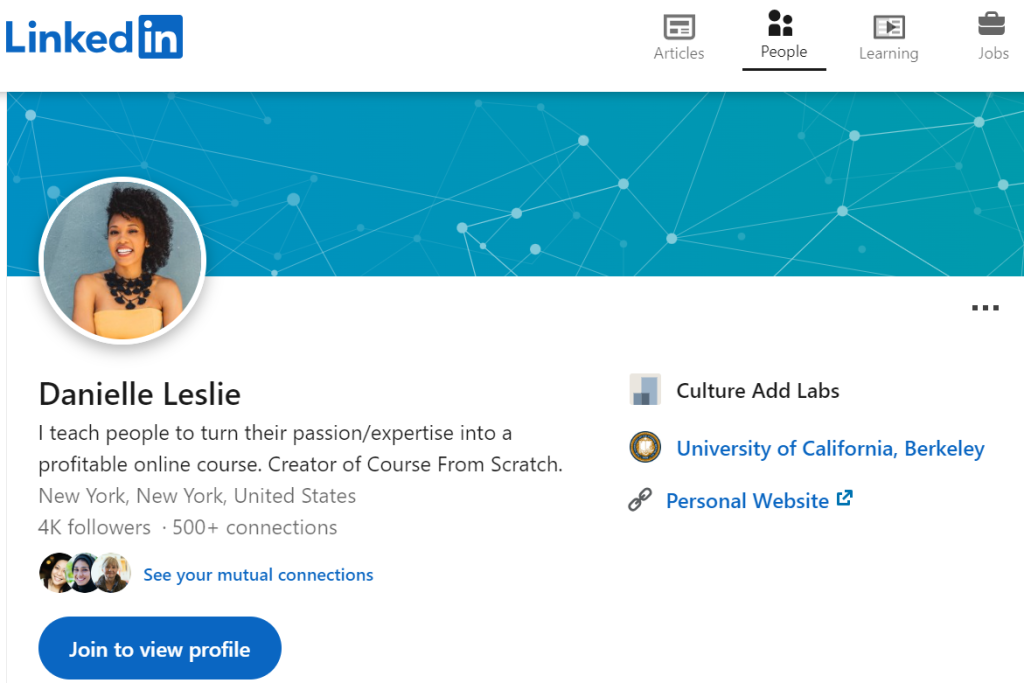 ---
2. Who is this course for:
Individuals with a Passion: If you have expertise or a passion you want to share with the world, this course is for you.
Aspiring Course Creators: Those looking to monetize their knowledge by creating and selling online courses.
Professionals Seeking to Expand Their Reach: Experts, consultants, and coaches want to reach a broader audience and establish authority in their niche.
3. Course Level:
Beginner to Intermediate: Whether you're just starting or have some experience in course creation, this program caters to a wide range of skill levels.
4. Frequently Asked Questions
---
Q1: Who is Danielle Leslie?
Background:
Danielle Leslie is an entrepreneur, speaker, and course creator.
She previously worked as a marketer for Silicon Valley startups.
Transitioned into the world of online courses.
Rise to Prominence:
It was relatively unknown in the online course community until 2017.
Gained significant recognition with "Course From Scratch," which generated $85,000 in its first year and rose to $1.2 million in 2018.
Udemy Experience:
Began her course creation journey on Udemy.
Encountered challenges due to Udemy's frequent sales, impacting the earning potential for creators.
Current Role:
Now recognized as a speaker and content specialist.
Helps businesses monetize their content.
Much of her income comes from teaching others the nuances of creating successful courses.
Q2: What is Danielle Leslie's course creation method?
Danielle Leslie's course creation method is titled "Course From Scratch." It offers a step-by-step guide that aids individuals in conceptualizing, creating, and launching their online courses.
Q3: What topics are covered in Danielle Leslie's courses?
Danielle Leslie's courses encompass a variety of topics related to course creation and online entrepreneurship. These include identifying profitable course ideas, crafting engaging content, marketing and selling courses, audience building, and strategies to scale course businesses.
Q4: Are there prerequisites for joining Danielle Leslie's courses?
The prerequisites for Danielle Leslie's courses differ based on the specific program. While some courses might necessitate a basic grasp of online business concepts, others are tailored for beginners. It's advisable to peruse the course descriptions to ascertain if any prerequisites are stipulated.