[Download] – Social Media Masterclass
---
1. Social Media Masterclass Course Overview:
Total size: 5.17 GB Contains: 24 folders 71 files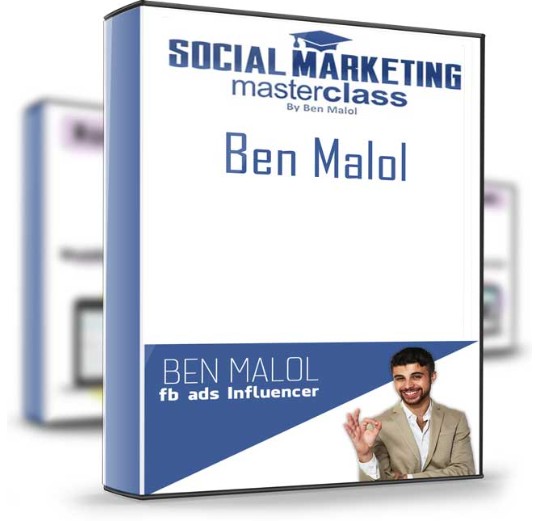 The Social Media Masterclass by Ben Malol unveils the secret methods behind achieving rapid and significant scales in social media marketing.
This course is designed to provide in-depth knowledge of manual bidding and optimization techniques. It's not just about understanding the basics but mastering them to take campaigns from modest daily figures to staggering amounts.
By enrolling in this masterclass, learners can expect to transform their campaigns from $20 to an impressive $5,000 days and even from $1,000 days to a whopping $30,000 days.
2. What you will learn in this course: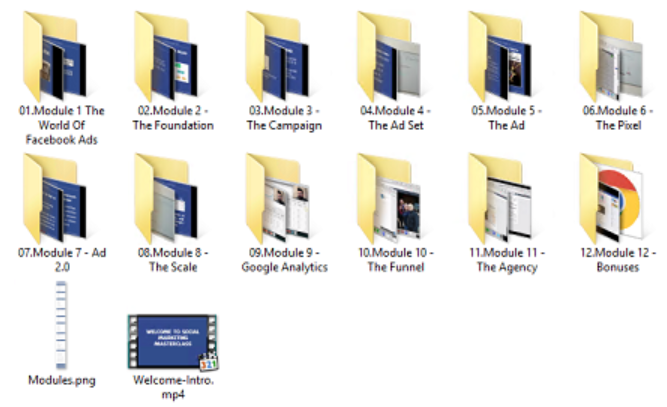 Google Analytics Mastery: In collaboration with Dimitris Skiadas, this module offers insights into Google Analytics. Most businesses need to pay more attention to this tool. This section ensures you utilize Google Analytics correctly, making it a powerful asset for your business.
Facebook Ads Agency Operations: A comprehensive step-by-step guide on running a successful agency that manages Facebook ads for clients. This module teaches the basics and nuances of running efficient Facebook ad campaigns for clients, with potential earnings ranging from $1,500 to $3,000 per client.
3. What include in this course:
| Module | Title | Description |
| --- | --- | --- |
| Module #1 | The World of Facebook Ads | An overview of Facebook ads, getting the right mindset and understanding the fundamentals of a good ad. In this module we basically go over what GREAT Facebook ads are built of, and prepare you for what's coming. |
| Module #2 | The Foundation | All you need to know about the Power Editor, Ad Manager, Business manager, and the structure of a campaign. Everything from basic understanding to advanced techniques that 99% of marketers aren't utilizing. |
| Module #3 | The Campaign | The difference between the objectives, what to use when, and how, Engagement (PPE) vs Traffic (CTW) vs WC = (Website Conversions) vs VV (Video Views) etc. Learn how to use the optimization to your advantage. |
| Module #4 | The Ad Set | Everything you need to know about the ad set, from targeting to budget, placement optimization, and how to utilize all the ad set functions on the highest level. Understanding the ad set is CRUCIAL for running successful ads (everything from basics, to extremely advanced is covered). |
| Module #5 | The Ad | The different types of ads and what makes a great ad, everything from writing top-notch sales copy, creatives, pain and desire theory, with a complete breakdown of successful ads. |
| Module #6 | The Pixel | How the optimization REALLY works, custom audiences, private strategies that have never been revealed. We'll go over Retargeting on a whole other level, Custom Conversions and how to REALLY use them, data leverage, and how to use Look Alike Audiences like a true Master. |
| Module #7 | Adset 2.0 | Metric breakdown, what do we want to see on our ads, how long to let an ad run and how to stop wasting money on ads inefficiently. Split testing and how to use it to our advantage. |
| Module #8 | The Million Dollar Scaling System | The secret methods behind fast and HUGE scales, everything from in-depth manual bidding, to optimization. Taking campaigns from $20 days, to $5,000 dollar days, taking campaigns from $1,000 days to $30,000 days, AND MORE… |
| Module #9 | Google Analytics 101 by Dimitris Skiadas | Learn Google Analytics and how to utilize it in your business. Google analytics has been a neglected topic for the wrong reasons. The problem is most businesses are using it INCORRECTLY. I've decided to team up with the strongest player in the field, Dimitris Skiadas. |
| Module #10 | Running a Facebook Ads Agency | The complete step-by-step program on how to run a successful agency running Facebook ads for clients and getting paid $1,500 – $3,000 a month PER CLIENT. Running Facebook ads for clients is crazy efficient, and I'll teach you how to take advantage of it. |
The curriculum is designed to provide real-world results. Some of the notable achievements by students include:
A student scaling from $10k a day to $150k a day using the techniques taught in this course.
Aditya's journey from $0 to $8k a day.
Vlad's rapid scaling from $0 to $5k in just four days.
Jonny's success in earning $10k a month in pure profit by advertising for clients.
Elizna's growth from $1.5k a day to $6k.
Phillip's achievement of making his first $1,000 in a day.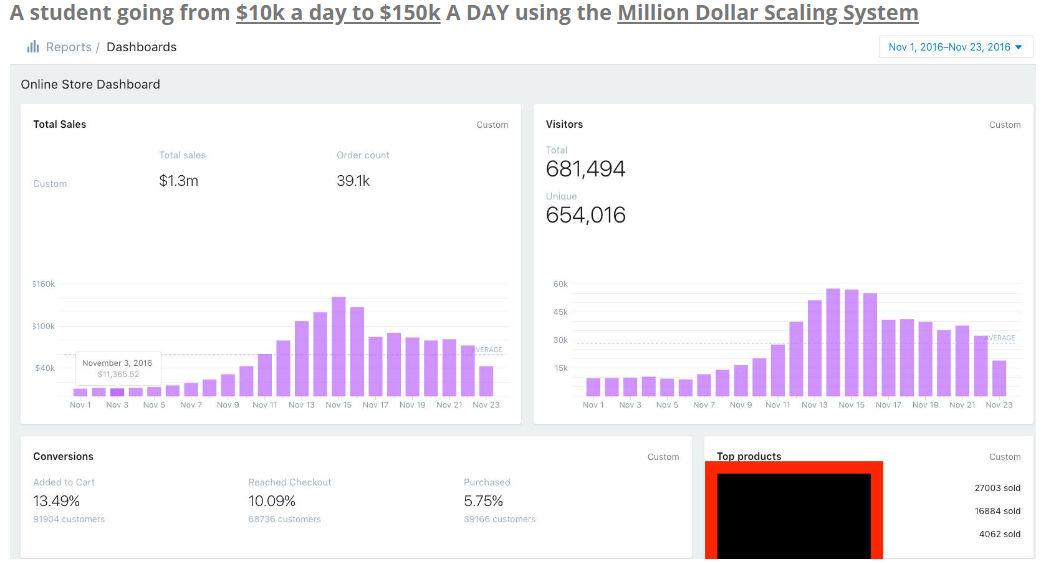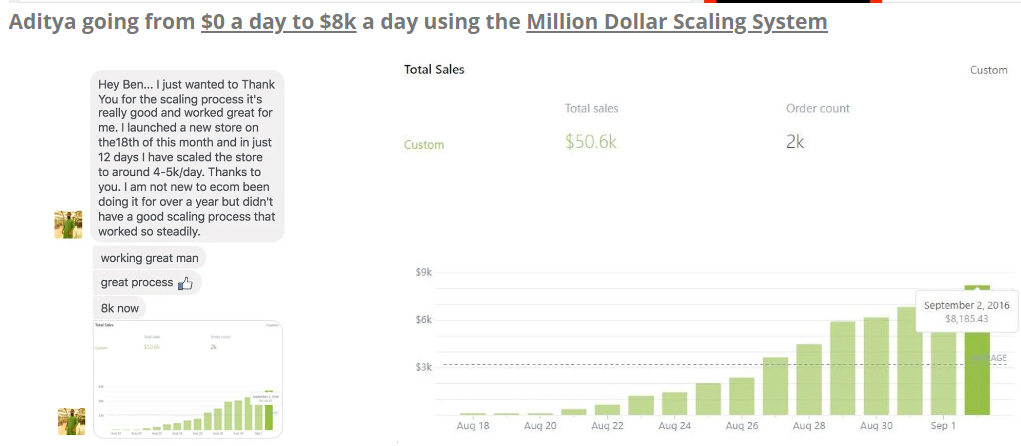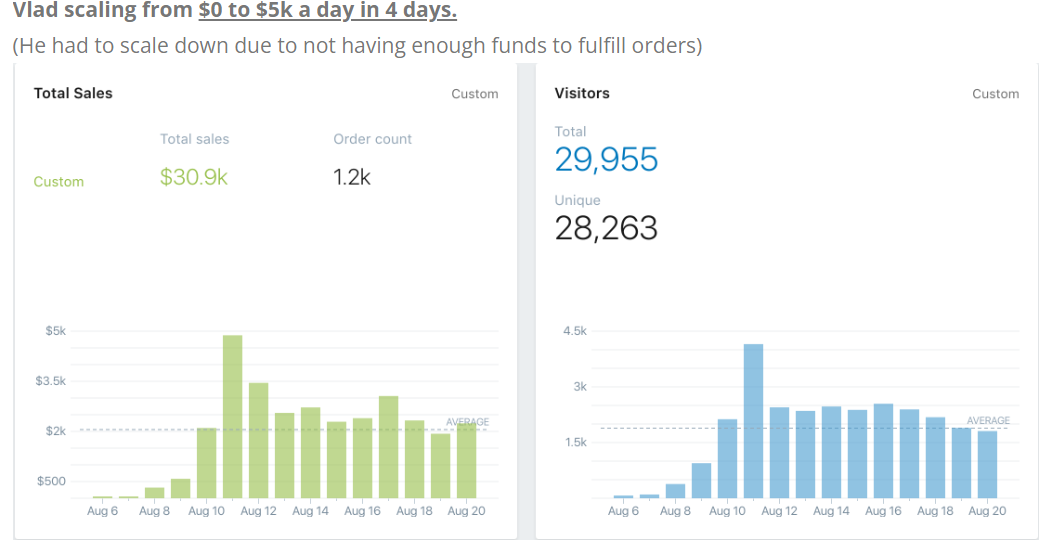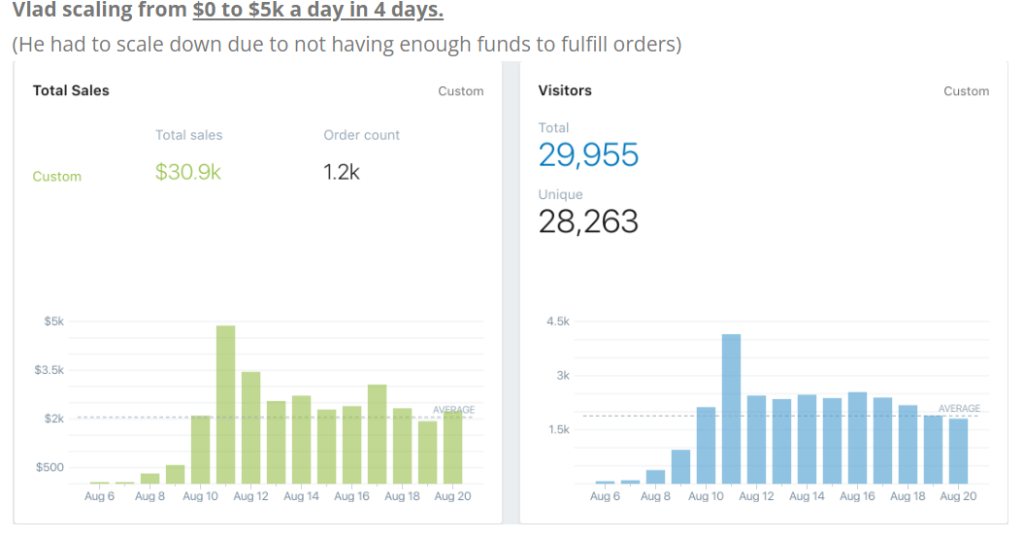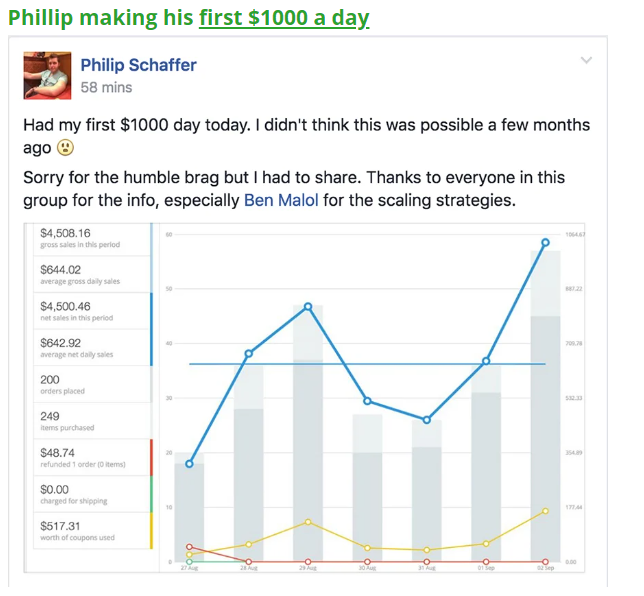 Read more our Top Social Media Marketing Courses:
---
Additional Information about Social Media Masterclass Course
1. Instructor Profile: Who is Ben Malol?


Ben Malol, a renowned figure in the world of social media marketing, brings a wealth of knowledge and expertise to the table. With a proven track record of delivering successful campaigns and scaling businesses, Ben's insights are sought after by many in the industry.
Qualifications and Experience:
Ben's journey in the digital marketing realm has been nothing short of exemplary. He has mastered the art of Facebook advertising, scaling campaigns to unprecedented levels, and teaching others to achieve similar success. His hands-on experience with various movements, from small-scale to those with budgets running into thousands of dollars daily, makes him a trusted authority in the field.
Credentials:
Certified Facebook Ads Expert: Ben has undergone rigorous training and has been recognized as an expert in Facebook advertising.
Speaker at Affiliate World Conferences: Ben has been a speaker at various Affiliate World Conferences, sharing his insights and strategies with budding marketers.
Social Proof:
Ben's success stories are not just limited to his achievements. Many of his students have reported significant growth in their campaigns, with some scaling from $10k a day to a staggering $150k a day. These testimonials testify to Ben's effective teaching methods and in-depth knowledge.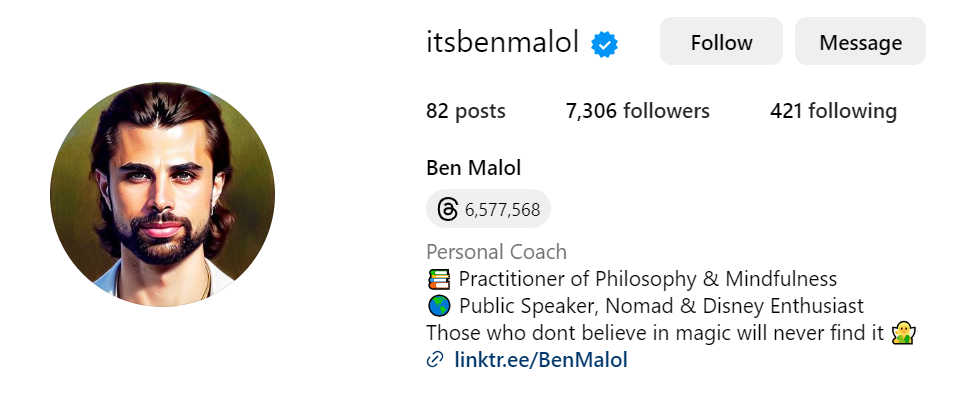 He has also established a significant presence on social platforms, boasting 47K followers on Facebook, 7.3K followers on Instagram, and 20.1K subscribers on YouTube.
2. Who is this course for?
The Social Media Masterclass by Ben Malol is designed for a diverse range of individuals and professionals:
Digital Marketing Enthusiasts: Whether you're just starting or have some experience, this course offers insights that can elevate your understanding and execution of social media campaigns.
Business Owners: If you want to scale your business through effective social media advertising, this masterclass provides the tools and strategies to achieve significant growth.
Agency Professionals: For those running agencies or managing client campaigns, the course offers advanced techniques to optimize and scale campaigns efficiently.
Students and Fresh Graduates: If you're looking to break into the world of digital marketing, this course provides a solid foundation and advanced techniques to kickstart your career.
3. Course Level:
The Social Media Masterclass caters to a wide range of proficiency levels:
Beginner: The course starts with the basics, ensuring that even those new to the world of Facebook ads have a strong foundation to build upon.
Intermediate: For those with some experience, the course delves into advanced strategies and optimization techniques that can significantly improve campaign performance.
Advanced: Even seasoned professionals will value Ben's unique insights, significantly when scaling campaigns to five or even six-figure daily budgets.
4. Is Ben Malol a scam?
In the crowded space of online marketing courses, doubts about the credibility of instructors like Ben Malol are natural. Having closely examined the Social Media Masterclass, here's what I found:
4.1. Course Content and Structure
The Social Media Masterclass is meticulously structured, covering everything from the basics of Facebook ads to advanced scaling techniques. The modules are designed to provide actionable insights, ensuring that students can implement what they learn.
Depth of Content: The course needs to skim the surface. It dives deep into the nuances of social media marketing, ensuring that students get a comprehensive understanding.
Real-World Application: The course is replete with real-world examples, case studies, and results achieved by students, showcasing its practical applicability.
4.2. Feedback and Reviews
A quick search reveals a plethora of reviews and feedback on Ben Malol's course:
A YouTube review provides an in-depth look at the Social Marketing Masterclass, highlighting its strengths and areas of improvement.
Another YouTube video thanks Ben for his hard work and labels his method as a game-changer.
On Facebook, Ben Malol has garnered 46,926 likes, indicating a significant following and community engagement.
4.3. Transparency and Authenticity
Ben Malol's presence on various platforms, including his active engagement with followers and students, speaks volumes about his authenticity. He doesn't hesitate to address concerns, answer questions, or provide additional resources.
Engagement: Ben's active engagement on platforms like Facebook, where he has a following of nearly 47K, showcases his commitment to his community.
Consistent Updates: The course content is regularly updated to reflect the latest trends and strategies in social media marketing.
4.4. My Conclusion
Based on the course content, feedback from students, and Ben Malol's active engagement with his community, it's evident that the Social Media Masterclass is a legitimate course designed to provide real value. While no course can guarantee success (as it largely depends on the student's effort and application), Ben Malol's course offers the tools, strategies, and insights to set students on the right path.
5. Frequently Asked Questions:
---
Q1: How many people are on social media?
As of April 2020, a total of 3.81 billion people worldwide use social media, putting the worldwide social media penetration rate at 49%.
Q2: What is the most popular social media platform?
Based on user count alone, Facebook continues to be the most popular social media platform. It had garnered 2.6 billion monthly active users by Q1 of 2020.
Q3: How long does the average person spend on social media per day?
In 2019, the average social media user spent around 1 hour and 15 minutes daily on social media. This average is expected to increase due to social distancing and people spending more time indoors during the pandemic.
Q4: What is the fastest-growing social media platform?
While Instagram once held this position, TikTok recently saw a 97.5% increase in its US user base, making it the fastest-growing platform.
Q5: What's the best time to post on social media?
The best time to post on social media varies based on several factors, including the platform, industry, and audience activity. Analyzing post performance is essential to determine the optimal post timing for a specific business.